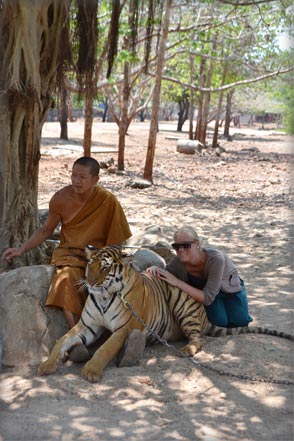 Since then, Care for the Wild have released a report on the tiger temple.
What does CWI hope to achieve with the release of this report?
• CWI is calling for the immediate cessation of all illegal tiger trade, exchange and transfer activities, and requests the Thai Department of National Parks (DNP) to conduct a full investigation on the Temple.
• CWI is urging the DNP to confiscate the Temple's illegally held tigers and transfer them to a sanctuary facility, where the animals can be accommodated and cared for appropriately.
• CWI is urging the DNP to halt to all tiger breeding activities with immediate effect.
• CWI is calling for all photo-taking and physical contact between tigers and visitors to be stopped immediately.
It is now our policy not to accept any trips on Responsible Travel that visit the tiger temple. We have also asked our tour operators avoid the site.