Best time to visit the UK

A change in the weather is sufficient to recreate the world and ourselves

Brits are weather obsessed, more as a social greeting than a serious meteorological appraisal. Some things are for sure: trains are delayed when autumn leaves fall on tracks. People call September an 'Indian summer', when in fact it's nearly always gorgeous. The cold weather doesn't kick in until January and February. It is always about 3įC warmer in the south than the north. You can see the Northern Lights in Scotland. When it's hot, motorways come to a standstill. And, as Gerard Manley Hopkins said 'Nothing is as beautiful as spring'. But it's our weather, and we love it.
S. Downs (England) Weather Chart
Our top UK Holiday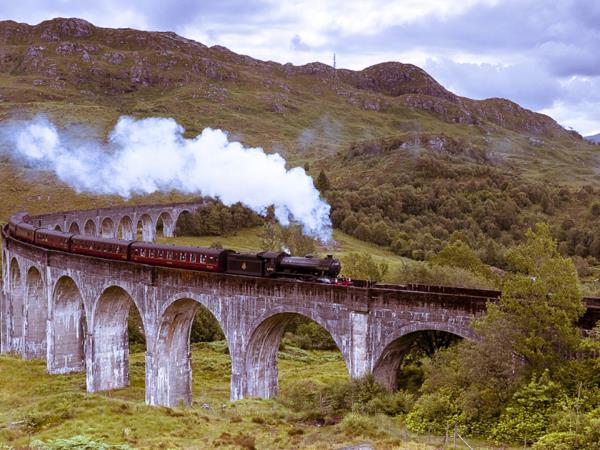 Experience authentic Scotland independently and car-free
From £1135 to £1195 8 days ex flights
Tailor made:
This trip can be tailor made from April to the end of October.
If you'd like to chat about UK or need help finding a holiday to suit you we're very happy to help.
Things to do in the UK...
A Kingdom united by food, with farmersí markets, food festivals, delicatessens, celebrity chefs, Masterchefs and Bake Offs. So long the domain of meat and two veg, no one will look at you strangely any more if you ask for local lamb, seasonal vegetables, if there is a microbrewery in the area or a farm shop. And just as the National Trust cafes or pubs used to be the domain of lunches out in the country, now itís farm shop cafes that are competing for the best warming soups or pulled pork sandwiches.
Scotlandís islands are still secrets for many people but, with nearly 800, cruising them on small boats, with Scottish skippers who really know their stuff is the way to go. Visit Skye, Mull and the Hebrides to catch sight of a Celtic cacophony of sea creatures. You can also cruise through the Highlands, along the Caledonian Canal from Oban to Inverness, an ingenious artery created by the Victorians to avoid sailing around Scotlandís treacherous north tip.
Walking is Britainís favourite pastime, especially if there are plenty of tea breaks en route. Walking holidays in England take in long distance walking trails such as Pennine Way, the Cumbria and the Pilgrims Way Ė all wonderful ways to go. And have your bags transported for you as you take the high roads and low roads on memorable walking holidays in Scotland, traversing island, the Cairngorms or the Knoydart Peninsula.
Things not to do in the UK...
Drive everywhere. Although the British love to walk, over 90 per cent of people visiting the wonderful array of national parks do so by car. Many walking holidays cater for you to travel by public transport, and move your luggage between beds for the night Ė so you can enjoy a local ale, and not have to worry about parking. See Scotland from a boat, or by train. Or just cycle the lot, from Lands End to John O'Groats.
Overlook wildlife. Scotland, in particular, is a revelation, with mountain, moor and marine habitats all within easy reach. Itís also famous for expert naturalist guides on wildlife watching holidays, guiding you to see golden eagles, red deer, whales and dolphins.
Charity climbs or target tourism. Trying to bag as many summits as you can in a weekend, can be an attack on the landscape and local communities as much as on your body. Big business now, few organisers have responsible tourism policies, throw thousands of people onto beautiful landscapes to trample and litter, and do little to manage, conserve or clear up.
Supermarket frenzies before you hit the M1 or M25 Although it feels like the easiest way to go, many rural regions gain much needed tourist income from people buying food and drink locally. Seek out the local farm shop, butcher, baker, and candlestick maker. Might cost you a few more quid (Ö though surprisingly, it often doesnít), but will leave a much better taste in your mouth.
Devon tips

Paul Day, Managing Director at our supplier, Letís Go Walking, shares his experiences of walking in England:
"One of my favourite walks is on Dartmoor. It only takes two to three hours but the variety of landscapes and quietness that youíll find en-route from Okehampton to the village of Sticklepath, via Belstone, are simply stunning...
"Winter lets you explore more of the moors as the muddy, boggy areas tend to harden which allows walkers to wander a little further from the footpaths. Of course, the summerís not bad either and if youíre a fan of wild swimming, seek out the Cullever Steps below Scary Tor for one of my favourite spots to cool off on a hot day on the moors."
Ian Ripper, Wheatland Farm Eco Lodges:
"I'm always surprised by the contradictions. People love Devon because it is less developed; yet seem to want to have all the conveniences of the cities and urban conurbations. It's lovely because we lack those things!"
Scotland tips
Robert Kidd, from one of our suppliers, McKinlay Kidd:
"Yes it takes a while to get to the Orkney or the Outer Hebrides, but I think the journey is all part of the experience. Our islands are something very special. Cycling on Gigha or walking around Colonsay are my favourites."
Packing tips
Paul Day, MD of our supplier, Letís Go Walking:
"My advice for walkers in England is always: do your research, wear good walking boots to support the ankles with two pairs of socks, and pack some chocolate and cereal bars to get you from one pub to the next."
Colette Dubois co-founder of our supplier, St. Hilda Sea Adventures in Scotland:
"It is important not to forget your waterproofs. Some people think that they can manage without, and it is not because the weather is bad but because when you go in a dinghy you are close to the water, when you put the anchor up you can get wet at that time. They donít have to be fancy; cheap waterproofs which cost about £10 for the trousers are fine."
At Responsible Travel, we think the best people to advise our travellers are often... other travellers. They always return from our tours with packing tips, weather reports, ideas about what to do - and opinions about what not to.
We have selected some of the most useful UK travel tips that our guests have provided over the years to help you make the very most of your holiday.

Don't let changeable weather stop you... If you're interested in castles/monuments consider joining CADW for half price admission.

"Bring walking shoes and a map to explore lots of good walks. Plenty of hills and views and if the weather is wet and windy the Tarka trail is good and mainly sheltered." - Bob Simmonds on holiday in Devon

"If possible try to use the local bus services. They are not particularly frequent but by intelligent use of the Vectis timetables, you can visit everything on the island without any difficulty." - Christopher Vasey on the Isle of Wight

"Do it! What a wonderful way to see Pembrokeshire, bobbing around on the Sea looking up at the magnitude of this craggy coastal scene." - Peter Hill on a sea kayaking holiday in Wales

"Travel with elasticated waistbands, the food is plentiful and very good." - Anne Feeley, on a Scotland rail holiday

If you're going to the NW Highlands in midsummer take an eyemask! Very little darkness this time of year.

"Take sea-sickness tablets if you go on an all-day boat trip (it can get quite choppy), and insect repellent for the evenings." - Louise Keable, on a wildlife holiday on the Isle of Mull

"Go to the beach on really sunny days - it's not far and Llanwyddyn must be one of the finest in the UK. The Welsh Highland Railway is superb - go to Rhyd Dddu or Waunfawr (a short drive away) and catch the train to Portmadog. Stunning route through Beddgelert and the Aberglaslyn Pass." - Philip Burston, in Snowdonia

"Don't let changeable weather stop you from enjoying everything the area has to offer! When it's blowy and wet in Fachwen it may not be on the coast. Climbing shops have detailed 3 day forecasts. If you're interested in castles/monuments consider joining CADW (Heritage in Wales) - membership costs around £50-60 pa for family and in the first year gives half price admission to English Heritage/Historic Scotland sites too." - Alison Sauvain, in Snowdonia

"Take your own binoculars everywhere with you - if you are interested in watching wild animals." - Luc Deneys on the Isle of Mull