Tourism in Victoria is dominated by the
Great Ocean Road
. A famous coastal thoroughfare built by returned World War I servicemen, it winds around the rugged coastline and takes in the Twelve Apostles, a series of rock stacks rising up from the Southern Ocean. Trouble is that some six million visitors take to this stretch every year, leading to huge traffic jams, pollution and littering – with little money being left in the hands of the people actually living in the area. "The negative effects of tourism are visible at the Twelve Apostles as the traffic and rubbish is an issue," says Brett Neagle, from our Aussie walking holidays specialist Auswalk. "It doesn't really impact anywhere else as Victoria's parks are massive, and the Alps is over a million hectares and under-visited. Tourism Australia does a really bad job at selling anything that doesn't relate to a few boring icons like Uluru and of course the beach, the benefit being there's no crowds anywhere outside the city."

Shift your focus from the Great Ocean Road and opt for wilderness walking and stays in remote towns and villages. You'll find wonderful examples of community-based tourism wrapped up in stunning countryside and coastline.

Better, then, to focus on Victoria's other highlights. Melbourne is the obvious answer, and it's fantastic to see a vibrant Australian city in action, but Victoria is also big on wilderness, with vast national parks to explore, home to endemic birds and animals. Several have been hit hard by the catastrophic 2019-2020 bushfire season, with some forced to close fully or partially to the public, including Alpine National Park and several parks and reserves in East Gippsland. You can still have a wonderful holiday here, though, with plenty of walking trails and self drive routes still open. They take you between country inns and B&Bs, where you'll experience genuine Aussie hospitality while supporting small businesses in the process – your custom is much needed in what is a difficult time for the Australian tourist industry.

It's also worth making time to learn about Indigenous history, culture and spirituality while you're here. Victoria has lagged behind the Northern Territory and Queensland when it comes to promoting its Aboriginal heritage but there's much to see, including Budj Bim National Heritage Landscape, which in 2019 became the first site in Australia to achieve UNESCO World Heritage Status for Aboriginal cultural significance, thanks to its complex system of aquaculture.
Victoria is…
full of wild wilderness and rich in Aboriginal heritage.
Victoria isn't…
just about Melbourne and the Great Ocean Road.
Victoria's bushfires
Fire season in Australia is always dangerous but the 2019-2020 season has been called the worst on record, with large swathes of the country left devastated. In Victoria, the state's Alpine and eastern regions have been the worst hit, including East Gippsland. Many of the impacted areas rely on tourism to boost their local economies, which means travellers are key to rebuilding the scorched parts of the country and helping communities and wildlife recover.
When you are visiting, remember that bush fires can happen any time, but especially during drier periods and over the course of summer. Only use designated BBQ areas, and respect peak season fire bans, when fires and wood or coal-fired barbecues are strict no-nos in many areas. Also, be careful when walking in the bush or stopping for a break by the side of the road. Don't leave glass lying around and make sure cigarettes are fully extinguished with water – just for starters.
Parks Victoria has regularly updated information on
fire affected parks
, including which are open to the public. You can donate to the Victoria bushfire appeal
here
.
What we rate and what we don't
Aboriginal culture
Victoria's coastline and countryside supplied natural resources for Indigenous people for tens of thousands of years, and the state holds much significant spiritual significance related to land, wildlife and ancestors. Finding out more about Aboriginal culture could take you to the Budj Bim Cultural Landscape in the company of an Aboriginal guide or to see rock art in the Grampians, while Melbourne offers indigenous galleries and cultural centres, as well as the Aboriginal Heritage walk.
Wildlife watching
You'll find a plethora of wildlife in Victoria, much of it rare or endangered. Head to Great Otway National Park to spend the day spotting koalas in the wild; watch mobs of kangaroos hop past in Grampians National Park or head to Phillip Island, a chunk of coastal heaven famed for its penguins and seals. Along the coast, you'll spot fur seals and bird life but the star of the show is the
southern right whale
, here from May to October.
Walking holidays
Self guided or small group walking holidays take you to the tiny towns that day-trippers rarely reach. Tackle a section of the 104km Great Ocean Walk, an inn-to-inn trail that leads from Apollo Bay to the Twelve Apostles, or instead walk part of the continuous 250km loop track of the Great Southwest walk – either way you'll be treated to dramatic coastal cliffs and remote bushland full of birds and native flowers.
Self drive holidays
Self drive holidays not only help you explore one of the most famous coastal routes in the world – the Great Ocean Road – they're also ideal for discovering remote towns and countryside. You get maps, itineraries, 24-hour support and pre-booked accommodation, but the freedom to putter between national parks, beaches and towns, stopping whenever you like.
Local produce
Melbournites know that theirs is one of the world's great foodie cities, but head outside of town and you'll find an equally exciting culinary scene, where fresh, quality local ingredients and passionate producers take centre stage. From gourmet restaurants and coastal cafes to the wineries of Coonawarra and the Barossa Valley, you'll find more than enough to keep both your spirit and your belly full.
The Twelve Apostles
"The overcrowding at the Apostles makes it a really ordinary experience," says Brett Neagle, "and it's not as good as the walk that precedes it." This is especially true in the summer months, when the access roads are packed with traffic and the site itself beset with people brandishing selfie sticks. Far better to stay overnight and revel in its beauty after most people have left – or get up at 6am for a sunrise without the crowds.
Coach trips
Massive tourist buses leave Melbourne daily in summer for whistle stop tours of the Great Ocean Road. They may be convenient, but they're polluting and don't encourage travellers to stay in the area longer than a couple of hours. A much better idea is to self drive or join a small group, and stay in the area for longer than a day – you'll be able to appreciate the area's beauty without being rushed.
Neighbours tours
If in Melbourne you might be tempted to take a stroll down Ramsey Street as part of the Neighbours tour. However, it's just a lengthy round-trip with a chatty tour guide followed by selfies by the road sign. Melbourne's awash with architectural heritage, fantastic museums and green areas like the Royal Botanical Gardens. Don't waste your time on soap opera sets; make the most of Melbourne's cultural capital.
Our top Victoria Holiday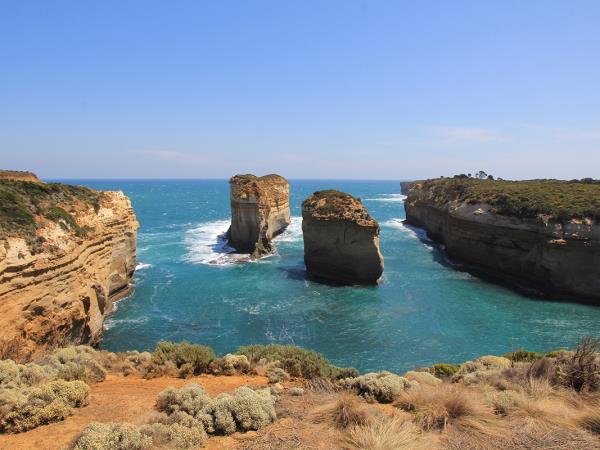 The full Great Ocean walk pack free self guided.
From
AU $2855
8 days
ex flights
Tailor made:
Any day of the year for a minimum of two people booking together (subject to availability)
If you'd like to chat about Victoria or need help finding a holiday to suit you we're very happy to help.

Eating & drinking
Victoria's fertile volcanic plains produce some of Australia's finest fruit. Berries, including strawberries, blueberries and some of the biggest blackberries you've ever seen, grow in abundance.

Native restaurants, such as Charcoal Lane in Fitzroy and Brambuk National Park Cafe in Grampians National Park, serve bush food using traditional ingredients such as wallaby, emu, wattleseed and bush plum. But for the local Indigenous community, promoting, using and preserving these foods is so much more than a foodie fad.

Aside from Aboriginal fare, migrants have brought the world's dishes to Australia's doorstep with Asian cuisine highly recommended here.

Brett Neagle from our tour partner Auswalk: "Melbourne is the cultural capital of Australia hands down, and the food here is possibly the best in the world. I mean that. Travellers surveyed say (once they've been to Australia) that only France is better for food. But here you get the fusion between all the cultures and the produce is better."
People & language
In today's Victoria there are
38 native languages spoken
. Colonisation dramatically reduced the use of many local languages, but they have been increasing in popularity in recent years thanks to the work of Aboriginal communities and Aboriginal language programmes in schools.
Victoria is one of Australia's most diverse states – almost 30 percent of Victorians were born overseas and just over a quarter speak a language other than English at home.
Gifts & shopping
Victoria is the second-smallest state in Australia but is home to more wine regions and individual wineries than any other, producing fine sparkling
wine
, high quality Chardonnay and Pinot Noir and savoury Shiraz, among others.
If you're looking for a browse, Melbourne's Queen Victoria Market is a great place to discover fresh and specialty produce, handmade gifts, great coffee and new and
vintage clothing
.
For traditional and contemporary Indigenous art,
Original and Authentic Aboriginal Art
in Melbourne is a good starting point, while across the state Aboriginal cultural centres such as Brambuk in the Grampians sell authentic locally-made souvenirs. Just make sure you are buying artwork that gives the artist a fair deal. Have a look at the
Indigenous Art Code
, a system which promotes ethical trading in Indigenous art.
How much does it cost?
A schooner (2/3 pint) beer in a pub: £5

Mid-range meal for two with wine: £70

Meal for two from a Melbourne food truck: £18

Adult entrance to Melbourne Museum: £9