Things to see and do in Melbourne
You'll never run out of things to see and do in Melbourne, even the locals are constantly finding new places to hang out, galleries to visit and events to attend – on top of a full sports and cultural calendar - however, no matter how short your visit, here are our recommendations on the absolutely unmissable:
1. Take to the skies and balloon over the city.
Melbourne is the one of the only cities in the world you can fly over by balloon. This unique vantage point, silently sailing through the air, allows you to see the city laid out like a living map.
People watch from a very unique perspective and look out beyond the city to the fabulous stretches of mountains and parks, beaches and ocean, as far as the eye can see.
2. Loose yourself.
The laneways and arcades are like animal burrows weaving a complex trail through the city centre and bursting with cool bars, quirky shops, funky galleries and independent stores. This fun and ever-evolving city area makes an excellent shopping and dining choice and showcases the best of Melbourne's cosmopolitan, independent and creative streaks.
3. Hop on a bike.
Ditch the bus and tour the city on two wheels using Melbourne's great bike hire companies, or organised bike tours. Local guides know every nook and cranny of the city, and with the wind in your hair and plenty of stop-offs at cafes and gourmet boltholes you'll not only feel easy and breezy, you'll also see more in a few hours than a full day on foot.
4. Experience Degraves Street Cafe Culture.
Melbournians are seriously into their coffee and Degraves Street is one of the city's favourite spots to grab an espresso on the go or unwind with a steaming mug of cappucino. Take a pew outside to watch the world go by and don't forget to ask the expert barristas for their recommendations on the best blends and brews.
5. Have your cake and beach it in St. Kilda.
Funky, laid-back St. Kilda on the seafront is a mix of olde worlde, often eccentric architecture, colourful buildings and pretty shopfronts and a popular playground for Melbournians in the summer months. Visit its iconic retro Luna Park, enjoy watersports such as kitesurfing or simply relax on the beaches, and take a good long walk along the promenade with an ice-cream. Then head to Ackland street for cakes and pastries galore in its famous bakeries.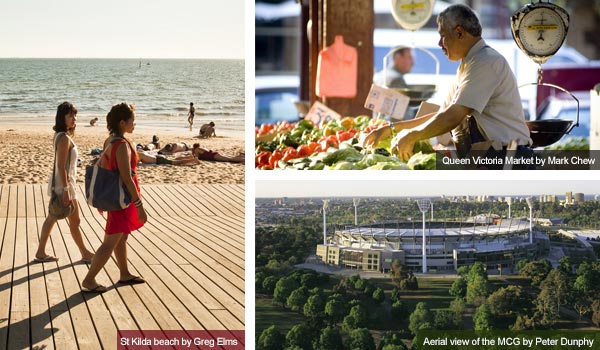 6. Soak up local culture at a festival.
Aussies love their festivals and events and Melbourne's annual calendar is punctuated by some of the greatest cultural and sporting rendez-vous in the southern hemisphere. From the Good Food and Wine show and International Jazz Festival in Winter to music festivals across the summer months there's always something happening on the Melbourne cultural scene. Sports mad visitors will enjoy the huge variety of sporting events and matches in the city attracting international star players. Find out more about
Melbourne events
7. Enjoy some Aussie Sports.
Confused by Aussie Rules Football? Crazy about Cricket? Visit the world famous Melbourne Cricket Ground - or "The G" - host to many different sporting events throughout the year and cheer on with the locals as the teams battle it out. Demystify the rules of Aussie Footballs, watch England play for the Ashes or visit the MCG National Sports Museum documenting more than two centuries of Australian sporting history.
8. Face your Fear of Heights.
Take one of the quickest elevator rides in the world to the 88th floor of the Eureka Tower, the view from inside the skydeck here is dazzling, but if this wasn't a big enough challenge to your fear of heights, try stepping out onto The Edge, a completely glass viewing box jutting three metres out of the tower, suspended over the city. The view is breath-taking, if not for the faint-hearted.
9. Wine and Dine to your heart's content.
Take advantage of the myriad dining options in the city, every culture is represented and every taste and budget is catered for. Melbournians love eating out, and with this many options its no surprise why - especially when they know you can wash down any meal with an exquisite selection of fine local wines, made just on the city doorstep. Find out more about
Melbourne food and drink
10. Hit the market.
Queen Victoria market is one of Melbourne' historic landmark buildings and one of the oldest markets, trading since 1878. The bustling market is a haven of delicious fresh produce and local delicacies, with many traders still occupying traditional shopfronts. Queen Victoria Market sells everything from fresh cheeses and handmade clothes, to rare vinyl records and organic vegetables.Wednesday nights in the summer play host to the Suzuki Night Market, evenings of live entertainment, late shopping, food festivals and bar and winery tastings.

Find out more about
Melbourne