Responsible walking in Europe
---
Travel right WHEN ON A WALKING HOLIDAY
Responsible tourism issues get plenty of attention when walking in far flung locations, such as the Himalayas or Peru, where porters' rights or cultural sensitivities are important to be aware of, and do something about. However, there are other key issues that should always be taken into account to ensure you are leading the way in responsible walking in Europe. Leave No Trace might seem obvious but many people still seem oblivious. And even though you are not climbing Kili or taking on Toubkal, respecting and educating yourself about mountain safety is crucial. In short, keep your footprint featherlike in terms of the environment and, indeed, favourable to people who live there all year round.
Wildlife & environment
---
LEAVE NO TRACE MEANS LEAVE NO TRACE
Is it OK to throw cherry stones into the sea as you hike along the Amalfi coast? Or an apple core behind a bush in the Pyrenees? Well, they aren't exactly weapons of mass destruction, but a piece of coral that has taken years to grow might not feel the same way. The insects that thrive on indigenous trees neither either. So, just to be safe, take out what you brought in.
Leave No Trace
is the leading worldwide authority responsible for training and educating guides, children, and walking groups on how to protect the places where they love to walk. So much of it may seem common sense, but there are still thousands upon thousands who leave stuff behind. Some of this is just downright stupid, such as disposable barbeques, drinks bottles and even pop up tents. But others sometimes don't realise that banana skins, cigarette butts and chewing gum are also detrimental to the environment, or at least take a long time to biodegrade. Another tough message, and one that is hard for kids, is to not pick wildflowers. Because Leave no trace also means leaving nature as you find it. Here are some of their top tips, not all common sense. But all very sensible.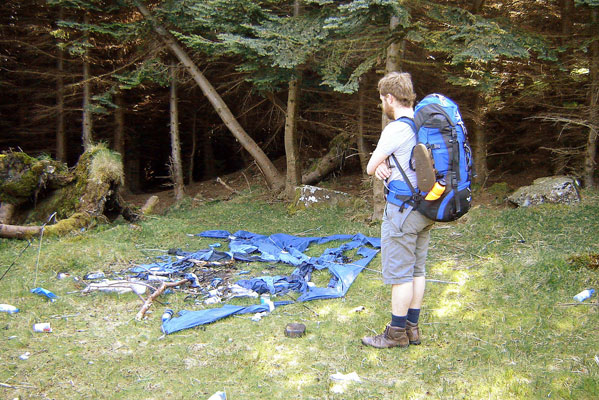 Walk single file in the middle of the trail, even when wet or muddy.
If you are wild camping, pitch at least 60m from lakes and streams.
Deposit solid human waste 15-20cm deep, at least 60m from water, camp and trails. Cover and disguise the hole when finished.
When washing dishes, or yourself, carry water 60m away from streams or lakes and use biodegradable soap.
Respect all rules about fires. Most national parks do not allow them, for example. But in wilder areas, construct only small ones within a carefully constructed fire ring. Use only small sticks and put them out completely, scattering the cool ashes. Leave no trace applies to fires too.
Culture & the environment
---
THE CULTURE OF MOUNTAIN SAFETY
You don't mess with the mountains and, for that reason, on most of our walking holidays that take you into Europe's elevated areas, such as the Pyrenees, Dolomites and of course, the Alps, you will be walking with a mountain guide. However, whether you are on a self-guided walking holiday or a guided, group holiday, it is crucial to have some awareness of mountain safety.
If possible, always go walking in mountainous regions with an International Mountain Leader or IML or other qualified mountain guide. These are highly qualified people, who know the terrain very well, the weather patterns, avalanche risks and so on. They are also fully trained in emergency procedures and will warn the walking group about dangers and how to prevent accidents. Some walkers turn a blind eye to mountain safety, particularly in summer, and think they can take on the peaks without a guide. But unless you are experienced, this is often misguided, as conditions can still be extreme in summer, with avalanches happening as late as May in some places.
It is important to realise that the majority of accidents happen in the mountains because of exhaustion, exacerbated by overexposure to heat, cold or being dehydrated. So take all the precautions that you need. For more extreme hiking, such as summiting Mont Blanc, see
our Mont Blanc travel
guide for more details.
Eric Lasserre, proMONT-BLANC, an organisation that seeks to protect the Mont Blanc massif:
"In the Chamonix valley alone there are 130 avalanches corridors. So, if you are going off piste snowshoeing, skiing or even hiking you need to be aware of this, as it is likely you will cross one of them. Avalanches can often last up until the month of May, with big springtime avalanches, so you need to be wary of avalanche warnings. Even if there is no snow where you are walking."
What you can do
Be fit and have good kit. Safe walking boots, the right amount of layers, waterproofs, water and an emergency pack are key. Try to always walk with an internationally qualified mountain leader. The
UIMLA International Mountain Leader
and the
IFMGA Mountain Guide
are the only internationally recognised qualifications in the mountains worldwide.
Responsible walking in Europe tips
---
TRAVEL BETTER IN ON A WALKING HOLIDAY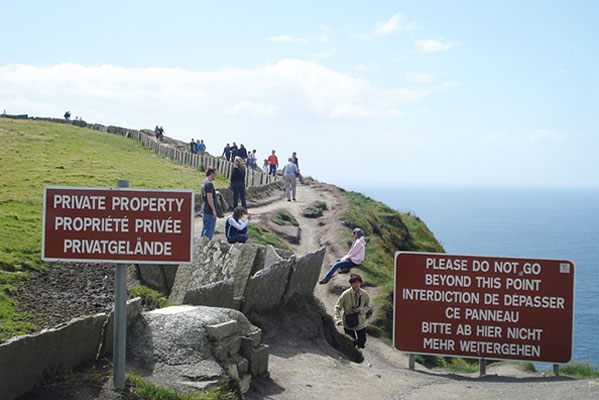 Always stick to waymarked trails. Sometimes years have been spent gaining right of way for hikers, so don't ruin it for everyone. Also, trails are managed in a way that supports conservation management, so you might be walking through a bird nesting area, or a breeding ground. You might also be walking into private land reserved for hunting. Never a good idea.
When you take a walking holiday in Scotland, you benefit from superb right to roam laws. However, deer stalking season is also a big part of the culture, which restricts walking access. Check out the Heading for the Scottish Hills website between 1st July to 20th October, the main season, with a hind season until 15 February, to find out which estates are out of bounds to hikers.
Hunting also happens in France, Spain and Italy. So if you see signs that say 'chasse', 'caccia' or 'caza', especially around end August until October, take care, and inform yourself locally.
Temperatures soaring? Just don't hike. People really do die of heat exposure, not just in the desert, but in countries like Spain.
Charity climbs can be an issue in some parts of the world, with some organisers ignoring pleas for responsible rambling. Some peaks are now charity central, from Snowdon to Ben Nevis. Conservationists seek to limit the numbers of people hiking, but it is a tricky issue as it is argued that they bring income to the local area. Which isn't always true, unless you stay for a couple of nights, and not just dash in and dash out again.
John Hutchison, Chairman John Muir Trust, the conservation charity which owns the summit of Ben Nevis: "I've seen organised parties of a thousand people on the Ben in one day. Access to the Ben should always be free and while it is great that these charities make money out of Ben Nevis, it is really disappointing that nothing comes back to repair the paths, as it is charities like ours and the National Trust for Scotland that have to finance these. So, we would hope that over time we can change hearts and minds about the ways in which these events are approached."
To lessen your environmental footprint on habitats and ecosystems, walk single file in the middle of the trail, even when wet or muddy
A responsible walker is an insured walker. It really can cost you if you need to be rescued from a remote spot by helicopter. Or even by ambulance.
Spokesperson from British Embasssy in Madrid, Spain: "Make sure you have travel insurance. An emergency abroad can be extremely expensive. If you need to be returned to the UK it could cost you thousands, unless you are properly insured. It can cost, for example, £12,000 to £16,000 for an air ambulance from the Canaries. Every year British Consulates see cases of uninsured travellers facing huge bills – make sure you are not one of them. And it is good to be aware that the Catalonia region has started charging negligent hikers, climbers, skiers and other adventurers who have to be rescued. The regional government has recently started sending bills to all people who required emergency rescues, to encourage others to be more careful. People deemed to have been negligent will have to pay."