Ten best walking holidays in Europe
---
OUR EURO STARS
There are over 50 countries in Europe now, and each has its own walking routes, waymarked ways and hiking highlights. However, we have picked our ten best walking holidays in Europe for this travel guide just to get you thinking outside the box when it comes to Europe. Remembering that there are places such as Finland and Romania, the Picos de Europa in Spain and that Catalonia is not just limited to city breaks in Barcelona. Some of Gaudi's greatest works were inspired by mountains after all. So, here are the results of the Responsible Travel jury, with hiking holidays that deserve douze points.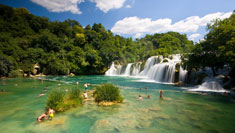 Croatia
Walk the glorious coast of Croatia, island hop its archipelagic highlights or head inland to its secret wonders. There are eight national parks here, protecting the 16 emerald green lakes of Plitvice, the canyons of Paklenica and the waterfalls and karst formations of Krka. You can just walk the coast too, of course, hopping the islands such as Mjet NP and hiking around them. And always pack your swimmers.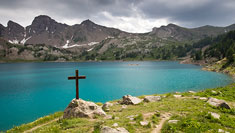 France – Alps
The Tour de Mont Blanc, which circumnavigates rather than conquers the massif magnifique, is a superb option for a walking holiday. For quieter Alpine paradise, the Ecrins NP is a French secret they like to keep to themselves, also fab for winter snowshoeing. For warmer climes, head south to the Alpes-Maritimes' Mercantour NP, hike for days from inn to inn, with a donkey to carry your bags. Eeh-aw. Eeh-aw. Eeh-aw.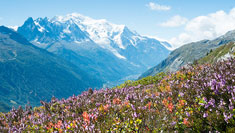 France – Mont Blanc
So beautiful it just had to be shared between France, Switzerland and Italy. Best way to take on this multinational massif, the highest peak in Western Europe at 4810m is to hike the Tour de Mont Blanc – a stunning 170km circuit through all three countries. Although the summit is achievable, you need more climbing experience than the circuit, but there are holidays to take you to the top.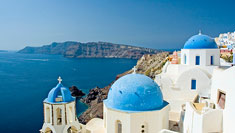 Greece
For Hellenic hiking, discover deserted trails on secret islands like Syros, Sifnos, Tinos or Ulysses' rugged home Lefkada. Or Santorini's volcanic virtuosity, as you hit the hills away from tourist crowds. Everywhere you walk in Greece, scented olive groves and sensational sandy coves cross your path. As does culture, such as on a trek to Mt Olympus, home of the ancient gods. It all still feels like you have died and gone to heaven.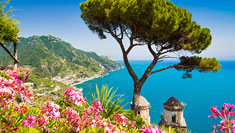 Italy – Amalfi Coast
If jetset Amalfi isn't your thing but you still crave its coastal candy, walking it is the way to go. Within 20 minutes of affluent Amalfi is a world of subsistence farmers, lemon groves, waterfalls and idyllic towns nestled neatly into isolated coves. Follow ancient mule paths and trails through Valle delle Ferriere NP, Naples, Pompeii, Ravello, Capri and Positano. Amalfi may be grand, but it has ancient culture and natural chic.
Romania
The Carpathians, Transylvania, wolves, folklore and exquisite, elevated rural idylls make for gorgeous hiking year round. Yes, you need snowshoes in winter but whatever the weather, the Apuseni Range, or 'Mountains of the Sunset' live up to their name. There is a wilderness feel in these limestone landscapes, with caves to explore and remote villages, where the Moti people live traditional, mountain lives.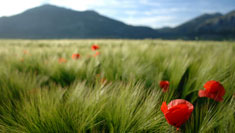 Spain – Andalucía
Walk through Moorish history and culture in the Spanish heartland, where walking holidays take you to Arab-influenced cities of Seville, Cordoba, Cadiz and Huelva. The Sierra Nevada, Europe's highest mountain range after the Alps, makes for stunning summer hiking, but also perfect during the winter, when the foothills are still mild and where gorges, glacial lakes and green valleys are always moor-ish.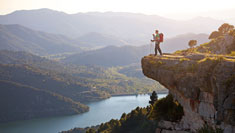 Spain – Catalonia
Catalans know all about pride of place, and when you hike its Pyrenean peaks, sun-soaked Mediterranean coves, Aiguamolls Nature Reserve , volcanic terrain and flower filled meadows, you imbibe this sense of independence. And you get to walk through magnificent cities like Barcelona, Tarragona and Girona too. When you walk it, you feel that this is not like Spain. It is simply, and beautifully, Catalunya.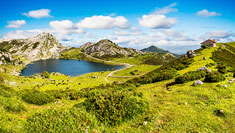 Spain – Picos de Europa
This 2,650m high mountain range, with dramatic limestone formations that look almost Gaudi-esque in structure, is a whole new walking world for many. Just 20km inland from Asturias' Costa Verde, hike through isolated villages that welcome hikers with gastronomic delights. Keep an eye out for the prolific wildlife along the way, as the Picos are habitat for chamois goats, bearded Iberian wolves and brown bears.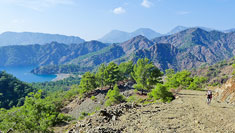 Turkey
Walk away from the madness. The madness of the all inclusive resort, the coastal mayhem that dominates Turkish touristy shores in summer that is. Hiking idylls such as the Lycian Way coastal trail from Fethiye to Antalya, take you to heavenly havens, or St Paul's Trail which follows Roman paths through the Taurus Mountains. We're talking canyons, rivers, lakes and blissfully tranquil Turkish delights.
Where to go walking in Europe
---
RESPONSIBLE TRAVEL'S SUPPLIERS RECOMMEND

Melanie McAnaw, walking holiday expert from our supplier, Headwater, shares her advice on where to go walking in Europe:


"Don't overlook the Canary Islands for walking holidays. They are much more unspoiled than you would think."
Andrew Bateman, from one of our suppliers, Scot Mountain Holiday on where to go on a walking holiday: "Outside the hotspots like Skye, the highlands and islands of Scotland are one of the least populated areas in Europe and if you do have an adventurous spirit and a little imagination it is very easy to escape the crowds. The landscape just absorbs people and if I come across more than twelve people on a mountain day it's a busy one."

Andrew Appleyard, walking specialist at our leading supplier, Exodus, shares his tips for walking in Europe:


"Walking in the footsteps of St Francis in Umbria is the most perfect alternative to holidaying in Tuscany. And much better food too. Walking in Albania really is a step back in time, but unlike Umbria, you really don't want to go for the food."
Hello.
If you'd like to chat about walking in Europe or need help finding a holiday to suit you we're very happy to help.
Rosy & team

01273 823 700