The Portugal Way has evolved over the centuries so that there's actually at least two different ways to walk it. The original route begins in Lisbon (some people also start in Porto, or Tui in Galicia), and finishes as all Camino routes do in Santiago de Compostela, 616km later. But while that route takes you inland, through idyllic Portuguese and Spanish countryside, there is also another route that veers west at Porto, taking you along sections of the Atlantic and Galician coastline. The trails then come together again on the other side of the Spanish border in Redondela. As both are relatively flat, the route you take might depend on the landscapes you prefer to walk through, and also the type of cuisine you'd like to enjoy as you walk – hearty rural fare, or fresh seafood.
Highlights along the Portugal Way
Coimbra
Luis de Camões, Portugal's most revered poet, studied in the ancient university city of Coimbra, its historic architecture spilling down a hillside. Dignified and romantic, Coimbra also has a modern flair as you might expect from such a large student population, especially around the trendy riverside. In the evenings you will often hear the lilting, melancholic strains of fado singing accompanied by guitar in the streets around the cathedral and the Santa Cruz Monastery.

Ponte de Lima
The Camino crosses a Roman bridge in Ponte de Lima, among the oldest towns in Portugal. Situated between two of the most challenging sections of the Portugal Way, and full of cultural charm, Ponte de Lima makes an ideal stopping point. It's a very photogenic place, especially around dusk, but it's worth noting that it does get very busy with daytrippers on weekends.

Porto
Most walkers on the Portugal Way start their journey in Porto, which is more relaxed than the capital but certainly no slouch when it comes to cultural heritage. The historic centre is a UNESCO World Heritage Site, and of course this is the home of port wine, with lodges where you can taste it either straight or mixed into a cocktail on the Gaia bank of the River Douro.


Santarem
If you start your walk in Lisbon then you'll reach Santarém early on. In centuries past this was a royal city, and Santarém also has links with some of Portugal's most famed maritime explorers, including Henry the Navigator. The city is perhaps best known today for its beautifully preserved historic and religious architecture, but arrive in October and you may catch a renowned food and drink festival – great walking fuel.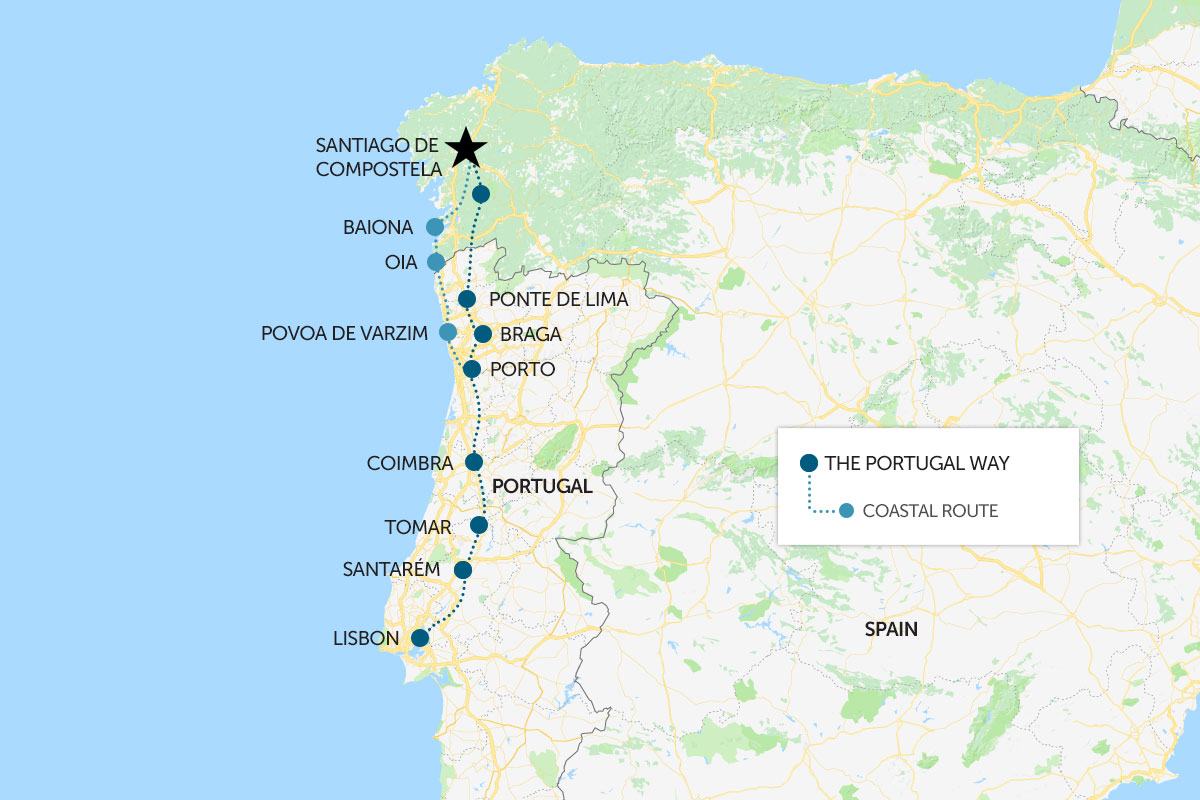 Our Portugal walking Holidays
The Portugal Way – practicalities
How fit do I need to be?
While you shouldn't underestimate the challenge that the Portugal Way presents, it's certainly one of the more forgiving Camino routes. Generally flat, with a lot of tarmac and cobbled road walking, the distance from Porto is usually walked over 10 days, with an extra day or two at either end, meaning it's perfect for a two-week holiday. You'll be covering up to 24km every day, but with practice, determination and a proactive approach to blisters, you should be fine.

When to walk the Portugal Way
The Portugal Way, like most Camino de Santiago routes, is at its busiest during July, August and September when the weather is warm and the days are long. Consequently many pilgrims look instead to the autumn months and especially the spring. You can still expect generally reliable sunshine, but there's a lot more space on the trail, more choice when it comes to accommodation and altogether more opportunity to get into a 'Camino state of mind'.

Support
The big advantage to booking a tailor made Portugal Way tour, besides that fact that you can choose your travel dates and the length of each stage, is that all of the practical arrangements are made for you, so you can focus on enjoying your time on the trail. Accommodations based on your own preferences are booked in advance, and you can have your luggage transferred between them if you don't want to carry it all the way. It's difficult to get lost on such a popular, well marked route, but you'll be provided with comprehensive directions anyway, along with personalised recommendations on what to see and where to eat.
More about Portugal walking