Walking in Portugal travel guide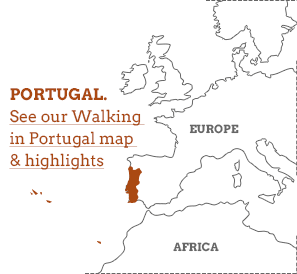 Forget the golf courses and beach resorts. Give the Algarve the elbow. Portugal is much more than a summer holiday hotspot and there's no finer way to discover its hidden villages and rural heartland than on a walking holiday. From the coast, where Atlantic rollers crash against isolated beaches, walk through soft hills crowded with cork and eucalyptus, flower-choked valleys, wheat fields and rocky uplands. Locals share a smile and a story as you arrive at whitewashed villages, pausing for a pastry or glass of local wine, but most trails remain untroubled by both tourists and trophy-seeking trekkers.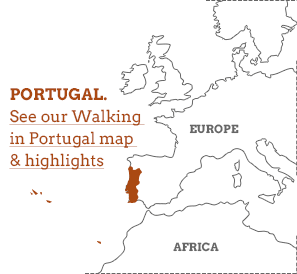 Portugal and walking – the greatest double act no one's ever heard of. Hike through a rich, rural landscape on excellent trails, just don't expect company.

Self guided walking holidays run throughout Portugal, made possible by well marked routes and generally easy terrain, but joining a small group guided tour is definitely the best way to discover the Azores and Madeira, Portugal's wilder offshore territories.

Read on to discover more in our walking holidays in Portugal travel guide.
Is a walking in Portugal for you?
Go on walking in Portugal if…
…you're a walking novice. Cleary marked routes, gentle gradients and well maintained trails mean you don't need to be a seasoned hiker to enjoy walking in Portugal. The Rota Vicentina network can be safely tackled independently, while walking in the Algarve and Alentejo takes you through quiet villages, where friendly locals put you straight if you stray.
…you don't want a guide but appreciate some backup. Self guided walking is popular in Portugal, and by booking a specialist walking holiday you'll benefit from the added support of transfers to start and finish points, detailed maps, researched routes and local knowledge. Support is just a phone call away, too.
… you're minding your pennies. Portugal is pleasingly affordable and rooms in rural hotels are excellent value. Dining out is an inexpensive pleasure – more food than you can eat costs a lot less than you might guess.
… you want surf and turf. Routes that stretch from rocky uplands through wooded valleys and down to the sea are plentiful, so you get a mix of terrain and a medley of views in a single day's walking.
Don't go on walking in Portugal if…
… you're in a rush. Walking in Portugal is just that – walking. Not trekking. Not hiking up mountains or bagging summits. So take it steady. Pause for cheese and olives, drink in the vast coastal views and train your binoculars on storks, butterflies, wild flowers and wild boar truffling about in the cork forests. … you want 21st century treats. Portugal on foot is about enjoying a lifestyle that disappeared long ago in most of Europe. Pass through unchanged landscapes and stay at rustic guesthouses where the welcome's warm but the WiFi might be off. And not a golf course in sight! … à la carte dining is what you want. You'll get great food, but it will be traditional Portuguese dishes. Lots of fish by the coast, as well as pork, olives, pastries and silky local wine. … you're only free in July and August. The heat of high summer makes walking unappealing, although coastal routes, cooled by sea breezes, are more doable. In addition, the beaches can be crowded and prices will take a hike, too. If you can, spring and autumn are better bets.
If you'd like to chat about Portugal walking or need help finding a holiday to suit you we're very happy to help.

Best time to go walking in Portugal

You'll enjoy some of the longest sunshine hours in Europe here, but the best time to go on a Portugal walking holiday is spring and autumn, when it averages only 20°C.

With the centre and south getting 3,200 sunshine hours per year, Portugal is a pleasant, sunny destination pretty much any time, although temperatures can shoot up to 40°C inland in high summer, making walking uncomfortable. On the coast, Atlantic breezes take the edge of the inferno, but expect the high 20°Cs. The best time to go on a Portugal walking holiday is spring and autumn, averaging 20°C. In February, almond blossom peppers the Alentejo and Algarve, while May is all about wildflowers. Come autumn, the sun-scorched landscape has re-greened and the grape harvest is gathered. Even midwinter sees four to six hours of sun, albeit with occasional morning frost.
More Portugal walking articles