Many winter activity holidays take us to the far northern reaches of Swedish, Norwegian and Finnish Lapland, where much of the population is Sámi and have Sámi as a first language. Although there are a number of dialects, the main variety is North Sámi, which is spoken by about 14,000 people, but is sadly in decline. Efforts have been made in recent years, with initiatives such as the Minority Languages Act, which sought to promote Sámi language teaching and wider use in Lapland. But in reality, the younger generation doesn't speak it very well, and it is rarely used in an official capacity. For tourism purposes, the Sámi culture is in danger of becoming over commercialised, and thus trivialised. Reindeer herding, for example, is often sold as the Sámi thing to do, however, in reality only 10 percent of Sámi belong to active reindeer herding collectives (known as sameby), and only 5 percent are believed to actually herd reindeer. Even the Swedish government, for example, gives Sámi rights based on the idea that their primary activity is reindeer herding, limiting rights for the many Sámi for whom this is not a key part of their lifestyle.
Land rights are also an issue for the Sámi and although, in theory, they are respected, there are still issues of encroachment by mining companies, disputes with farmers over grazing pasture for reindeer – and tourism operations. Anti-Sámi prejudice is also, sadly, prevalent amid some who see the Sámi as 'outsiders' and 'inferior', despite the lauding of Sámi culture as a tourist draw. So, it's all conflicted and confused. And of course, ultimately it is the Sámi's right to choose how, when and indeed if they market themselves in tourism. They just should not be told how to do it.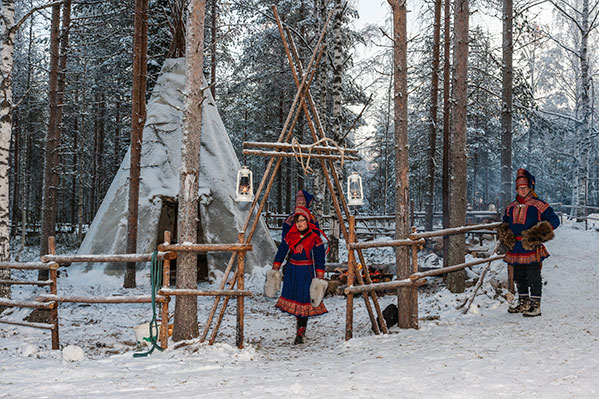 What can you do?
Taking a winter holiday that fully integrates with Sámi communities, learning about their traditions and enjoying cultural exchange, is a valued aspect of a responsible tourism holiday in this region. However, the only way to truly experience Sámi culture is to give it the time and respect it deserves. Read about it in advance, ask questions and you will learn about some of the things that Sámi themselves may take for granted. Such as their innate connection with nature, or their musical and artisanal skills. Sometimes people don't value their own heritage until we, as their guests show them how much we value it. And in so doing, and heightening their pride of place and culture, we can help them protect it.