What to pack for an Arctic cruise
Working out what to pack for an Arctic cruise is tricky, since you will usually have quite limited space in your cabin, and given the long distances often involved in reaching the starting point, bringing several bags can be costly and impractical. Plus, once you set off, if you do find out you've forgotten something important, it's not like you can easily replace it – your nearest shopping centre is now hundreds of miles away. So while your cruise operator will no doubt provide you with a list of what you need to bring, it's definitely not something to leave until the day before departure to start organising.
The majority of Arctic cruises take place in the summer months between late May and early September, when there's more daylight, the weather is better, the ice is melting and it's easier to get around. It can certainly get chilly out on the observation decks, but it's not going to be 'ice crystals in the beard, Ranulph Fiennes eat your heart out' cold. Instead, think of an Easter ski trip: wear layered thermal clothing from the time you get up to avoid sweating too much, as dampness and cold is not a good combination at the top of the world and typically a polar bear will show up right when you duck back to your cabin to get a pullover.
Our Arctic cruising Holidays
The essentials
First and foremost, if you require any prescription medicines then you must ensure you have an adequate supply with you. You'll also need sun protection, as the glare from the ice and snow can be very strong. Pack UV-blocking sunglasses and high factor suncream, as well as chapstick and moisturiser. Ski goggles are recommended for contact lens wearers to prevent the lenses from drying out in the wind. Also, even if you don't tend to suffer from seasickness, it's still worth bringing along some medication, because the last thing you want is to be confined to your cabin for hours at a time.

Waterproof trousers, and a pair of knee-high, waterproof boots with good grip that you can comfortably walk some distance in, are also essential. At the start of land excursions you'll be climbing out of the Zodiac boats into cold water. Bring plenty of thick woollen socks too – assume you'll get through a few pairs a day. High-quality thick gloves, too, are vital. We suggest bringing along a thinner pair as well so that you can still operate your camera while wearing them.

During the Arctic summer there is 24-hour daylight. That can naturally have an effect on sleeping patterns, exacerbating any other difficulties you may have in dropping off. So a sleeping mask is likely to prove as useful as it is lightweight, and if you're sharing a cabin with strangers then you might well be grateful you brought a set of ear plugs.
Clothing
Your holiday operator should give you a comprehensive list of clothing that you'll need to bring, as well as items that they will provide – conveniently saving you a great deal of space. These may well include: insulated boots, towels, water and windproof jackets.
Given that you'll be spending long periods outdoors, either on the observation deck or on land, you will want a beanie-style hat that fits close to your head (anything more elaborate is at risk of being blown away. A snood and/or earmuffs are also a good idea. For land excursions, you will also require a daypack. Try to get one that's waterproof, as the Zodiac rides can get a little splashy.
As they take up very little space, throw in a swimsuit. Some ships have wellness facilities, and a popular activity in the Arctic is the 'Polar Plunge' – a quick dip into the chilly waters either from the beach or with a daring leap from the boat. You don't need a wetsuit, but you will definitely need a bit of nerve.
For getting around the ship, a pair of comfortable trainers or walking shoes will be perfectly adequate – Arctic cruises are very casual affairs. Do aim for footwear that you can slip on quickly though. You never know when you'll be summoned up on deck at short notice to see an amazing iceberg or breaching humpback.
Our top Arctic cruising Holiday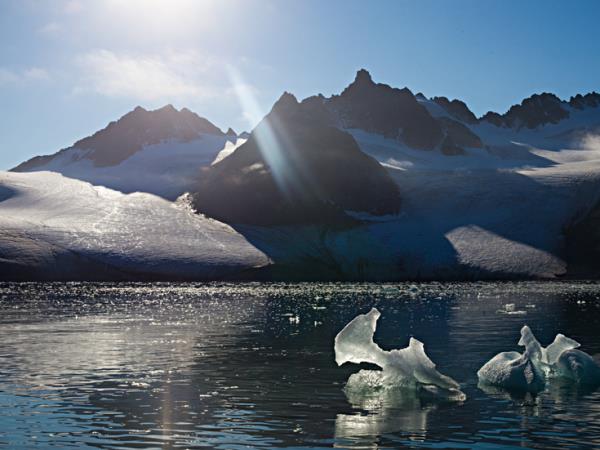 Wildlife-focused, expert-led small ship Arctic cruises
From
£2690

to

£7490
10 days
ex flights
Small group travel:
2021: 13 May, 18 May, 20 May, 23 May, 27 May, 28 May, 29 May, 1 Jun, 2 Jun, 3 Jun, 4 Jun, 7 Jun, 10 Jun, 11 Jun, 12 Jun, 13 Jun, 15 Jun, 18 Jun, 19 Jun, 20 Jun, 21 Jun, 25 Jun, 26 Jun, 28 Jun, 29 Jun, 30 Jun, 1 Jul, 2 Jul, 6 Jul, 7 Jul, 10 Jul, 11 Jul, 13 Jul, 16 Jul, 19 Jul, 20 Jul, 23 Jul, 25 Jul, 28 Jul, 29 Jul, 30 Jul, 3 Aug, 6 Aug, 7 Aug, 9 Aug, 12 Aug, 15 Aug, 16 Aug, 18 Aug, 21 Aug, 24 Aug
If you'd like to chat about Arctic cruising or need help finding a holiday to suit you we're very happy to help.
Equipment
This is one holiday where you can be forgiven for spending it glued to your camera lens. In fact, even amateur photographers often return home from an Arctic cruise holiday with thousands of photos – imagine how many hours you can keep your friends entertained! For that reason, packing a spare battery to use while another charges (the cold means the charge doesn't last as long) and memory cards is highly advisable and you may also want to bring along a laptop/tablet/portable hard drive so that you can transfer images every evening to make space. If you have one or can borrow one, bring a wide-angle lens to capture landscapes and a telephoto or standard zoom for your wildlife shots, and if you have the space, perhaps a tripod. You might also consider a small point 'n' shoot to keep in your pocket just in case.
Other practicalities include a reusable water bottle, and collapsible walking poles, for hiking. A pack of cards, a few travel board games to share with you fellow travellers, and some good books will also come in handy for the evenings.
More about Arctic cruising