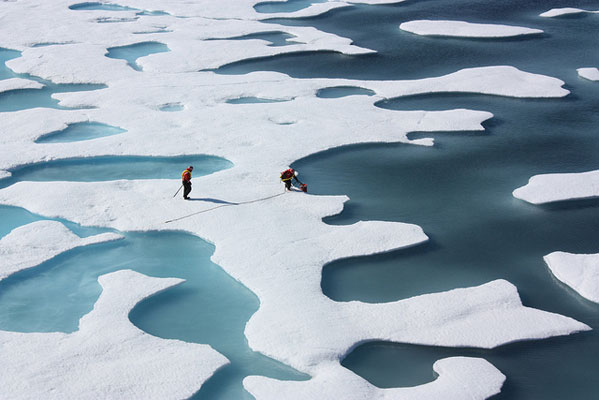 The melting of the ice is having another knock-on environmental impact: facilitating access to oil. Some 90 billion barrels of petroleum – plus huge reserves of natural gas – are believed to lie above the Arctic Circle. Drilling attempts in the 1970s and 80s proved to be costly, complex and inefficient – but rising oil costs and receding ice, were like a red rag to a bull in a china shop for oil companies. However, in 2015 there were two major developments in the Arctic regarding drilling for oil and gas. First, in September 2015 Shell abandoned its plans of drilling for oil in the Arctic, announcing that there weren't enough reserves to make it worth their while. All this after spending over $7bn and exploring for ten years. Second, in October 2015, the US government's Obama administration blocked future prospects for oil drilling in Alaska, putting in place lease conditions that make it nigh on impossible for prospectors to even set foot there. It has also refused requests from companies already holding leases to drill, to extend them. The Save the Arctic campaign led by Greenpeace over the years has had an extraordinary impact on creating awareness about the environmental impact of drilling for oil in Alaska, but still continues to monitor events. For example, Greenland has put its extensive reserves up for tender, and Russia has already begun drilling – and has recently struck oil.
The use of nuclear icebreakers, the hauling of icebergs to make way for rigs, and the creation of roads and pipelines all have the potential to cause havoc in the fragile Arctic ecosystem – not to mention the effects of yet more fuel being burned contributing to further climate change. And of course, an Arctic oil spill could be catastrophic for wildlife above and below the ice, with cleanup operations hampered by the rig's inaccessibility and harsh conditions. WWF has more information
on their website.

What you can do
Unlike Antarctica, which is "owned" by no-one but governed and protected through the Antarctic Treaty, the Arctic encompasses the northernmost parts of eight countries, who also claim parts of the ocean extending beyond their territories – and as the extent of the oil reserves is being revealed, they are attempting to claim more. Greenpeace is still calling for a global sanctuary to protect the Arctic Ocean and ban offshore drilling so it's never too late–
sign their petition
, or make a donation to support this campaign.
WWF also does
extensive work in the Arctic
, including supporting polar bear research, assisting local communities to avoid conflict with wildlife, researching the impacts of climate change and establishing protected areas. They are also members of the Arctic Council, and as such can influence decisions made by the governing nations. There are several ways you can
support WWF
and their work.