Best time to visit the Arctic

The Arctic summer is not as bitterly cold as you might think, with almost 24-hour sunshine and wildflower-filled tundra.

July-August is – for many – the loveliest time in the Arctic, as the sea ice has melted, leaving open waters to cruise through, while migrating whales breach the chilly surface. The Gulf Stream flows up Svalbard's coast, creating a strangely mild oasis 1,200km north of the Arctic Circle. Earlier on the recently calved icebergs are more colossal, but the later you travel, the further north you can sail. By late September, however, the ice creeps southward again, and the Northern Lights begin to glow. Canadian and Russian cruises barely skim the Arctic Circle; the climate is much chillier, bringing ice – and polar bears – considerably further south.
When to go to the Arctic, month by month
There's not much in the way of sunlight or open sailing passages during November, December, January and February, so Arctic cruises are not recommended, especially if you're hoping to see any wildlife. The Northern Lights are visible from September through to March - with the spring and autumn equinoxes said to be particularly good times for viewings. The return of the sun in mid-February and early March sees the advent of spring, and polar bears begin to emerge in the wilds of Canada. April is one of the best times to go on an Arctic cruise for nature photographers as not only are there some incredible newly formed icebergs but there's every chance of also seeing humpback whales appearing beyond untouched landscapes covered in snow and ice. The most impressive icebergs tend to last through May and into June and it's as they're melting that you'll find the best time to see narwhals and sea birds. If you're looking to find polar bears coming closer to the shoreline then July and August is the best time for an Arctic cruise. If you're cruising around Spitsbergen, this is definitely a summer activity. By October the northern shores have iced over, blocking your route, and the lack of daylight and colder temperatures make cruises much less pleasurable.
Our Arctic cruising Holidays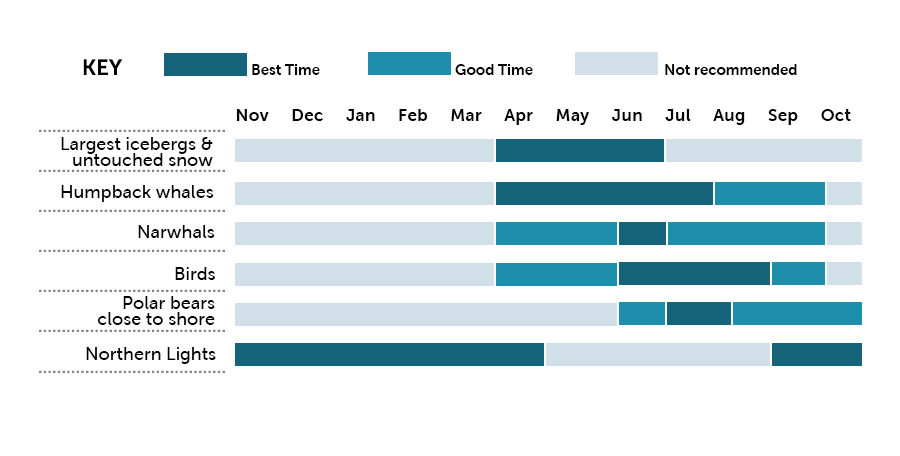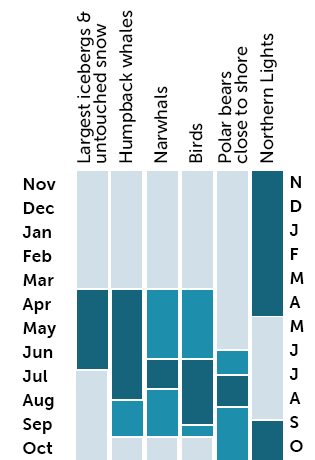 If you'd like to chat about Arctic cruising or need help finding a holiday to suit you we're very happy to help.

More about Arctic cruising