Where to go on holiday in February
February is a month when many of us make for warmer climes, escaping grey skies and rain back home. Our February map and highlights reveal some exciting, and perhaps surprising, places for winter sun, from Costa Rica and Sri Lanka to Tasmania and India. And while it's lovely and warm in Southeast Asia at this time of year, in other parts of the world February is still very much winter. This is a magical time to go snowshoeing in the Spanish Pyrenees, or wait for the Northern Lights while showing the kids the time of their lives in Finnish Lapland.
1. Costa Rica
While you can expect crowds in hotspots such as the national parks, February is the best time to visit Costa Rica. It's warm, dry and the
wildlife
is uninhibited by rain. Leatherback turtles nest on beaches in Corcovado National Park and the rainforests are a riot of colour and noise, with toucans and butterflies brushing up against monkeys, tapirs and iguanas.
2. Finnish Lapland
With thick snow and longer days, February is one of the best months to visit
Finnish Lapland
. You'll have a full range of activities, from snowshoeing to dog sledding, available to you. You also have a good chance of seeing the
Northern Lights
in February. Finnish Lapland is beautiful at any time of year, but February is sublime – a wintery wonderland.
3. India
In February the temperatures in India are very manageable, especially in the south. This is a lovely time to tour the
Golden Triangle
route, although you will encounter crowds at popular sites such as the Taj Mahal. If you're hiking or scouting for tigers in the national parks, then you'll want to layer up in the mornings and evenings.
4. Sri Lanka
Sri Lanka is a popular February destination for travellers seeking winter sun with some culture thrown in. You're just outside the busy season, should avoid the second monsoon, and it's great for wildlife watchers. Animals in Yala National Park are more visible as the dry season commences and this is
peak time for whales
– you might even see an early blue whale.
5. Tasmania
In Tasmania, February is the tail end of summer and "peak" season. "Peak" because even when it's busy in
Tasmania
, it's still nothing compared to the crowds you'd find elsewhere in Australia. February lends itself to self drive holidays, travelling slowly between vineyards and national parks, pausing for walks here and there, and with friendly B&B hosts awaiting you every evening.
6. Thailand
February is a great month to visit
Thailand
– it's dry and not too hot, and nowhere is off-limits. You can lend a hand at an elephant sanctuary, visit the hill tribes, browse the night markets and head down to the islands for a little taste of luxury. Opt for a tailor made tour and you can have it all.
If you'd like to chat about Best places to go in February or need help finding a holiday to suit you we're very happy to help.

We've spoken with our expert travel partners to find out where they recommend travelling to in February. Here's what they say…

Paul Goldstein, from our partner Exodus Travels, says:
"As with all wildlife watching, it is great to take kids on a tiger safari in India. But just be aware of the heat. Choose the time of year correctly to avoid the hottest times... February half term would be perfect."

Mary Curry, from our travel partner Adventure Life, on Antarctica cruising:
"February is fabulous. If you want to get good access through and your goal is to get really far south because you want to cross the polar circle, then you need to go in the height of the season. That's also supposed to be the calmest water in the Drake Passage – although that's really hit and miss. You can get totally calm seas in March and 4.5m waves in January, so you can't guarantee that, but that's the general rule of thumb. Many people want to go in February as they're trying to balance all these factors – they're trying to balance the penguins and the whales, and the possibly calmer water and possibly calmer access."
Geraldine Westrupp, from our specialist travel partner Wild Photography Holidays, with some advice on Iceland:
"February means the chance to see the aurora borealis and the landscapes are very icy and wintery, but there's good light by then."
Martin Royle, founder of our wildlife holiday specialists, Royle Safaris says:
"By far the best time to try and see wolves in the USA is during the winter and in particular the late winter. This is due to the fact that after the annual rut of the bison and elk the males are very tired (near constant fighting and mating for weeks on end) and so they are easy pickings. The wolves also dominate the ecosystem during this period as the bear species (grizzlies and black bears) are hibernating. It is also the main breeding season for the wolves and so they are more active in trying to find mates and establish new packs. So I would recommend February for wolf watching in the USA."
More Best places to go in February articles
Tigers, salsa lessons and Northern Lights – there's more to February than ski slopes.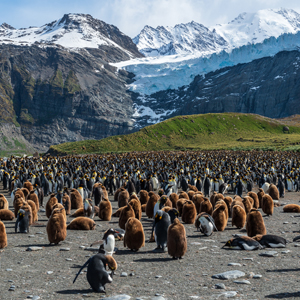 Our top 10 February holidays explore winter sun, cultural touring and fantastic wildlife watching.