One of the world's few inland deltas, the
Okavango Delta
is a vast ecosystem created as the Okavango River flows 1,300km into the parched Kalahari Desert. This immense oasis radiates across 22,000km
2
, fluctuating with the seasons, and contains a network of winding channels and small forested islands. It acts as a gigantic watering hole and buffet for 164 different mammal species, including Africa's largest herds of elephants. Lions stalk buffalo through the papyrus, antelope rear tottering calves during the 'green season', and some 440 varieties of bird flock here. This is a remarkable region, beautifully conserved and carefully maintained. It ranks as one of the best all-encompassing safari destinations in the world, as spectacular as the Serengeti, Ngorongoro Crater and the Masai Mara, while remaining just that bit more off the beaten track.
How the Delta changes
The Okavango Delta changes and fluctuates with the seasons, and from year to year, depending on the rains and flood waters running down from the Angolan Highlands. Water flows continuously into the delta, draining the summer rainfall that falls from January to February. A surge of water, which travels 1,200km in a month, occurs between March and June, and that's when the delta is at its largest. By June and July, some six months after the rains have fallen in Angola, the water levels are at their maximum.
Many travellers prefer to visit the delta during the drier season, from May to October, as it normally guarantees the best animal encounters. Wildlife flocks here as the surrounding desert dries out, to graze the lush vegetation and hunt. This is also the best time to go take a mokoro canoe trip. May and June are chilly, but by October the weather is stifling, peaking in the high 30s, with dust clouds waiting to be dispersed by summer rains.
It's also worth visiting the Okavango during the so-called 'green season', from November to late March. There is no dust now and the vegetation is lush and beautiful. The rains generally fall in late afternoon, with thunderstorms that quickly pass over, so you can still enjoy beautiful sunny days. The rain cools temperatures, too, and while wildlife is more dispersed, there are lots of young animals around, particularly antelope, and a spectacular array of migratory birds. And being low season, you may be able to bag a bargain.
Exploring
Unusually, bush walks, off-road safaris and night time game drives are permitted across much of the delta. So, too, are mokoro canoe rides – a unique opportunity to experience the ecosystem at water level, eye to eye with hippos and herons. This is also a wonderful way to engage with the people who live on the edges of the delta; chat to your guide as he or she poles you through the swamps to learn about life in one of Africa's last great wildernesses.
Travelling to the Okavango Delta
Maun is the gateway to the Okavango. You can fly in via South Africa before driving several hours to a safari camp or lodge, or transfer on from Maun in a light aircraft, which is a great way to appreciate the immensity of this region. In the delta, safari vehicles, mokoro canoes and bushwalks are the only way of getting around, with longer boat journeys common along the deep Panhandle. Most organised tours then follow migration routes out across the Savuti Marsh and Linyanti floodplains to Chobe National Park, famed for its enormous elephant herds and luxurious lodges.
From here, there's also the potential to press on into Zambia to see Victoria Falls. Many tours, though, fly southeast from here, to incorporate the vast Makgadikgadi Pans, for instance, where wildebeest, zebra and flamingos await. Although flying is the easiest way to travel internally, overland adventures in large safari trucks, setting up bush camps along the way, are a more economical way of exploring the Okavango.
Our top Botswana Holiday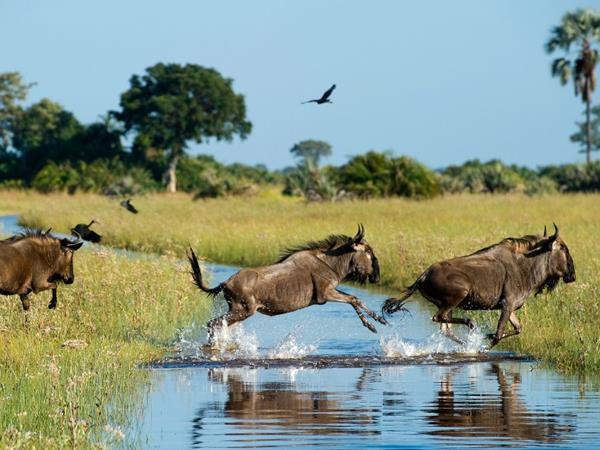 An unforgettable wildlife and scenery experience
From
US $3853
11 days
ex flights
Tailor made:
This trip can be tailor made throughout the year to suit your requirements
If you'd like to chat about Botswana or need help finding a holiday to suit you we're very happy to help.

Highlights in the Okavango Delta
Moremi Game Reserve
The first reserve in Botswana to be established by local communities, Moremi was set up in 1963 by the BaTwana tribal authorities, who were fighting back against expanding farms and uncontrolled hunting. Moremi protects a tapestry of islands, swamps, forests, grasslands and channels – an unspoiled ecosystem providing a glimpse of the African wilderness at its best. The Big Five can be seen here, along with over 400 bird species; look out for lions stalking buffalo in the reeds.
Savuti
Between the delta and Chobe National Park, Savuti Marsh is famed for its large predators. Its big cats are especially bold and lions have been observed hunting adult elephants here, which is a thrilling and rare sight. Huge herds of wildebeest and zebra migrate here during the annual flooding of the Savuti River, along with over 400 species of birds.
Linyanti Reserve
The remote Linyanti Reserve is not greatly visited, and remains one of northern Botswana's wildest landscapes. In the dry season, you'll encounter large herds of buffalo and there's the chance to spot rare and unique species, such as aardvark. Big herds of elephants congregate around the rivers and waterholes, and thousands of zebra amass here in the winter before heading south.
Tsodilo Hills
The sacred Tsodilo Hills, now a UNESCO World Heritage Site, offers a rare slice of ancient Kalahari culture. Huge rocks stand sentry over the surrounding flat landscape, containing some 4,000 examples of rock art; many are thousands of years old, preserved by the parched desert air. Standard itineraries rarely reach this remote spot, but it can be requested as an add-on – a guided tour reveals the rocks' spiritual secrets.