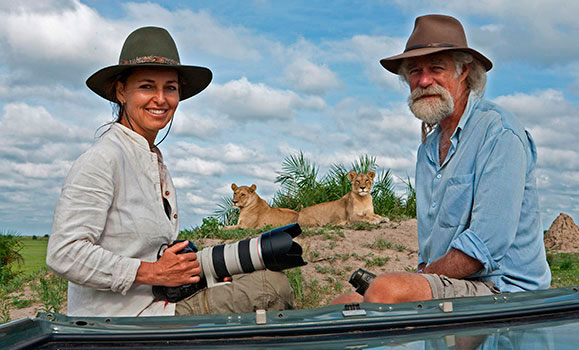 Dereck and Beverly Joubert are National Geographic Explorers-in-Residence. Originally from Botswana, they have spent almost 30 years making films about African wildlife, and have established the Big Cats Initiative as an emergency response to the rapid decline of big cat species. They share their views on the future of tourism and conservation in Botswana:
"At this time, we need tourism more than ever before.
There's a real danger that if sustainable tourism doesn't support Botswana, then the hunting ban will be lifted.
So it's up to everyone who is interested to vote with their feet. If the ban doesn't work, if the concessions don't bring in enough money to support themselves, then people will want to reinstate hunting.
Part of responsible tourism is going to places where your tourism dollars are most needed – and in Botswana's case, it's for conservation. For every person a lodge hires, 4.5 people get fed.
Tourism hires staff year-round, whereas hunting lodges only operated for five months of the year, and employed a fraction of the number of staff that sustainable tourism does. Additionally, instead of 12 hunters per year in a reserve, you've got hundreds of tourists. That's a substantial return to the community through employment and gratuities – it all feeds back into the village. People also buy curios and eat much more food, supporting local producers.

So rather than just the hunting, we need to look at the bigger picture and see how we are benefitting local communities.
In the conversion from hunting to photographic safaris, we're increasing the wealth and health of communities nearby, which in turn alleviates poaching pressure, as only those on the breadline need to resort to poaching.
As the conversion continues, I would predict that all these areas will see a resurgence – of wildlife increasing, of more skills being transferred, of more staff being employed – and far less poaching as a result."
Read more about the challenges faced following the hunting ban in The Financialist.