BEST TIME TO VISIT BULGARIA

Long, hot, summer days send Bulgarians to Black Sea beaches. In August, especially, you'll find the streets of Sofia and the parks of Plovdiv a lot less crowded.

In winter, Bulgaria's alpine areas are covered in snow although public transport still seems to run on time, ferrying folk to and from ski resorts close to Sofia and Plovdiv. Summers can get very hot, particularly at lower levels, making the Black Sea the place to be for local holidaymakers. Although autumn is marked with cooler temperatures, it's one of the best times to visit Bulgaria for country walks and city sightseeing. Spring can get a tad damp so waterproofs are advisable. However, glacial lakes, mountain streams and waterfalls are at the peak of their powers at this time.
WHEN TO VISIT BULGARIA & WHEN NOT TO
January, February and March are the best times to visit Bulgaria for snow shoeing and winter walking holidays in the Rila Mountains. Elsewhere you'll discover cities, such as Sofia and Plovdiv, bereft of tourist hordes. There's no better time to explore before hunkering down with a steaming bowl of tripe soup (shkembe chorba) or slow cooked meat and veggies (gyuvetch) in a warm and cosy tavern. April and May often still see snow on higher ground; however, warmth is on the way down in the valleys. Take a stroll in the countryside and you'll find pastures peppered with poppies, primroses and a variety of wild orchids. Rain showers might make May a washout so pack ponchos and brollies accordingly. June is the best time to go to Bulgaria for walking and other outdoor activities, with temperatures in the low 20°Cs. June also signals the start of the traditional craft and music fair in the village of Oreshak (near Troyan). Dancing, food and work by leading Bulgarian folk artists will be exhibited all the way through to September. Although July and August can get hot down in the valleys there's plenty of shade to be found further up the slopes, particularly in the pine and fir forests of the Rhodope Mountains and Pirin National Park. Watching the sun rise over the Black Sea on the 1st July has become a tradition with free spirited Bulgarians. Many head to the coast to celebrate midsummer accompanied by strains of Uriah Heep's epic hippie rock ballad July Morning. Bulgaria's two highest peaks, Musala (2,925m) in Rila National Park and Golyam Snezhnik (2,188m), in the Rhodope Mountains, are only accessible in July and August. September and October are another best time to visit Bulgaria with local life in cities and towns returning to normal after the summer break and country scenes starting to spark with fiery foliage. Temperatures are still pretty pleasant – think Mediterranean climate – and you'll find the vineyards around the Struma Valley and Melnik are a hive of activity as grapes are harvested right up until the end of October. Although November brings colder conditions, most Bulgarian ski resorts, such as Bansko, won't open for business until December. The end of the ski season is around mid April.
Our top Bulgaria Holiday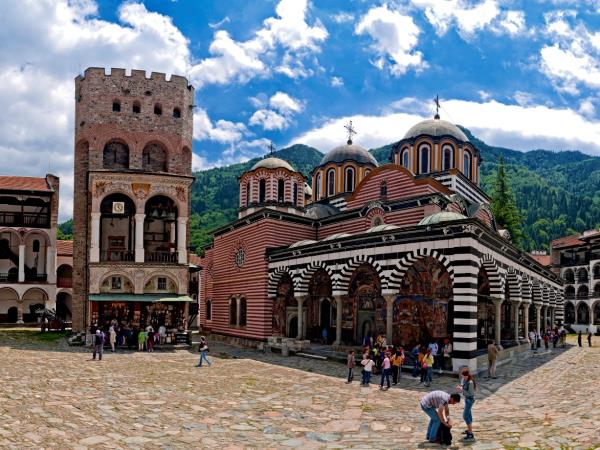 Discover the history, culture and landscapes of Bulgaria
From
£1099
10 days
ex flights
Small group travel:
2019: 18 May, 21 Sep
2020: 16 May, 19 Sep
Hello. If you'd like to chat about Bulgaria or need help finding a holiday to suit you we're very happy to help. Rosy & team.
OUR PICK FROM THE BULGARIAN CALENDAR
International Bagpipe Festival, Gela village
During the first weekend of August, the village of Gela, deep within the Rhodope Mountains, comes alive to the strains of the pipes. Bagpipes – or as they're called in Bulgaria, kaba gaida – have long been a part of traditional folk music here and clans gather from far and wide to listen, dance and sing along as part of an uplifting weekend away.
Convert currencies