Rhodope Mountains, Bulgaria
Set your sights on the minaret of the local village mosque – there's a large Bulgarian Muslim population in the Rhodopes –as you walk home through a sea of purple lilacs, wild thyme and oregano, primroses and orchids. We recommend the Rhodope Mountains for travellers looking to visit the impressive Buinovo Gorge and hike to the absolutely stunning mountains views from the Eagle's Eye. Bulgaria's most expansive mountain range is also ideal for travellers looking to trace the footsteps of Orpheus through the mighty Devil's Throat Cave in the Trigrad Gorge. Walk to Chaira Lakes; kayak on the Arda River; take in the splendour of the Canyon of Waterfalls; or simply settle into the comfort of a family run spa hotel in Yagodina; the Rhodope Mountains make the perfect setting for family, small group and tailor made holidays in Bulgaria.
The Rhodope Mountains are covered in hiking trails leading between traditional farming villages, like Trigrad, Yagodina and Gela. These mountain communities reveal the region's old-fashioned agricultural techniques as well as containing examples of Rhodope architecture, such as the two-storey white stone and timber houses in villages like Shiroka Laka. Gorges, caves and waterfalls line the way to the 'Wonderful Bridges' over the Erkyupriya River – one of Bulgaria's top natural attractions.
There are also options to go horse riding in the Rhodopes and take a 4WD tour to the Eagle's Eye viewing platform. We recommend ascending to the Eagle's Eye on foot, though – steep but no scrambling – as not only are the views more rewarding but your hiking boots will do far less harm to the environment than heavy tyre tracks.
Birding enthusiasts should definitely bring the binocs because golden eagles, peregrine falcons and kestrels are all known to wheel overhead, especially around the Sveti Iliya ridge that rises directly to the north of Yagodina. Some of our tour operators work in conjunction with the Bulgarian Society for the Protection of Birds and have successfully completed projects related to bird protection in the area.
The best time to visit the Rhodope Mountains is from May to October. Springtime finds waterfalls and rivers flowing faster as well as alpine meadows filled with flowering violets, hyacinths, cowslips, edelweiss and numerous varieties of wild orchids. Natural spring water can be breathtakingly refreshing no matter when you fill up your flask. Higher ground can still be snow covered even in May although the thaw might well be in full swing which paints a pretty picture along low level walking tracks. June is commonly considered the best time to visit the Rhodopes for comfortably warm temperatures. As there are a great deal of dense forested areas it's easy to find shade if you're out and about during the summer, although July and August can get very hot the deeper into the valleys you descend. Summer is generally the best time of year to visit the Rhodopes for local celebrations with the traditional Bulgarian bagpipe festival in the village of Gela attracting a unique crowd of international enthusiasts in early August. September sees the first frosts on higher ground whilst in October you'll discover beech forests ablaze with fiery yellows, ambers and russet reds.
WHERE TO STAY IN THE RHODOPE MOUNTAINS
There are plenty of three- or four-star small hotels (some with spa facilities) and traditional guesthouses in the Rhodopes that are owned and operated by locals. Villages, including Trigrad, Yagodina, Shiroka Laka and Gela, all feature B&B accommodation and offer an authentic means of meeting local people, as well as tasting homemade delights. Freshly grown tomatoes, peppers, peaches, figs, melons and apricots, to name but some of the locally grown produce, are just amazing. Same applies to the homemade honey, jams, yoghurt, doughnuts and heart-bracing black coffee; do not underestimate the power of a Bulgarian breakfast. Definitely try the local banitsa (pastry with cheese and eggs), and patatnik (baked mashed potatoes with herbs, cheese and eggs).
Rural communities in the Rhodopes are some of the poorest in Bulgaria. By staying in more remote villages, using local restaurants and hiring local drivers to transport luggage between villages (instead of big hotel transfers or national taxi firms) you'll be helping to keep traditional lifestyles alive. Taste the local food and wine, buy locally made souvenirs, participate in local events and find out more about the folklore tales and language of the region to get a much deeper experience. Local people are generally very welcoming; some of the staff at the smaller mountain hotels might not be professionally trained but they compensate with friendliness.
Bulgarian Muslims live in many of the villages in the Rhodopes. They are known as Pomacs and are ancestors of native Bulgarians who converted to Islam when the country was under Ottoman Rule (14th-19th centuries). Pomacs have their own unique culture and are especially known for their industrious nature and welcoming attitude to visitors. The city of Plovdiv is also close to the Rhodopes and makes for an interesting cultural contrast after a week spent in the mountains.
Our top Bulgaria Holiday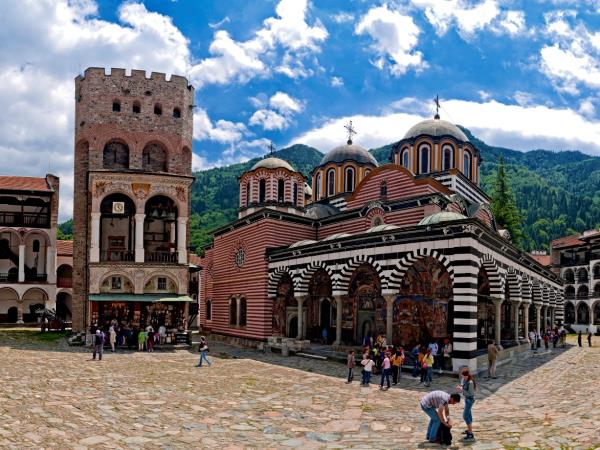 Discover the history, culture and landscapes of Bulgaria
From
£1099
10 days
ex flights
Small group travel:
2018: 22 Sep
2019: 18 May, 21 Sep
2020: 16 May, 19 Sep
Hello. If you'd like to chat about Bulgaria or need help finding a holiday to suit you we're very happy to help. Rosy & team.
HIGHLIGHTS OF THE RHODOPE MOUNTAINS
Trigrad Gorge
This enormous cavern, carved by the Chairska River, features an echoing, roaring waterfall, commonly known as the Devil's Throat Cave. Legend has it that this was where Greek hero Orpheus exited the Underworld after an unsuccessful attempt at rescuing his wife, Eurydice. It's cool and refreshing on a warm summer's day. While here, look out for indigenous red and black winged wall creeper birds that tend to hang out on dry mornings around the vertical cliffs.
Yagodina Cave
This is one of Bulgaria's best-loved cave systems with a full complement of stalagmites and stalactites. Yagodina is ranked as the third longest in Bulgaria; however, it's the amazing natural formations that steal the show over all other superlatives. Electric lights illuminate the way for visitors although the resident bats – of which there are 11 different species – tend to favour the deeper, darker dwellings.
The Wonderful Bridges
Take a stroll through the surrounding spruce forests in the Central Rhodopes and you'll come across a series of naturally eroded limestone arches, or bridges, formed over the Erkyupriya River. Known, quite rightly, as Chudnite Mostove (the Wonderful Bridges) this fascinating natural phenomenon has been declared a natural Bulgarian landmark and can be found if you're taking the footpath between the villages of Orehovo and Zabardo.
Canyon of Waterfalls
Make sure you visit this tiered treat either side of summer for the full on fabulous effect of rushing spring water or glorious autumnal reflections. Set close to the small town of Smolyan, the Canyon of Waterfalls does exactly as you'd hope with almost 50 individual falls cascading in various forms, from small to medium; Orpheus Waterfall being the tallest at 68m. A 5km footpath takes in the falls from several vantage points as well as including the chance for a few fast paced games of Pooh sticks from over one or two of the metal and wooden bridges.
Convert currencies