Foodie tips
Simeon Dimitrov, from our supplier Zig Zag Holidays, on food for the winter months:
"You can warm up in the winter with a bowl of shkembe chorba (tripe soup) or gyuvetch (a pot of slow-cooked meat and veg stew) or palneni chushki (peppers stuffed with meat and rice)."
Jenny Aitken, from our supplier Tucan Travel, offers her foodie tips:
"Bulgarian cuisine is quite meat focused but the salads are a great option as usually fruit and veg is quite fresh. Shopska (tomatoes, cucumber, onions, peppers and parsley with crumbled sheep's cheese) is a great traditional salad to try. Otherwise there are various pastry dishes which come without meat. A popular one is banitsa which is made of filo pastry layered with cheese. Also very popular in Bulgaria is yoghurt which can be found in most restaurants, either served up straight or in a soup mixed with cucumber, garlic, dill and walnuts."
Alternative city sights
Simeon Dimitrov, from our supplier Zig Zag Holidays:
"There are some great nightclubs, and places to go for an evening out in Sofia including Rakia Raketa Bar (famed for Bulgarian brandies) on Yanko Sakazov Boulevard or MOMA restaurant (traditional and contemporary Bulgarian dishes) on Solunska Street. If you're in Plovdiv during September then check out the Night of Museums and Galleries festival which features many of the city's major museums and art galleries."
Handsome highlights
Claire Ouditt and Alec Worthy, from our small group tour specialists Exodus, share experiences of walking as part of a small group in Bulgaria:
"Our group walked up three peaks that were almost 3,000m. The majority of walking trails started out very green and grassy as they lead through ancient forests and out into meadows covered in wild flowers. As you reached higher altitude the trails turned into quite rough alpine terrain with loose rocks and boulders replacing softer footpaths. At the top of the mountains you're surrounded by amazing panoramic views as well as huge glacial lakes. Our guide was great; he was from the local area and knew loads about the wildlife and wild flowers. He also knew lots about Bulgarian politics and was keen to share. The group was small enough so he could spend time with everybody on the tour and answer questions from anyone in the group."
Where to stay
Alex Pazderski, from our specialist tour operator the Natural Adventure Company, takes us deeper into the Bulgarian mountains:
"Along the high trails in Rila and Pirin, accommodation is mainly in mountain huts and lodges with dormitory rooms and shared facilities; unfortunately, not all of them are well maintained. However there are great resort towns like Borovets in Rila and Bansko in Pirin which offer some great accommodation, including 4 and 5-star spa hotels with thermal pools."
Health & safety in Bulgaria
HEALTH
Make sure you visit your GP around six weeks before you visit Bulgaria to ensure you are up to date with all standard vaccinations.
Travellers from within the EU can register for a free European Health Insurance Card (EHIC) which covers emergency medical treatment within Bulgaria. This does not replace traditional travel insurance, however, so make sure you are fully covered.
There are a lot of stray dogs in Bulgaria. Rabies does exist here, so never approach a dog on the street and seek medical attention immediately if bitten.
Tap water and mountain spring water are safe to drink. There are numerous water refill points in Sofia and Plovdiv as well as on many mountain roads. Keeping hydrated, especially in the summer, is always good advice.
High factor suntan cream, floppy hats and shades are also required – definitely for kids – if you're visiting Bulgaria in July and August. Mosquito repellent will also come in handy, certainly if you're situated in the pines or close to a lake or river. Malaria is not an issue in Bulgaria.
If you need medical assistance whilst in Bulgaria, best advice is to contact your tour operator who will help you in the first instance. 112 is the emergency number needed to call an ambulance. Bulgarian hospitals are behind European standards and staff might not be able to speak English. Private alternatives are affordable compared to elsewhere in Europe, but be sure to confirm prices first.
Be aware that altitude can affect people in different ways. Try to acclimatise before hiking at altitude, anywhere above 2,400m. If you are suffering from altitude sickness, rest, hydrate and head down the slope.
SAFETY
Bulgaria is generally very safe for travellers, especially outside the larger cities. Exercise the same precautions as you would back home. There have been some reports of taxis overcharging tourists – shocker! Make sure you only use a metered or yellow taxi and agree a price in advance. Unlicensed taxis in tourist areas or waiting outside hotels are best avoided. Stick to recognised trails when walking in the Bulgarian mountains. Go with a guide, if possible, or make sure you have detailed route notes as part of a self guided itinerary. If you're walking without a guide, always tell someone where you're going and when you intend to be back. Pack for all weathers if hiking at altitude; May is notoriously wet so take care on extra slippy rocks. Carry a photocopy of your passport at all times as proof of identity. Homosexuality is legal in Bulgaria and Sofia has a small but growing gay scene. However, there have been reports of harassment against LGBT people. Same sex couples should act discretely, especially outside of more liberal Sofia.
Our top Bulgaria Holiday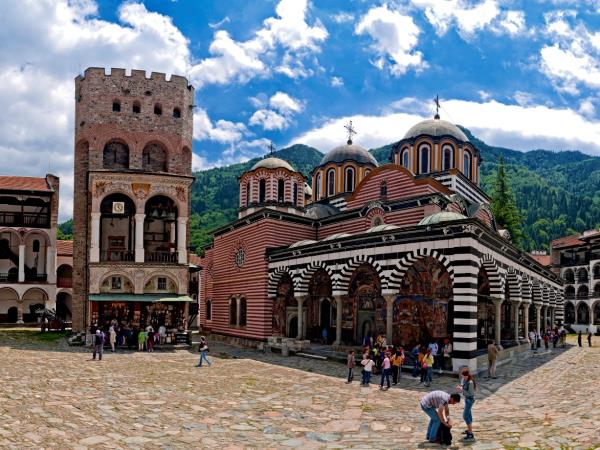 Discover the history, culture and landscapes of Bulgaria
From
£1099
10 days
ex flights
Small group travel:
2019: 18 May, 21 Sep
2020: 16 May, 19 Sep
Hello. If you'd like to chat about Bulgaria or need help finding a holiday to suit you we're very happy to help. Rosy & team.
BULGARIA TRAVEL ADVICE FROM OUR HOLIDAY REVIEWS
At Responsible Travel, we think the best people to advise our travellers are often... other travellers. They always return from our tours with packing tips, weather reports, ideas about what to do - and opinions about what not to.
We have selected some of the most useful Bulgaria travel tips that our guests have provided over the years to help you make the very most of your holiday – and the space inside your suitcase.

Try to become familiar with the Bulgarian (Cyrillic) alphabet... It will help you to feel orientated if you can recognise place names, particularly if using public transport.

"We travelled from Manchester to Varna with Balkan Air which suited me but the travel times are restricted from May until the end of September. I understand that there are other airlines which go from Luton and Gatwick which would serve other passengers from the south of England." – Daphne Kehoe

"Lonely Planet guide was invaluable; as well as lots of info on places to visit it contains most of the useful phrases required to get by. A phrase book would be a worthwhile investment too though. Rent a car. The national agencies were cheaper than the big worldwide ones and the service was good. The best day out we had was the botanical gardens at Baclchik." – Phil Sisson

If you don't speak Bulgarian, go with a guide! That makes your trip totally more meaningful and interesting.

Convert currencies