Cultural holidays in the Caucasus
The Caucasus region sits at the crossroads of Asia and Europe, where Islamic minarets mingle with Christian monasteries and where pinning down a single defining culture is near impossible. Armenia, Georgia and Azerbaijan make up the southern Caucasus (Transcaucasia). The northern Caucasus (Ciscaucasia) consists of the Russian federal republics of Chechnya, Dagestan, Ingushetia and North Ossetia, connected by the Roki Tunnel to the disputed territory of South Ossetia, which lies inside Georgia.

The great fascination of holidays in this region is in exploring the similarities and contrasts between the cultures of neighbouring countries.

Between the Black Sea and the Caspian lie remote mountain monasteries, ancient cave villages hacked into the hillsides, Cossack communities, vineyards, Pagan burial grounds and spa towns once frequented by the Russian aristocracy. Yet tourism in many parts of the Caucasus remains in its infancy. For the intrepid traveller there has never been a better time to discover its customs and traditions.
Martin Bigg on a tour of Armenia and Georgia–
"Go with an open mind. Welcome the pride in the culture, towns, churches and heritage. These are amazing countries with a fascinating history...These small group holidays are made by and very dependent on the quality of the guides and the sharing of the travellers. We learnt so much."
Highlights of a Caucasus cultural holiday
Caucasus cultural holidays normally focus on Armenia and Georgia, sometimes with extensions into Azerbaijan. The northern Caucasus region tends to be far more wild and remote, and due to recent conflicts sees comparatively few visitors. It is still an option for adventurers, but an organised tour is definitely the way to go.
This kind of trip ensures the continuation of age-old customs, whether folklore entertainment, manufacturing or preserving ancient monasteries. It also provides vital employment opportunities in rural areas, and puts money directly into the hands of local people.
Caucasus cultural highlights
The capitals
Yerevan was founded in the 8th century – not that you'd know it from the cosmopolitan atmosphere. The grassy Cascade is a meeting spot popular with locals and visitors alike, and other points of interest include the Blue Mosque, the opera house and the statue of Mother Russia. Straddling the Mtkvari River, Georgia's Tbilisi is renowned for the vibrant colours and balconies of the houses in its cobbled old town. Then there is Azerbaijan's desert fringed Baku, chaotic but fun, its architecture a heady brew of ancient and modern. Most Caucasus holidays will begin or finish in one of the capital cities, and it is well worth adding a few extra days to the end of a trip to explore further.
Religious landmarks
Armenia and Georgia are among the oldest Christian countries in the world, and reminders of their religious heritage can be seen everywhere. Near Yerevan, the Etchmiadzin Cathedral dates back to the early 4th century, while the Khor Virap Monastery, on the border with Turkey, is among the country's most important pilgrimage sites. Azerbaijan has many beautiful and historic mosques, while Georgia is known for its religious tolerance, with basilicas, cathedrals, mosques and synagogues rubbing along together nicely in Tbilisi.
Regional cuisine
Often the best way to understand a country's culture is through its food. Certainly it's one of the most enjoyable. You might sip Armenian cognac in Yerevan, taste your way around Georgia's famous Kakheti wine region, snack on the lavash flatbread which is eaten across the southern Caucasus. Some cultural holidays here also offer home cookery lessons with local families, a fantastic way to learn about the history of Caucasus cuisine as well as get an insight into people's daily lives.
Our top trip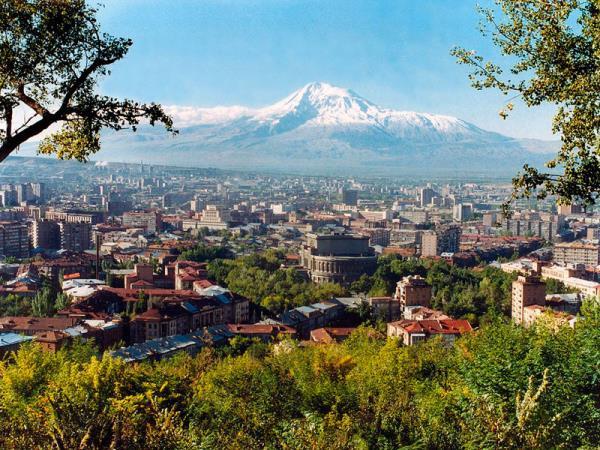 Three stunning countries in one unforgettable tour
From
£1673

to

£1771
13 days
ex flights
Small group travel:
2024: 14 Apr, 28 Apr, 12 May, 26 May, 2 Jun, 9 Jun, 11 Aug, 25 Aug, 1 Sep, 8 Sep, 22 Sep, 6 Oct
If you'd like to chat about Caucasus or need help finding a holiday to suit you we're very happy to help.

Handicrafts
Another regular feature on cultural holidays in the Caucasus is an introduction to local handicrafts. That might mean visiting an Armenian carpet museum, a pottery village, or taking a felt-making workshop. Equally it could be browsing the stalls for folk art at Yerevan's Vernissage Market, or learning fighting techniques from a Circassian swordsman. These are opportunities to find unique souvenirs of course, but by directly supporting traders and craftspeople in this manner, traditional skills can be prevented from dying out.
Historic sites
Tours that visit Yerevan will frequently take in the Armenian Genocide Museum, which shows the breadth and background of a diaspora that has spread Armenian culture around the world. Another fascinating site is Khndzoresk, an ancient cave village that was still inhabited right up to the 1950s. In Georgia, popular visits include the town of Gori, birthplace of Josef Stalin, and his summer dacha on the bank of Lake Ritsa, while the medieval towers of the Svaneti region are often included on walking tours. Lahic, in the Caucasus highlands, is a traditional Azerbaijani mountain community where life goes on much as it has done for centuries.
UNESCO World Heritage Sites
The Caucasus region is scattered with many incredible UNESCO World Heritage Sites. The citadel and ancient fortress of Derbent in Dagestan; the beautifully preserved frescoes of the Gelati Monastery in Georgia; Armenia's Etchmiadzin Cathedral and the Haghphat and Geghard Monasteries; the walled city of Baku in Azerbaijan. Touring them offers enthralling glimpses into bygone civilisations, and helps contribute to their future survival as well.
Allan Wild, a traveller on one of our Caucasus holidays–
"Two of the accommodations were guest houses and various meals were taken in private homes. This gave an opportunity to sample local food, much of it grown in their own gardens, and to interface with the community. The standard was simple but more than adequate and the welcome was warm."
For the most part, Caucasus cultural holidays involve small group tours, led by local guides and getting around either by minibus or small coaches. Group sizes restricted to around 20 and under make for a very sociable atmosphere, and mean that you can stay in smaller, often family run properties.
Some itineraries also feature a homestay, which is perhaps the best way of all to get a flavour of the local culture. Because the Caucasus region remains largely under-explored, those that do venture to Georgia, Armenia and beyond are frequently overwhelmed by the warmth of the welcome they receive. People here love to share their stories and ways of life.
Tours typically last between two and three weeks, and encompass at least two countries, usually those in the southern Caucasus . You can expect to spend considerable time on the road travelling between destinations, but complaints are rare – the scenery outside the windows is so captivating that time flies.
More Caucasus articles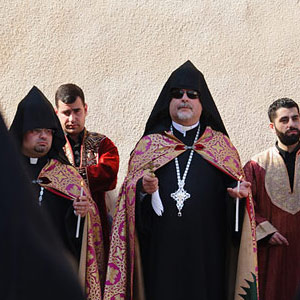 The best time to visit the Caucasus is either side of summer. Find out why.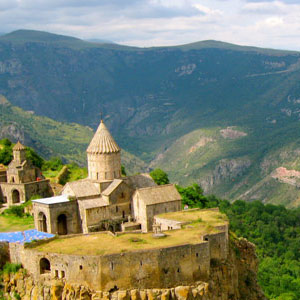 Check out our Caucasus highlights to help you make the most of your time as you explore across borders.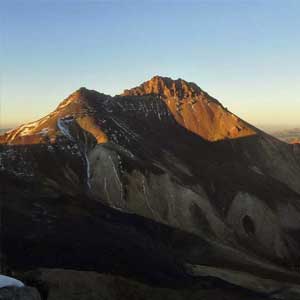 The Caucasus is a little slice of heaven for hikers, with sublime scenery and routes.