Caucasus walking holidays
Most walking holidays in the Caucasus focus on Armenia and Georgia, in the Southern Caucasus. Comparatively well set up for tourism, they are blessed with pristine landscapes and a host of cultural and historical attractions that can easily be combined with a walking holiday. Interspersed with days on the trail might be a wine tasting session at a small, family run vineyard; a canoeing trip; a visit to a fascinating little museum; or a guided tour around a former royal palace.

There are no queues at the trailheads to worry about here, and the rustic villages where you'll overnight invariably offer warm welcomes and hearty traditional meals.

What to expect? Think peaceful trails that wind along mountainsides clad in thick forest, leading to waterfalls, caves and natural springs. Glacial lakes, rivers surging through deep gorges and Alpine meadows dusted with flowers. And every now and then you'll come across an isolated village, an imposing medieval fortress standing guard over a valley, or an ancient monastery shrouded in legend. That's right – pretty darn special.
What do Caucasus walking holidays entail?
What do Caucasus holidays entail?
Caucasus walking holidays typically last for around 10 days. That allows for a day or so on arrival to acclimatise while doing some city sightseeing – most trips arrive in Yerevan, capital of Armenia, or the Georgian capital, Tbilisi.
These tend to be small group trips, led by local guides and occasionally accompanied by professional mountain guides where conditions dictate. Groups usually number up to 10, with efforts made to match walkers of similar abilities. Keeping group sizes low minimises the negative impacts of tourism in fragile ecosystems and remote communities, while still allowing for a very sociable atmosphere.
Some trips involve point-to-point walking, while others see you based in one place, and transported to and from the trailhead from your accommodation each day. You can expect to be staying in a combination of family run guesthouses and hotels, sometimes fairly basic, and some itineraries also feature one or two nights of camping. This, as well as eating every day in local restaurants, allows travellers to get an authentic view of life in rural areas of the Caucasus, while also creating valuable income streams to mountain communities where employment prospects can be limited.
You will be covering daily distances of between 6km and 12km, at moderate altitudes. In Armenia, for instance, average elevations range from 1,200-1,700 metres above sea level.
Best time to walk in the Caucasus
Organised walking holidays in the Caucasus usually run between June and September, when the weather is at its most reliably warm and sunny. In early June, you may catch the last of the spring wildflowers. Summer temperatures can reach around 25°C, higher in the valleys and lower in the mountains of course.
The Caucasus sees heavy snowfall in winter which often stays on the ground well into April and May, so even though the lowland scenery will be green and lush in spring, many higher routes will still be closed off. June can see patches of heavy rain, but from July through August to late September you can be fairly sure of decent weather.
A pleasant aspect to walking in the Caucasus, and a good way to reduce environmental impact, is that reusable water bottles can frequently be filled up at natural mountain springs.
Our top Caucasus Holiday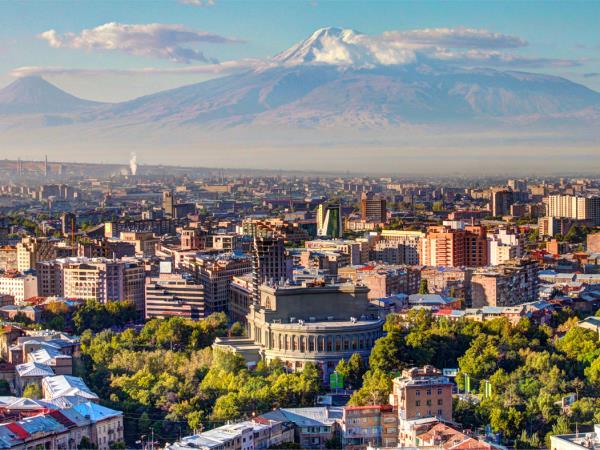 Discover the culture & nature of Armenia and Georgia.
From
£1729
11 days
ex flights
Small group travel:

If you'd like to chat about Caucasus or need help finding a holiday to suit you we're very happy to help.

Caucasus walking highlights
Armenia is renowned for its many ancient monasteries, and any walking itinerary is bound to take you to a generous handful of them. Among the most notable are the Geghard and Haghpat Monasteries, both of them UNESCO World Heritage Sites, and Tatev Monastery, reached via breathtaking cable car. Then there is the Etchmiadzin Cathedral near Yerevan, considered the oldest in the world.
Of course, there is far more to Armenia than just its religious architecture, magnificent as it may be. There are the pristine Dilijan and Lake Arpi National Parks; popular holiday resort Lake Sevan, the Khndzoresk Cave Village and the Smbataberd Fortress. This virtually impregnable 5th century castle is protected on three sides by steep cliffs, leading to river canyons. The walking route to see Smbataberd takes around seven hours over moderate terrain and also encompasses the medieval Tsakhatskar Monastery, with its impressive bas reliefs.
You may climb Mount Aragats, the highest peak in Armenia, or explore the Lastiver Caves, located in a picturesque wooded gorge near Ijevan. The caves act as a pilgrimage site due to the fascinating Pre-Christian drawings on their walls and also served as a hiding place for local villagers during times of Mongol invasion in the 13th and 14th centuries. Nearby there is a cascade of beautiful waterfalls.
Over the border in Georgia, you have the Svaneti Mountains in the country's northwest, a superb hiking destination and never more beguiling than when they're wreathed in early morning mist. Further south, close to the city of Kutaisi, are the Martvili Canyons, once a popular bathing spot for the ruling Dadiani family and now a scenic location for a boat trip on the river.
The glacier-fed Abudelauri Lakes, situated in the eastern Caucasus Mountains, have various myths and legends attached to them. Some call this the land of the Pagan gods. One lake is blue, another green and a third white, and the scenery is rendered even more impressive by the mountains that enclose them. As with most Caucasian mountain destinations they are best visited in the summer, as during spring they can still be frozen over and surrounded by heavy snow.
Borjomi Kharagauli National Park is among the largest in Georgia, a sprawling protected area of native forest and alpine meadows. There are many difference walking trails of differing length and difficulty that can be hiked all year round, though the wildflowers of late spring make that an especially good time to explore.
More about Caucasus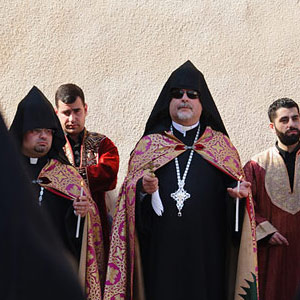 The best time to visit the Caucasus is either side of summer if you're travelling in the south with milder temperatures in the north, particularly on higher ground.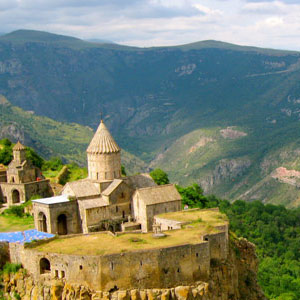 Check out our Caucasus map & highlights page to help you make the most of your time as you explore from Armenia to Chechnya without the border guards.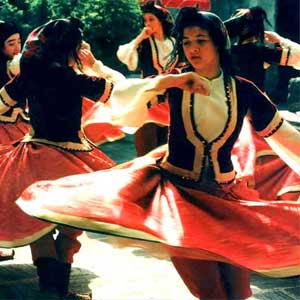 Buffeted by Persian, Turkish and Soviet influences, each of the Caucasus states has forged its own distinct identity in the land where East meets West.