Best time to visit the Caucasus

Wild rivers, green hills and distant snowy summits signal springtime in the Caucasus, although autumn can tip the balance when it comes to the best time to go trekking.

Unless you're into winter sports, the best time to visit the Southern Caucasus is either side of July or August with spring peonies and anemone, and autumnal foliage supplying a beautiful backdrop to accompany walking tours. The further north you travel, and the higher the elevation, the cooler things get with the hanging glaciers of North Ossetia Nature Reserve indicative of lengthy winters and mild summers. Religious and harvest festivals are taken extremely seriously throughout the region with Easter events celebrated just as earnestly in Orthodox Christian churches as harvest time in the fertile valley vineyards of the south.
Southern Caucasus Weather Chart
Things to do in the Caucasus
Things to do
Expand your ecclesiastical horizons. Attempting to pin down the Caucasus' one sole cultural or religious identity is as pointless as setting out to look for Jason's Golden Fleece. You will find, however, numerous places of worship to help you thread cultural strands into a more complete picture with Etchmiadzin Cathedral (Armenia), Svetitskhoveli Cathedral (Georgia) and the Juma Mosque (Dagestan), all offering a completely different perspective of life, and death, to consider whilst visiting the area.
Lumps and bumps heading off road in North Ossetia; Georgia's military highway followed by an overnight sleeper train into Azerbaijan; incredibly scenic drives to Armenia's Geghard Cave Monastery; travelling overland in the Caucasus provides a nonstop window on the world with high speed trains and specially designed tour vehicles offering the best opportunity to understand how landscapes and people connect and collide as you cross from one border to the next.
Independent trips into southern Russia can be a bureaucratic nightmare but they're not impossible. Going on an organised tour into the North Caucasus gives you the added security of a local guide and driver who know the language and 'customs' associated with border controls. Understanding where to go, and where not to go, is integral when visiting Chechnya, Dagestan and Ingushetia, so be considerate as you visit a region that's still adjusting from terror to tourism.
Things not to do in the Caucasus…
Go with preconceptions. Travelling to regions which are, for all intensive purposes, still in the infancy of tourism, especially in North Ossetia, can be an exciting and thoroughly worthwhile experience. Best advice is to visit with an open mind regarding languages, accommodation standards and the state of some of the roads because if you're expecting to discover Europe, with all the trimmings, then lower your preconceptions and you may well be pleasantly surprised. Forget your hiking boots. A walking holiday in the Caucasus gives you that perfect blend of outdoor adventure and cultural insight with the foothills surrounding Tetu Peak in Georgia certainly one of the region's most revered stomping grounds. Packing the right footwear is essential for making the most of some tough, yet rewarding, hikes with well-chosen high pasture campsites enabling you to gain further access into one of Europe's most impressive, and lesser-tramped, alpine landscapes. Ignore all too recent conflicts. The Caucasus region has suffered greatly, not least since the breakup of the Soviet Union. The war for South Ossetia, Chechen conflicts and the War in Abkhazia, back in the early 90's, have all played their part. Ignoring the bullet-pocked buildings, genocide memorials and war monuments is not advisable so do your research and pay your respects as this region is still recovering and travellers need to know this before they can fully understand what lies ahead.
If you'd like to chat about Caucasus or need help finding a holiday to suit you we're very happy to help.

Where to stay in the Caucasus
Where to stay in the Caucasus
Jonny Bealby, founder of our supplier, Wild Frontiers, spent five months riding a horse across Central Asia and the Caucasus for his book Silk Dreams, Troubled Road. He shared the following tips with us on travelling through the Caucasus region:

"Baku, Tbilisi, Kazbegi and Yerevan have a range of 5* hotels and cute boutiques but on the whole travellers should be prepared for a mix of accommodation including some on a very basic level. One of the best things to do is a homestay – particularly in Georgia – where the facilities might be limited but the hospitality unequalled."
Itinerary tips
"Baku, the historic old town is fascinating. The same can be said of Tbilisi. One should also see both the old Georgian capital and cathedral in Mtskheta – birthplace to their Christianity – and Gori, birthplace of Joseph Stalin." "Travel up the Georgian Military Highway, passing the picturesque Ananuri fortified church, before continuing on to a highlight of any trip to the Caucasus: Kazbegi, where you'll find a stunning mountain and some great walking. After this don't miss the cave towns of Uplistsikhe and Vardzia, before crossing the border into Armenia and visiting Lake Sevan and the Tatev Monastery."
Walking in the Caucasus
"The walk between Kazbegi and the village of Juta, in Georgia, takes you over the 3,000m Abudulari Pass, and down to the tiny village of Rustav, from where you can white water raft to Ananuri. It's a stunning walk over two and a half days and really gets you into the wilds of the Caucasus."
Cultural contrasts
"There are many obvious cultural differences between countries/republics, as some are Muslim with more Asian ties and some are Christian with more European ties. But on the whole I have always found all the various peoples of the Caucasus to be extremely friendly and hospitable and very good fun." "One of my wildest encounters was thinking I could compete with some locals in a chacha [a homemade grape vodka] toasting session – things got very messy!"
More Caucasus articles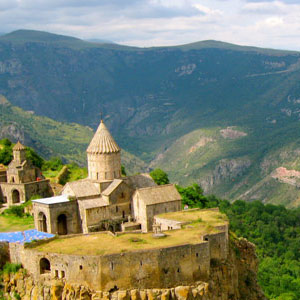 Check out our Caucasus map & highlights page to help you make the most of your time as you explore from Armenia to Chechnya without the border guards.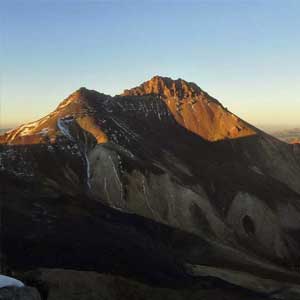 The Caucasus is a little slice of heaven for hikers with sublime scenery and routes that provide challenge while remaining accessible to even infrequent walkers.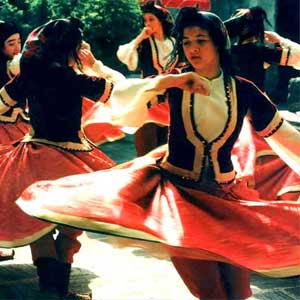 Buffeted by Persian, Turkish and Soviet influences, each of the Caucasus states has forged its own distinct identity in the land where East meets West.