Cultural tips
Richard Hanson, Managing Director, from our leading US supplier, Trek America Travel Ltd is also a dad, and so is well equipped to give good family holiday tips for travelling in the USA: "Be ready to chat. Americans are friendly and they WILL interact. You will not be able to avoid this, so be open, friendly and prepared to make small talk. When you go the national parks, and don't miss them, check out the Junior Ranger Program, it's great. And don't worry about America being full of junk food. Our supermarkets and farmer's markets are amazing with plenty of fruit and veg so no need for junk food."
Hiking tips
Jonny Bealby, founder of our leading supplier Wild Frontiers: "Don't overstretch yourself on a family walking holiday, especially in remote parts of the world. Some children are great and can walk as far as the parents can, depending on age of course. But in general, it is better from a safety point of view to aim low and achieve, than aim high and not achieve. Because not achieving, in some of these places, can cause you some quite serious problems."
Itinerary tips
Simon Clifford is Morocco expert at our leading supplier, Exodus Travel:
"Morocco is great for families, it's close to home and on the same time zone, which is always good. And it also gives them a taste of somewhere completely different, without being too overwhelming. Wet wipes and hand gel are really useful, it's hot, dusty and you do get dirty, just wandering around".
Amanda Marks, co-founder of our supplier Tribes Travel, is also a mum, and shares her family holiday tips for those travelling in Tanzania with kids: "I first took my children to Tanzania when my youngest was five. In the north it's quite easy to have your own driver guide and your own vehicle; if you have that then you can do what you like. I travelled with children aged five, eight, eleven and thirteen plus their parents – a group of ten. We had two vehicles and did what we wanted. You can do that in Kenya as well, but I think that Tanzania's northern circuit has more places to stop, so it's easier to break up the journey without travelling for miles and miles.
If you have the right guide you'll have a brilliant time. Ours had my youngest sat on his knee and he was driving the vehicle through the national park! It's all about picking the right way to do a safari and choosing accommodation that has a pool. But if you choose the wrong places to stay and a guide not prepared for children, you won't have a brilliant time, you won't be able to let off steam at the end of the day and it can be quite boring if the children choose to tune out of the wildlife and are just sat in a car all day."
HEALTH
If you are travelling within the EU and are an EU citizen, always carry your European Health Insurance Card (EHIC) card. Check if the country you are travelling to is covered by the EHIC, as countries like Montenegro, for example, are not yet in the EU. Make sure you get travel insurance and that it covers activities such as white water kayaking if you are planning that.
All parents and carers know that getting children to wear sunscreen (and sunhats) can be enough to finish us all off. However, the reality is that as other forms of cancer are on the decrease, melanoma is on the rise. Sadly, this is often because we did not protect ourselves as children. It is getting easier to find environmentally friendly sunscreens which have the recommended 30 SPF AND the necessary active ingredients to protect your skin from harmful UVA and UVB rays. These are titanium dioxide, zinc oxide and avobenzone. If it's all aloe vera and nothing else, leave it on the shelf. The advantage of these creams is that they don't harm the marine environment either.
If you are hiking in summer, be wary of ticks. Carry tweezers so you can remove carefully, apply a deterrent and then sun cream afterwards.
Make sure you all stay hydrated. It is hard to get kids to drink water sometimes, but they won't realise how much they need it when walking, cycling or even just hanging out at the beach. Even if the sun isn't shining. Consider hydration backpacks, style CamelBak, so that they have water on them at all times.
The bottled water thing is a big con in many countries, where water is perfectly safe to drink. Check with local people whether tap water is actually drinkable or not. In remote wilderness areas, don't drink from the rivers. Even if they are glacial and gorgeous, they can be a source of bacteria.
Check if rabies is an issue in the country you are visiting, especially as children love to pet animals.
If you or your children have any particular health needs, always tell your guide if you are on a small group holiday.
SAFETY
Ask about the experience and training of your adventure leaders or instructors. A responsible adventure company will profile them in detail on their website. See our Family Adventures Holiday guide for more health and safety details, regarding specific adventures.
Make sure you wear appropriate clothing when out and about with families. Not just sun hats, but layers in the mountains, suitable footwear (no flip flops hiking please),helmets and hi-vis for cycling and so on.
If you are walking or cycling independently be prepared with maps, compass, rain gear, pocketknife, basic first aid kit, matches and a whistle. You can buy mini emergency kits on eBay for a tenner. Write down the local emergency numbers before you set out, including mountain rescue, if relevant. And always tell someone where you are going. Make sure your mobile phone is charged too.
Check the weather forecast before you set out; if you are in the mountains, turn back if the weather turns bad – or take shelter if in doubt. The World Meteorological Organisation is excellent.
Inform yourself in advance about any dangers from wildlife and don't let your kids wander too far ahead if there are animals such as bears about. If you are on a guided wildlife trip, always do what your guide says – it goes without saying really, as these are wild animals, and not to be cuddled or cooed over. And you may be desperate to get a photo, but trust us. Or, more importantly, trust your guide. Watching animals in the wild is one place where the customer is NOT always right.
Our top Family Holiday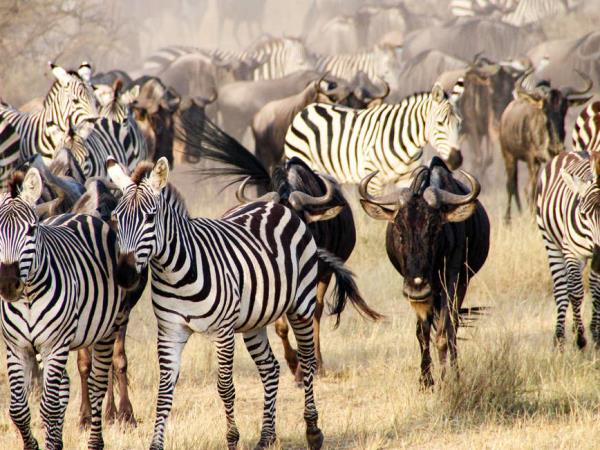 Discover the wildlife in Tanzania's famous safari parks
From
£4285

to

£4359
12 days
ex flights
Small group travel:
2023: 5 Aug
2024: 21 Jul, 28 Jul, 4 Aug
If you'd like to chat about Family or need help finding a holiday to suit you we're very happy to help.

Family advice from our travellers
At Responsible Travel, we think the best people to advise our travellers are often... other travellers. They always return from our tours with packing tips, weather reports, ideas about what to do - and opinions about what not to.

We have selected some of the most useful family holiday tips that our guests have provided over the years to help you make the very most of your holiday.

Don't take too much clothing as most day to day items will be supplied and they keep you nice and warm. Socks and thermal clothing are a must along with light layers to go under your all in one suit.

- John Rawstrone on our log cabin holiday with activities in Finland.
"You can kayak, mountain bike, snorkel, swim, jump off rocks into the sea, practise yoga and walk in the cool of the day. The house is in a great position near several coves. Very unspoilt area, not a single shop and cash only, no credit cards accepted in the 2 local restaurants. Good accommodation, Craig and Xania have a flair for design, very comfortable, easy living and very good (vegetarian) food" – Fiona Harper on our Croatia family activity week

"Don't take smart clothes it's a relaxed holiday, a fan would be useful and sun protection and comfortable footwear are essential as there is gentle walking in cities or in the country side. You don't need torches as the power cuts were years ago!! Initially it was a little annoying having to tip toilet attendants but we got used to it and kept loose change" - Elizabeth Morgan on a Cuba family holiday

"Lots of old clothes for the children; it takes time to get places by car as the roads are smaller; the train service from Eggsford is great - we used it to get to the coast and we loved Dawlish Warren - lovely beach and a nature reserve (really reasonable with a family railcard); Eden Project has reduced entry Tues, Wed & Thurs after 3.30 pm & children free over school summer hols and is open until 8 pm. Take a torch for walking back from the pub at night and star watching" – Heather McAdam staying at the Devon ecolodge

"We were in a large group (16) and it went really well with that number of people. Everything was taken care of and prearranged… and there was so much going on that everyone was engaged and involved from 7 years old to 77! A really great trip for a family with mixed ages and stages. I wouldn't hesitate to recommend this holiday" – Caren Matthews-Lane on our Family Holiday in Thailand

Definitely make the climb up to the monastery in Petra - worth the climb for its magnificence and the spectacular views.

- Michael Dixon on our family holiday in Jordan