When to go on a family holiday

The NE of Sri Lanka doesn't have a monsoon in July. Nor does it have a war anymore. It is open for business, with sun shining in our school summer holidays

Apart from the fact that we are all limited by the controversial, yet pretty much written in stone, school holiday dates, there are a few other things to take into consideration when working out when to go on a family holiday. The Mediterranean is pretty much guaranteed blissful weather in the height of summer but hiking or biking here during this time with children is entering the territory of mad dogs and the proverbial Englishmen – unless you are good at getting everyone up and out early.
So, if you want an action packed holiday, you might want to plan it for the Easter holidays instead or indeed Christmas, and not leave everything until the summer months. Or, for adventure, consider other destinations that wouldn't normally be on your holiday radar during the summer months, such as Canada, the mountains of Montenegro or some of the national parks of the USA. The table below shows what we believe to be the most ideal times for certain holidays in our top family destinations.
Christmas
As well as the obvious magical adventures such as husky riding in Finnish Lapland, you can swap a reindeer for a camel and head to the Moroccan Sahara for lots of Christmas fun in the sun. Kayaking, hiking and cycling in Thailand are the perfect Christmas gifts for all the family, and discovering Peru and the Inca Trail is like everyone's Christmas come at once.
February half term
Always a tricky one to work out, unless you are all ski addicts. However, there is plenty of playfulness to be had beyond the pistes during February half term, such as exploring the Sahara in Morocco, where you can also bring any leftover Christmas money to spend in the souks. Thailand is still dry, so great for exploring on a bike or a hike, as it is still not too unbearably hot. Safari season in Tanzania is also green and gorgeous at this time, with the timely baby wildebeest a much sought after feature. All particularly good if you have a two week half term, as some schools do. And if you want to keep snow on the agenda, Finnish Lapland's adventurous wonderland season of huskies, sleds and Northern Lights is still in full flight.
Easter
This is a great time to get active in countries like Turkey, Croatia and Montenegro, when the temperatures are just perfect for cycling into the hills, and the water is just warming up enough for you to take a quick dip after a kayaking session. Devon is definitely starting to warm up now too, with lambing and foaling season adding to the Enid Blytonesque beauty of it all too. And depending on when Easter falls, Finnish Lapland's winter season goes on until April, so always worth checking out your options there too. Since Cuba has opened up, the visitor numbers have soared so just getting there NOW is our best tip. For good weather, March-mid April are warm, sunny and mostly dry and pre-hurricane season. Also opened up to tourism is China, and spring is a great time to visit, if you head south to north.
May half term
Europe is very much open for business in May. Hiking in the Mercantour National Park in France, with a donkey to carry your bags from gite to gite, is perfect at this time of year. The Alpine snows have melted, but the sun isn't too hot for trekking. For something different, Vietnam is a good option as you are definitely missing the adventure tourists who start to arrive in their droves later in the summer. In the south of Vietnam, it is the beginning of the monsoon season, however it is usually only brief cooling showers, nothing worse, which is a relief during a humid day anyway. Staying east, spring is also a good time to visit China, with the recommended itinerary being south to north at this time of year. It is also a good time to explore Morocco's Sahara before the extreme heat starts to kick in, and you could combine it with a trip to a kasbah in the Atlas Mountains, as the snows will have melted by then. For a safari, consider Namibia in May which is still lush and green following the rainy season, with clear skies. But do book early for this one, especially if heading to family-friendly Etosha National Park.
Summer holidays
Europe is always a top choice during the summer holidays, but if you are thinking of a climbing, hiking, biking sort of a holiday, it can be too hot in many places to really make the most of it. Although if you head to the mountainous areas, such as the Picos de Europa in Spain, the temperatures are much cooler, and hills are much quieter. Other adventurous and cooler places to consider during the long break include Finland, with long days to really squeeze every moment of fun out of the holiday. Kayaking on inland lakes or white water rafting in Croatia or Montenegro are good options, far from the madding crowds of the coast, and some at an elevation, and so not as relentlessly hot. And if you head to Canada, Colorado or some of the northern national parks of the USA, you can still find snow in July sometimes, but glistening lakes and rivers to kayak down too. It is also still warm and lovely in Vietnam at this time of year, albeit with a few monsoon showers to cool you down, but on an adventure holiday kayaking along Halong Bay or swimming in Hoi An, you won't worry too much about the odd splash. Unlike the rest of the country, the northeast of Sri Lanka has a monsoon Oct-Jan, so perfect during European summer. It has also just opened up to tourism again, after being closed due to conflict for many years.
October half term
Similar to May half term, European family hubs such as Turkey, Croatia, Montenegro and Catalonia are still very much alive and kicking in October. With temperatures still mild and mellow, these are perfect conditions for pushing yourself up remote, rural trails, whether hiking or biking, and the water is still deliciously warm after the summer months if you want to swim after a kayak or a white water rafting session. For something unusual, this is a lovely time to visit China, with the recommended itinerary being north to south.In Morocco, the desert temperatures have started to cool too, making camping and camel trekking much more bearable, plus this is the best time for surfing in Morocco , so it's a pre-winter win win. Safaris in Kenya, Botswana and Namibia are particularly lively at this time of year, but with animals rather than safari goers, so it is a great time to make the most of a trip of a lifetime like this one.
Our top Family Holiday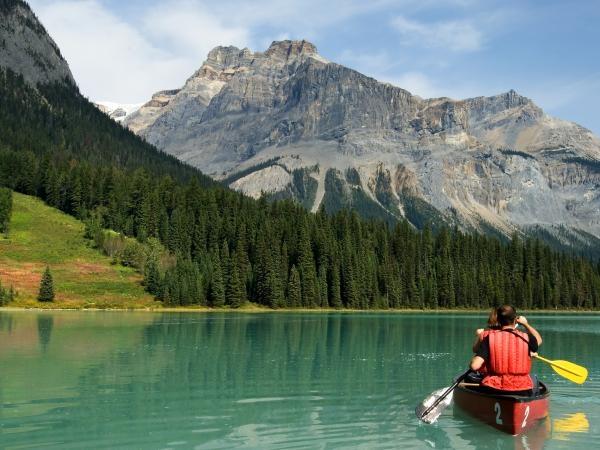 Perfect adventure for families who love the outdoors
From
£2299
days
ex flights
Small group travel:
2023: 18 Jul, 23 Jul, 29 Jul
If you'd like to chat about Family or need help finding a holiday to suit you we're very happy to help.

Responsible Travel recommends
Aki Käräjäoja began working with sled dogs in Finland after he finished studying, and fell in love with them. He founded Routa Travel, one of our suppliers, as a way to be around the dogs and live the life he wanted. No guesses as to what he recommends for when to go on a family holiday: "The dog sledding season starts in December and ends in early April, but for this and other winter activities, February and March are the best times as there's more daylight. If you come at the end of December it has its own mystical feel as it's dark all the time, which can be really great – but I prefer the sunshine."