Skiing in Finland is green. Green, because of the easy runs that come off its gentle fells. Green, because Finland, like its Nordic neighbours, is working hard to make its tourism industry as sustainable as possible. And green because, at the most northerly ski resorts in Europe, you have a great chance of seeing the ghostly jade strains of the aurora borealis falling in sheets across the sky.
Saariselkä is one of Europe's northernmost ski resorts, making it an ideal place for a
short break skiing and aurora hunting trip
. Set astride two fells, there are 23 slopes, most of which are easy and very easy runs that trickle down the hill, though there are also two expert runs. There are six lifts up the hill.
For seasoned ski bums, this sounds very small – but this quiet, safe environment has other charms.
"For beginners it's absolutely fantastic. The snow quality is amazing and it's really quiet," says Amy Hope, managing director of our Finland skiing partner, Activities Abroad.
Read on to discover what else Lapland's hillsides have in store.
Why go skiing in Finland?
Despite being one of the snowiest places in Europe, Finland isn't known for downhill skiing in the same way as the Alps. This is because it doesn't have mountains, but gentle fells, meaning there are few challenging slopes and no large skiing areas. The largest resort, Ylläs, has 63 slopes – though that's not a patch on some of Europe's largest ski areas, which have hundreds of runs. Finland's average elevation (164m) is around that of the United Kingdom.

Despite this, the country has around 80 ski resorts, including Saariselkä, Ruka, Levi, Pallas and Ylläs.

Finland offers a more relaxed approach to skiing than destinations in the Alps. Think of it as a winter wonderland holiday, with a bit of skiing thrown in, rather than a 'first lift up, last lift back, hard skiing across international borders' kind of holiday. The downhill skiing will best suit beginners or those looking for a gentle couple of days.

I was used to French resorts and I was expecting the worst. But I went out and there were just two people in front of me.

If you slow down and enjoy it, you'll be pleasantly surprised. The quality of the snow, even to the untrained eye, is amazing – dry and fluffy. And it's very quiet and peaceful.

"The first time I went skiing in Finland in February half-term they told us, 'We're really sorry but it will be really busy'. I was used to French resorts and I was expecting the worst," Amy explains. "But I went out and there were just two people in front of me – were they winding me up? Sometimes Finns have a dry sense of humour."

There are also toboggan runs; Saariselkä has the longest toboggan run in Finland, and it's a challenging course that proves not everything on the Finnish fells is gentle. The wider area around Finnish ski resorts has miles and miles of beautiful cross country skiing trails.

You're here for a relaxing time, complete with several dollops of snow on top.

There is no après-ski up here – no nightclubs, no parties. Instead, you can head out on the aurora hunt.

Northern Lights as an après-ski activity
Lapland's northerly ski resorts are so far north that you get lots of darkness hours, so take advantage. Après-ski might be spent lying on a reindeer hide on the shore of a lake, watching the sky with a glass of hot juice rapidly cooling at your side.

"There is no après-ski up here – no nightclubs, no parties. Instead, you can head out on the aurora hunt," says Amy.

It's simple – in the daytime, you can hit the slopes and floodlighting allows you to keep on skiing even as the sky darkens. Then return for a dinner: try delicacies like fried cheese or warming stews. The Northern Lights are generally at their most active between 10pm and midnight, so after dinner you'll go by snowmobile or by van to an area with minimal cloud cover.

You might see 'lazy lights' – which aren't doing much – or you might be treated to a riot of activity. It depends how Lady Aurora is feeling that night.
If you'd like to chat about Finland winter or need help finding a holiday to suit you we're very happy to help.

When can you ski in Finland?
Finland has one of the longest ski seasons in Europe, theoretically lasting from November to May – depending on when the first snowfall falls. For example, Saariselkä's 'high season' starts on 14 December and continues to 24 April.

A colleague sent me a photo of Finland at midsummer. It was snowing – she asked, 'When will this winter end?!'

Lapland's first snowfall is usually in October or November, and by late December it is the archetypal winter wonderland. However, in recent years, like many ski destinations around the world, even this snowiest of places has been getting less snow-sure as climate change makes weather patterns less predictable. In 2018, snow only came later in December, leaving families who had booked early snow getaways disappointed.

Around Christmas and early January, you're treated to blue and pink skies as the sun flirts with the horizon, but doesn't rise. In Lapland's polar night, the world is suffused with indirect light and you'll see pale, ghostly blues and sunset colours at midday. It's a very beautiful time.

The snowy season should last up to April and even May, meaning spring skiing, with sunlight sparkling on deep drifts, is pretty and you can take advantage of more daylight. Whilst the elevation isn't particularly high, these are some of the world's most northerly ski resorts, so the white stuff tends to stick around. "A colleague sent me a photo of Finland at midsummer," says Amy. "It was snowing – she asked, 'When will this winter end?!'"
Best time to ski & see the Northern Lights
Any month that you can ski, you'll also have a chance to see the Northern Lights. In midwinter (December) you'll get plenty of darkness hours, which increases your chances for spotting the lights, but as the spring equinox in March approaches, the lights might be more active – as they have proven to be around this time of year.
What else is there to do besides skiing?
Finland's winter activities are many and marvellous, and most can be done from near ski resorts. They require little prior experience; if you can drive a car, then you can drive a snowmobile. Similarly, if you can walk, then you can snowshoe. Cross country skiing takes a little bit more technique; if one of you is a novice skier, travelling with a seasoned downhill fiend, then it might be satisfying to watch them try (and fail at) Nordic skiing for a day once your lift passes have run out.
Responsible downhill skiing in Finland
The skiing industry in Europe and North America has faced criticism for being highly unsustainable. In 2023, 
90 percent
of Italy's ski runs were using fake snow – a huge waste of water and energy.
North Finland, being very snow sure, has fewer problems. Saariselkä Ski Resort, for instance, tries to use snow fences as much as possible instead of snow machines. Snow fences don't use any energy – they are simply nets which slow down the wind, forcing it to drop any snow it's carrying, meaning that snow stays on the slopes for longer. However, Saariselkä does have snow machines too – as do most resorts in Europe.
The Saariselkä resort is Green Key certified – meaning it's been approved by Finland's world-leading sustainability accreditation system. The resort is starting to use fossil-free energy. Its nearest airport, Ivalo, claims to be carbon neutral. Nearby hotels use renewable energy.
Guests are encouraged to walk from their hotel to the ski resort – which takes around 50 minutes. It's representative of the relaxed pace of a skiing holiday here, that it involves walking, snowmobiles, toboggans – activities beyond simply wearing out the lift seats on countless carousels of the slopes.
In 2019, Saariselkä opened summer bike trails over its ski area to encourage more year-round travel, keeping lifts open for sightseers too. By prolonging the season, the area doesn't rely so much on one specific period. The earlier season, before the snow, can still be 
a beautiful time of year
to visit Lapland and see the Northern Lights .
Around Christmas and New Year, there's a programme of festivities on the ski slopes – including a lantern parade. For the parade, skiers take to the slope en masse bearing lanterns. As they traverse the slope, they create a human-powered dancing light show for the spectators in the town below – one that rivals the aurora above.
Finland's ski resorts are gentle and quiet and perfect for beginners. There's probably a couple of days' worth of skiing in Saariselkä. The season runs from early December into April, and it's one of the most snow-sure places to ski in Europe. The best trips combine skiing with other winter activities, such as tobogganing and snow shoeing. In many Lapland ski resorts, you have a good chance of seeing the Northern Lights at night.
More Finland winter articles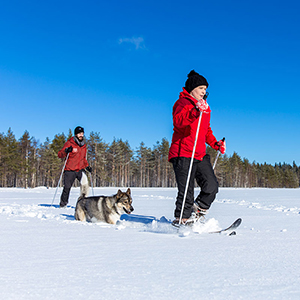 The best time to go on a Finland winter holiday? The clue is sort of in the title.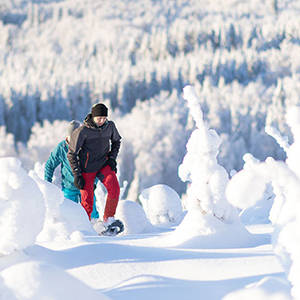 Highlights of where to go in Finland in the winter & what to expect.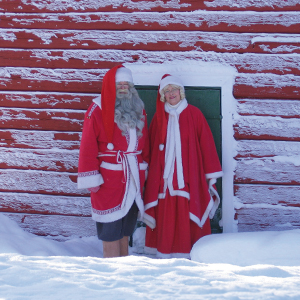 Visiting Santa in Finland is a once-in-a-lifetime experience to share with your family.