Why visit Santa in Finland?
Day 1:
No sign of Santa on our arrival in Kuusamo, but things look promising. Among these snowy trees, there's lots of cover – he could be hiding anywhere.
Day 2:
We're on the trail! Today we met the reindeer – Santa's most important animal – for a jangly sleighride. Our Sámi guide explained that these ones were friends with Rudolph. If only reindeer could talk… In the afternoon, some of Santa's elves tried to start a snowball fight with us, but they underestimated how much energy we had after our hearty lunch – we were the clear victors!
Day 3:
A clue – and an invitation! Out snowshoeing, our guide saw a set of footprints. She thought they might be Santa's. It was hard to say – they looked quite big, and no one knew what size feet Santa has. Then the guide pointed out that he was wearing snowshoes… We came upon a campfire where the logs were still smoking – it looks like we just missed him. Thwarted by Claus, we thought! But when we returned to the hotel – there it was: an invitation, addressed to all of us, inviting us for lunch…
So go the first three days of a
family holiday in Lapland with Santa
. During a slow and exciting build up, you fall for the wintry wonderland. Then, on the fourth day, you get a private five-hour audience with Santa and Mrs Claus, in the privacy of their own cabin on the shores of a lake, baking cookies and sharing stories.
Christmas is a season of anticipation – as anyone who starts getting excited in October already knows. Seeing Santa on holiday is the culmination of weeks – maybe months, or even years, of waiting. All that anticipation should have a worthy finale.
"It's unhurried," says Amy Hope, as she describes the big Santa meet and greet moment. She is managing director at our Lapland holiday partner, Activities Abroad. "You feel like you're at his house, and the house is absolutely beautiful, it's so cosy and warm."
Inside the log cabin, the walls are lined with homemade Christmas cards. On the table, the preparation of gingerbread biscuits is underway. There's a slope that's perfect for sledging just outside.

It's a busy time of year for Santa – not that you'd know when you meet him. A relaxed half-day with Mr and Mrs Claus is the perfect antidote to the Christmas season rush.

A history of Santa in Lapland
The Finnish Tourist Board established a Santa working group in 1984. Its mission? To cement Finland as the home of Father Christmas over any other competing destination. The group was successful; whilst Rovaniemi, the capital of Lapland, isn't Santa's 'home' it's seen as his official 'office', and he can be met there year-round.

In December, the Christmas spirit really ramps up. "In Lapland in December – everything is Father Christmas-focused to an extent," says Amy. "There are huge destinations set up for Santa tourism in Rovaniemi."

Santa is a commercial and cultural enterprise, up there with the Angry Birds – who are also Finnish nationals. There are a few different Santas roving Rovaniemi – and Santa-themed activities range from an amusement park with rides and ice sculptures, to a shopping village. A meeting with Santa at Rovaniemi's Santa Village can take hours of queueing – enough time to have your willpower effectively eroded by the 'village's' many shops.

The Christmas theming is strong; there are red buses, Christmas lights, shop assistants in red felt hats. At some point you might forget that Lapland is home to anyone except elves and reindeer.
Alternative Santa tours in Finland
Alternatively, you could go for a Santa tour outside Rovaniemi, one that doesn't efface what else is good about Lapland. Santa is just one character you'll meet up here. You'll also meet local guides, local restauranteurs and reindeer farmers.

And rather than a laser focus on the commercialised ideal of Santa and his gift-giving abilities, there are outdoor activities that everyone will enjoy. Santa visits out in nature, not in a shopping centre.

It means these trips have something for the parents, too. "Rather than the parents sitting back and watching the kids do the activities," Amy explains, "it's about a real husky safari, a real reindeer safari."
What is the best age to visit Santa in Lapland?
A holiday like this is best for children aged four and over; that way, they're old enough to participate in all the activities. Smaller children can attend but won't necessarily be able to do every activity that's on offer.

As for the perfect age? Parents know their kids best – five-year-olds are completely entranced. Older children are more likely to be sceptical; once they are around seven, all it takes is a couple of know-it-alls at school to ruin the magic.

That's why our partners, Activities Abroad, try and see things through a child's eyes. "We have to go with an older child's mentality and think, 'They'd notice this… they'd spot this…'," Amy, who has two children herself, explains. Hopefully, a well-run Lapland trip will help the spirit of Santa live on another year.
Keeping little ones entertained
Family holidays like these are well designed. Carefully thought-out accommodation comes with a soft play area and a swimming pool.

Activities are designed so that they are quite short, so everyone stays warm and comfortable, and no one gets bored.

Kids will love meeting the animals - from feeding the birds, to being pulled along in a sleigh by a reindeer. Older kids can enjoy endless sledging runs and snowball fights. Kick sleds – a sledge with a platform behind and a seat in front, which resemble a cross between a scooter and a forklift truck – allow you to push your kid along in the snow.
If you'd like to chat about Finland winter or need help finding a holiday to suit you we're very happy to help.

What is there to keep adults entertained?
Memories with Santa
"I took my kids on a trip like this in January," says Amy. "We saw Father Christmas and they loved it but if you asked them what their favourite thing was they'd say the sledging." Meeting Santa is as much for parents, who want to see their children having this special memory, as it is about the children.
Husky sledding
However, if you're determined not to be swayed by the charm of the King of Christmas himself, you'll probably be bowled over by his huskies. Visiting a husky farm and going on a sled ride ranks highly for parents. Huskies are excited to see visitors because they know they are about to get some exercise. The feeling of seeing your dog after a hard day at the office? Multiply it by 12 and add a chorus of howls. Then silence falls as you are whisked by sled into the wilderness.
Exploring nature
Husky sledding is just one way to enjoy the natural surroundings. Near Kuusamo is Oulanka National Park. In this area of the country, 90 percent of the land is covered with forest. There's ice fishing, snowshoeing, and meeting with Sámi people to learn about their culture on reindeer farms. Plus – there's always the sauna.
Sitting in the sauna
Finnish families tend to sauna together. Babies attend short saunas from as early as four months old. As children get older, they start to stay progressively longer inside. For non-Finns, the sauna is more of an acquired taste for kids, so adults might want to go alone.
Keeping the magic alive
Whether you still believe in Father Christmas or not, family holidays up here hold a certain power in the mind. That magic is real.

I remember travelling to Lapland to see Santa with my own parents. I asked him for a very long and complicated present. It was very cold and very still; I was bundled up in a reindeer sleigh, and I remember being fixated on the tiny, perfect snowflakes that had fallen on my jacket sleeve. Everything about that time together as a family felt very special and distinct from the rest of our lives – as though we had captured that time in a snow globe.

The memories have stayed with me for decades since – as perfectly crystalline as a snowflake.
Whilst you can see Santa in Rovaniemi year-round, a special Santa tour like this occurs just a couple of times in mid-December. Seeing Santa is a small group trip. Trip sizes are up to 30 people – for kids, this can mean meeting like-minded families and having the most epic of snowball fights. Warm weather gear is provided – the temperature can be in the minus twenties, but it's remarkable how warm you can feel. Nevertheless, take handwarmers – just in case.
More Finland winter articles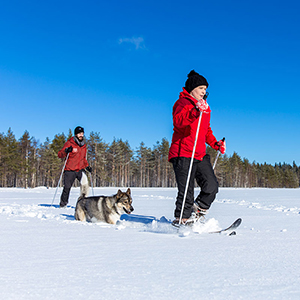 The best time to go on a Finland winter holiday? The clue is sort of in the title.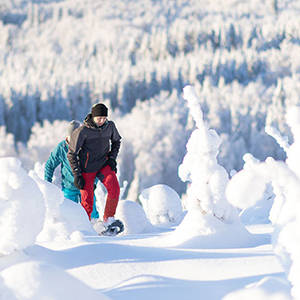 Highlights of where to go in Finland in the winter & what to expect.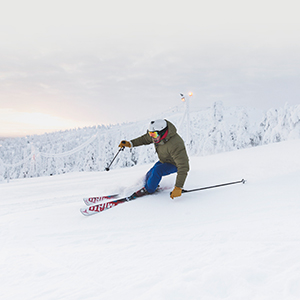 Combine downhill skiing with forays into the frozen landscape to seek an audience with the aurora.