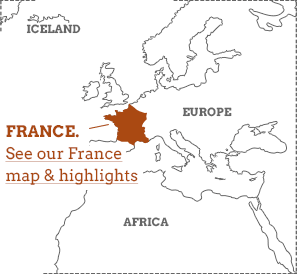 The wonderful Robert Louis Stevenson quote below sums up the feeling you get from putting a bag on your back and just walking. It's simply about moving through landscape, fuelled by the desire to conquer that next hill, swim in that aquamarine lake, or discover what cove lies beyond that next headland. The list goes on forever in a country with such an eclectic array of landscapes as France. And by walking through these landscapes, you are not only open to the elements but also open to the element of surprise.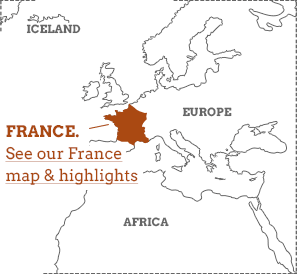 For my part, I travel not to go anywhere, but to go. I travel for travel's sake. The great affair is to move.

- Robert Louis Stevenson, Travels with a Donkey in the Cévennes (1878)
Fields fecund with marmots, carpets of wild white narcissi filling the air with sweet perfume, or a gushing glacial river timed perfectly to assuage aching feet. The great affair is indeed to move, but this in itself can also be incredibly moving. Get the most out of your walking holiday adventure with our Walking Holidays in France guide.
Is a France walking holiday for you?
Do go walking in France if...
...You want to test your muscles, but not your overdraft limit.
...You enjoy the company of an expert guide. Not all walking holidays are guided, but good ones take you, and your holiday, to another level.
...You want to get to know the Alps that are hidden under the ski resorts.
...You want to prepare for a bigger trek in more distant lands, such as Nepal.
Don't go if...
...You don't want to get wet. In the mountains, in particular, weather conditions change quickly, so you need to be prepared. ...You are a fastidious time keeper. Walking holidays are for taking your watch off and switching off. ...You are more into Michelin Stars than star gazing on a remote mountainside. ...Long lie-ins and lazing by the pool are what you crave.
If you'd like to chat about France walking or need help finding a holiday to suit you we're very happy to help.

What does walking in France entail?
Guided or self-guided?
Walking holidays in France are as varied as a French cheese board, some with expert local guides, others with more qualified International Mountain Leaders, and still others self-guided.

Guided trips are usually in small groups, which is the norm on more strenuous walking holidays. However, if you prefer to walk independently, and not be tied to timetables or fixed itineraries, an organised self-guided walking holiday in France takes all the other work out of it for you, providing maps, copious notes, accommodation, luggage transfers and, in most cases, food. So all you have to do is walk.

It depends on the walk, but in general no previous experience is needed, although an ability to read a map does help!
How tough are they?
We have categorised our walking holidays on Responsible Travel just to make your search a little easier. On most walking holidays, a basic level of fitness is required but there are many different options available.
If you are just stepping out for the first time, you will want an introductory walking holiday, such as in the Poitou-Charentes region, Dordogne or Loire Valley. If you have pushed yourself up a few hills of a Sunday, then a moderate walking holiday will push you just a bit more, with 5-8 hours walking per day, and some days stretching those calves more than others, but leaving you a bit of rest in between, so you can take in the sights. Such as taking on a section of the Tour de Mont Blanc, or being guided along the gorgeous gorges of the Parc Naturel Regional du Verdon in Provence. Or the Pyrenees, where you can choose between ascents of 300-3,000 metres.
If you are a well-seasoned walker then our strenuous walking holidays, such as trekking on the Pyrenean Haute Route will appeal, or of course, or winter walking and snowshoeing through the Alps. Also in the Alps, we have a number of summer alpine hut to hut treks which will take you up to heights of 3,000m, scrambling on scree and climbing to impressive plateaus and ridges. Even tougher, and falling into our very challenging trekking holidays or climbing holidays (ie. when you start to add in all the gadgets, such as ropes, crampons and ice picks) category, are the ascent of Mont Blanc, and also climbing the famous Dome des Ecrins or Barre des Ecrins, also in the Alps.
Centre based or nomadic?
It is a mark of just how good and prolific France's hiking routes are, that there is such a wide array of walking holidays you can take on. So, you can walk hotel to hotel, or mountain refuge to mountain refuge while circumnavigating the mother massif, Mont Blanc. Or you can walk for days in the Haute Savoie region of the Alps, stay in one chalet and do different treks every day, coming back to your same room, hosts and homely environs every night.

If you want to cover distance in, for example, the Pyrenees or Alps, then hiking from one bed to another is usually your best option, with your bags being transferred for you, sometimes even by a donkey. However, if you want to take on hearty hikes in the Loire or Provence, and take your time to enjoy gastronomic gorgeousness along the way, a centre based holiday might suit you best.
Hut or high end?
You could probably sleep anywhere after an eight hour hike; however, there are lots of different accommodations available on walking holidays in France, to suit your budget or, simply, if you are walking from one bed to another every night, to fit in with your route. The high trekking routes of the Alps and Pyrenees have a network of hostels called mountain refuges or mountain huts. Built originally for hunters and hikers, today they are run like most hostels: there is a community atmosphere, an eco-ethos, with shared dorms, meals at fixed times, and clearing up done together. Sleeping bags and pillows are provided, but you should bring a sleeping sheet with you. Always in extraordinary locations, such as the famous Gouter Refuge on the final ascent to the summit of Mont Blanc. Or the The Moëde-Anterne mountain hut near Chamonix, which was first opened in 1898.
Family-run chalets are also a feature of walking holidays in France, usually with mountain guides and experts as hosts, who have crafted a series of idyllic itineraries for you during your stay, as well as plenty of fine fare to fill those hollow legs when you get back. Some even have pools or hot tubs to ease the mountain muscles. You will find traditional maison d'hôtes , or family run guesthouses, in areas like Provence or the Dordogne, catering for slightly more luxurious needs such as aperitifs and appetites for the finer sides of French cuisine. Look out for walking holidays that also offer cooking lessons. And for the full on white robes and spa treatment after a day on the hills, there are hotel to hotel walking holidays in the likes of the luscious Loire valley where, surrounded by chateaux, one expects some sort of mansion to mosey into at the end of the day. Et pourquoi pas?
More France walking articles