Things to see & do in Delhi –
THE COLOSSAL CAPITAL

The sky turns pink at night in Delhi, apparently because the sand from Rajasthan hovers in the air. It's a glorious juxtaposition in a city that is far from an oasis.

There are so many different words to describe Delhi, and so many different worlds within it. First of all, this capital city is officially called New Delhi, and the ancient fortified city within it is Old Delhi. The former came about in 1911, not so new anymore, when the ruling colonial British powers decided to move the capital from Calcutta (now Kolkata) to Delhi and needed a brand spanking new city for that purpose. Delhi wasn't built in a day, however, and it wasn't inaugurated as capital until 1931.
The capital city is known colloquially as Delhi, however, and has its own territorial region called the Union Territory. However it also has an extended area added onto it, the National Capital Region (NCR), which includes several suburban towns. There are 54 million people living in the NCR. Just to put that into context, London has close to nine million inhabitants, or 10 million if you include the commuter belt. There are many other colloquial words for Delhi however, common ones being bedlam, hell on earth, chaotic, polluted, overcrowded, expensive, consumerist, cold in winter, muddy in monsoon, smelly and sweaty in summer. And then let's throw 30,000 cows on the streets into that mix and we have one controversial capital here.
Our India Golden Triangle Holidays
Colonial heritage
This chaos is all very much at odds with what the original British city planners had in mind, which was a city that was laid out with grand proportions, dominated by the Rajpath and Janpath promenades as well as a vast residence for the Viceroy, Rashtrapati Bhavan, overlooking the city masterfully from its position on the hill. It is now the President's residence and the largest of its kind in the world. Connaught Place was designed as an elegant, circular commercial centre and modelled on Royal Crescent in Bath, with 12 roads leading off it. All in all, the city was to represent the pinnacle of imperial power with British design and desires at the heart of it all.

Interestingly, India's Prime Minister resides at a very different style of household, at 7, Lok Kalyan Marg in Delhi which is made up of five white bungalows, first lived in by Rajiv Gandhi in 1984.
Anne Steyn, one of our travellers on a Golden Triangle small group holiday:
"I loved Delhi… we walked through the back streets of Delhi and it was a real eye opener. The noise, men urinating against walls, dogs, monkeys, ladies sweeping the pavement with brushes, people having their hair cut and shaved at the side of the road."
Read more thoughts from Anne in this
interview
The oldest & dearest
For visitors, Old Delhi is what most people want to see. Also known as Shahjahanbad, after the Mughal emperor who built it in the 17th century, or the 'walled city', it has its own levels of chaos, but cultural ones rather than carbon driven ones. Old Delhi is in fact one of the oldest existing cities in the world. It dates back over 5,000 years and appears in the epic, Mahabharata.
You can see that in its many phases of reconstruction over the centuries, Old Delhi does seem to have a timeless ability to just work as a city. Narrow alleys keep you cool in the summer heat, everywhere is accessible on foot or traditional cycle rickshaw, people live above their shops or restaurants, and it follows an urban masterplan which some architects say is actually far superior to the modern one. Community, rather than out and out consumerism, thrives here.
If you want the excitement of an ancient city in your face, the sites of multi coloured stalls, women clad in a beautiful array of colours, glistening gem or cotton stalls, and stunning but crumbling haveli houses, be prepared for its smells too. In Old Delhi you will have a concoction of cooking fires, animal dung, sewage, incense and cigarettes. The smoking issue is getting better, at least, with a massive crackdown on smokers who break the ban on lighting up in public.
Our top India Golden Triangle Holiday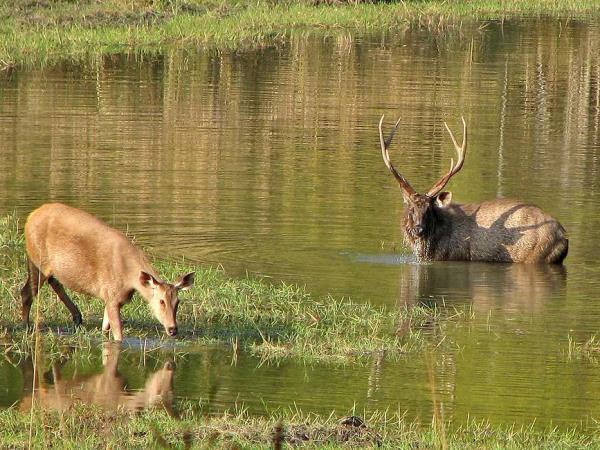 Brilliant experiences including Tigers and Temples
From
£1199

to

£1299
11 days
ex flights
Tailor made:
This trip can be tailor made throughout the year to suit your requirements
If you'd like to chat about India Golden Triangle or need help finding a holiday to suit you we're very happy to help.

What to see in Old Delhi
Avoid New Delhi's roads at all costs and just take the superb subway system to the heart of Old Delhi. The Red Fort is the first thing that people want to see, the great symbol of this city that was once dominated by Mughal culture. The fort was the dynastic residence for Mughal emperors for over two hundred years in fact, between 1639 when it was built and 1856. In 1858 the last in line was put on trial at the Fort by the British who then exiled him to Rangoon and the building suffered some serious damage during this time too.
A magnificent red sandstone fortification, it is home to a collection of museums, pavilions and Persian influenced gardens. It is a symbolic site in Delhi, with the Prime Minister giving his annual address from here on Independence Day, as well as raising the Indian flag at the Fort on this special occasion. Inside its 33m high red sandstone walls lies a collection of architectural wonders, such as the Hall of Public Audiences, the Pearl Mosque and the Royal Baths. There is an evening sound and light show which gathers pretty big crowds.
Jama Masjid Mosque was the religious presence constructed by Mughal emperor Shah Jahan, and is a magnificent edifice of both marble and red sandstone, with minarets, towers, giant gates and a courtyard that is like a spiritual stadium it is so vast. It is also a perfect spiritual retreat from the mayhem of the city, and particularly so early in the day.
The main street in Old Delhi is Chandni Chowk. It is a beacon of bustle, gateway to gregariousness and frenzy for foodies. The name translates as 'moonlit market' and there are plenty of those not only on Chandni Chowk but also throughout the old town. Such as Khari Baoli, thought to be one of the world's largest spice markets. Or Dariba Kalan, otherwise known as Silver Lane for all those jewelry fans, and then Kinari Bazaar which is the colourful land of tailors and fabric designers. It is also worth seeking out the famous Jalebi Wala stall on Chandni Chowk, which has been selling samosas and sweet treats for over 80 years.
UNESCO World Heritage Sites
UNESCO World Heritage Sites
There are three UNESCO World Heritage Sites in Delhi, including the Red Fort complex. The other two are Humayun's Tomb and Qutb Minar, both in the south of New Delhi. Humayun's Tomb is the resting place of the second Mughal Emperor, Humayun, and dates back to 1570. Surrounded by stunning gardens with water features throughout, there are actually 150 other tombs in this massive mausoleum bedecked with pavilions and all round marble prettiness.
Qutb Minar is an impressive red sandstone tower or minaret dating back to the early 13th century and the centerpiece for a collection of monuments as well as India's oldest mosque. At one of the gates there is an inscription that points out that the complex was built out of the remains of 27 Hindu temples which were demolished at the end of the Hindu Kingdom. The minaret was seen as a victory tower at the time and for some people it remains a controversial site.

I love the buzz and hubbub Delhi. The best meal we had was a vegetarian
thali
in Old Delhi station.

– Tim Williamson, Director of Marketing at Responsible Travel
Getting around Delhi
Given that Delhi has a terrible reputation for pollution, the relatively new Metro system was the first of its kind to gain recognition from the United Nations for its huge impact on reducing the city's carbon emissions. So, do use it. Another favourite is going on a cycle rickshaw tour, with throngs of them lined up in front of the Red Fort waiting to take you around. Haggling is all part of the experience, but these guys know the city like the backs of their hand. If you are opting for an autorickshaw, go for a battery operated one rather than a petrol one. Two interesting ways to walk around the city are on a Gandhi tour or a food walk. Your holiday company will be able to help organise that for you, or may include them as part of your itinerary.
More about India Golden Triangle