Golden Triangle, India travel guide
---
2 MINUTE SUMMARY
India's Golden Triangle refers to three prestigious points in Northern India: New Delhi, Agra and Jaipur, which do indeed form a triangle on the map. Flying into New Delhi, the capital, then to Agra in Uttar Pradesh state, and onto Jaipur in Rajasthan. This is a country that certainly is far from 'grim up North': the majesty of Mughal architecture, from the Taj Mahal in Agra and the Red Fort in Delhi, to the palatial prettiness of the Rajput in Jaipur is inimitable. You can hardly move for UNESCO World Heritage Sites although taking trains, rickshaws and even cycling between them is a great way to move through them. The ultimate Grrrrrreat thing to do, of course, is to see tigers in the wild en route. Because this Golden Triangle isn't short on karats.
Highlights of the Golden Triangle
---
MAKE THE MOST OF YOUR TIME
India can be overwhelming, but the Golden Triangle is a perfect introduction to its magical menagerie. Don't be put off by the notion of 'tick box' tourism, because it all lives up to expectations. The Taj Mahal, Agra Fort, the pink city of Jaipur, palaces, desert forts... the Golden Triangle is like picking out the favourites from an exquisite box of handmade chocolates. You can't eat them all at once anyway, and there's a reason why certain ones are always in there. Because they are irresistible. Responsible holiday companies always find ways to take you to the next layer anyway, with local flavours and spices unexpected delights.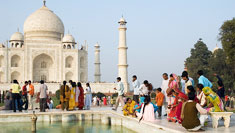 Taj Mahal, Agra
Most people can't fail to fall in love with this white marble mausoleum, built by Mughal Emperor Shah Jahan as a tribute to his beloved late wife. It is one of the finest things to come out of Mughal architectural period, as are the nearby Agra Fort and 'ghost town' of Fatehpur Sikri. Not spooky at all, just spectacular.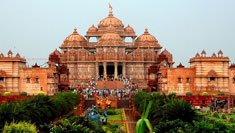 Delhi
New and Old, it's the latter, built in the Mughal period, that has the golden touch. Bursting not only with food (Chandni Chowk market is a must) but also no less than three UNESCO World Heritage Sites – Humayun's Tomb, the extraordinary Qutub complex with its elegant 12th century 72.5m minaret, and Red Fort. Take your pick from a range of museums too, including the Toilet Museum. No s**t.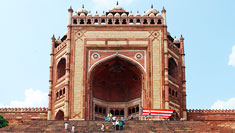 Fatehpur Sikri
A fortified city just outside Agra, sometimes known as a 'ghost town', it isn't actually spooky at all. It's just spectacular. Particularly at sunset when the red sandstone lights up with all the grandeur this architectural achievement merits. Once the Mughal capital, from 1571 to 1585, it still has a working mosque, Jama Masjid (one of India's largest in fact) a bazaar and stunning gardens which are all full of life.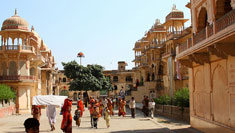 Jaipur
It feels like a magical mix of Hollywood and Bollywood sets. Already a cultural gem, its starry status went through the roof after the success of 'Best Exotic Marigold Hotel', set among the flower markets, bazaars, Amber Fort and Palace of the Winds, just one of the old city's palaces. A city that is completely pink, part sandstone, part paint but making a very pretty whole.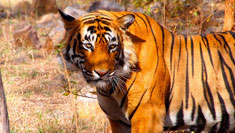 Ranthambore National Park
The Golden Triangle is culture vulture heaven, but for real vultures and a hit of Attenborough-itis, don't miss this home to over 60 Bengal tigers, sloth bears, nilgai antelope, sambar deer and jungle cats. One safari is good, but if you can fit in two, to really immerse yourself and take in the fact that this cocoon of conservation may be one of the last places on earth to see tigers, you won't regret it.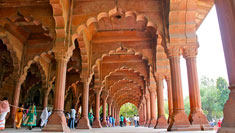 Red Fort
One of Delhi's most spectacular sites, built by the same Mughal Emperor who built the Taj Mahal, this red sandstone structure is impressive in scale as are the gardens, which offer respite from urban chaos outside the fort's elegant gates. An Indian icon, it was where Indian independence was first celebrated. Stroll through majestic colonnades, admire artisan skills, and pace yourself around the likes of the War Memorial Museum and the Archaeological Museum.
Hello.
If you'd like to chat about the Golden Triangle in India or need help finding a holiday to suit you we're very happy to help.
Rosy & team

01273 823 700