Things to see & do in Jaipur, India Ė
THE PINK CITY
About 300km from Delhi, and anything from between four to eight hoursí journey, depending on which route you take, Jaipur will always feel slightly otherworldly. The capital of the state of Rajasthan, Jaipur gets the Golden Triangle status because it was Indiaís first planned city, put on the map by Maharaja Jai Sing in 1727. Constructed primarily out of this desert stateís ubiquitous sandstone, it has gained its nickname the Pink City not so much from the red stonework, but from the paint that has been used to reflect the local colour. This trend began in 1876 when Jaipur was painted pink to honour the future King Edward VII when he visited the city.
Visiting the Jaipur today is an onslaught on all the senses. If Delhi has its cows, Jaipur has its camels. Buses and bikes, rickshaws and revving motorbikes abound. As does a sense of chaos, although it is not as big as Delhi, with a mere three million residents. And yet its glories are many.
Our India Golden Triangle Holidays
The royal seal of approval
The royal seal of approval
Jaipur has a royal heart, its City Palace is still home to the former royal family. Like so many important buildings in the Golden Triangle, this isnít just one structure but a colossal complex of pavilions, gardens and temples. Rajput royalty had a lot of people around them to be revered and to revere. Today, the most revered sites within the complex are the Chandra Mahal and Mubarak Mahal palaces, as well as its magnificent gates. The Tripolia gate is still reserved for royal entrances and exits only, with guards still donning traditional Rajput uniforms.
The Maharani's Palace was the resident of royal queens, and today is a museum with stunning frescoes made from the dust of jewels. As you do. In amongst the jewel bedecked walls are some vicious weapons on display, just to remind you that royalty didnít come without a fairly bloody heritage.
Bhupesh, tour guide with our leading Golden Triangle holiday supplier, Intrepid
"I always tell people when I start the trip Ė you have to divest yourself of the cultural trappings that you bring from your own homes. India is so, so different from any other country. So it's important not to have a closed mind; you've got to be open to all the experiences. It's not a trip for a person who likes his or her creature comforts. You're out there in the crowd, you're getting dirty there, you're rubbing shoulders with the locals Ė so you have to embrace everything. You can't afford to walk around with a closed mind."
Hawa Mahal
Jaipurís most distinctive landmark, the Hawa Mahal is a slightly surreal construction. Again all pretty in pink, it is five storeys high and often described as honeycomb like in design. It was built by Maharaja Sawai Pratap Singh in 1799 for the women of the royal household to peek out onto the real world and watch life going on below. With 953 windows, there were a lot of women looking out from behind lace curtains. Not literally; these windows are called jharokaas and each is decorated in an intricate way that almost resembles lace. The number of windows was also to create a natural form of air conditioning in the desert landscape, which is why this building is also known as the Palace of the Winds. This honeycomb Hawa is also believed to be the tallest building in the world without foundations. Perhaps it has some spiritual protection, given that it was designed to revere Krishna. Apparently its curved shape, designed to represent Lord Krishnaís crown, is the reason why it is still standing.
Our top India Golden Triangle Holiday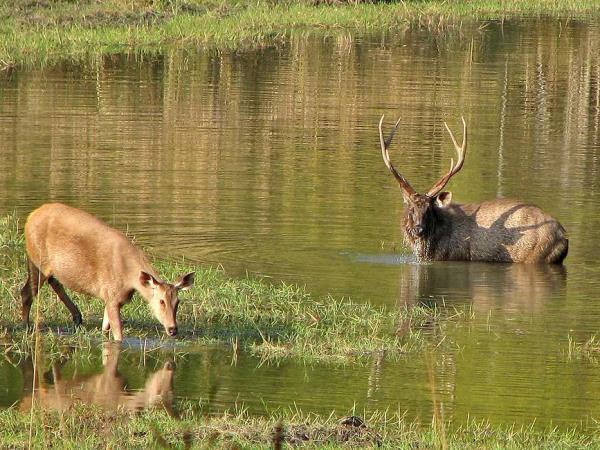 Brilliant experiences including Tigers and Temples
From
£1199

to

£1299
11 days
ex flights
Tailor made:
This trip can be tailor made throughout the year to suit your requirements
If you'd like to chat about India Golden Triangle or need help finding a holiday to suit you we're very happy to help.

The Marigold sensation
As if the city hasnít enough colour, the proliferation of marigolds and roses everywhere makes for a heady combo. No better place to witness this than at Jaipurís wholesale flower market which is a must if you can get there as early as the traders do. Here you will see hundreds of flower sellers with their baskets of marigolds, roses and chrysanthemums. These will then be stripped from their stems, and distributed to hotels, temples, restaurants and private events, the petals used for traditional garlands and other decorations. Or by tourists trying to emulate the cast of the Best Exotic Marigold Hotel.
There are of course plenty of hotels in Jaipur, with glamorous heritage hotels a feature of this wonderful city. Most heritage hotels in Rajasthan are Rajput-owned, the word Rajput meaning Ďson of a kingí, although today it refers to a privileged and aristocratic patrilineal clan. Rajputs play a very important role in the cultural preservation of Jaipur and the state, and being guided around one of the properties, its galleries and gardens by the owner, you will get a right royal welcome. Hospitality is fundamental to aristocratic etiquette in India, and you will certainly feel that in Jaipurís elegant spots.
Anne Steyn, a traveller on our Golden Triangle holiday:
ďJaipur was smellier than Delhi, in terms of offensive smells. There always marigold garlands, however. When we were taken on this walk our guide knew which the safe stalls to eat at, so we stopped for some masala chai and that smelled lovely. The other interesting thing that they do is put up little tiles with images of Hindu gods on them on the walls, and thatís the one area that men arenít allowed to pee against. So we would find these little safe spots.Ē
Read more thoughts from Anne in her
in depth interview
.
Amber Fort
This fairytale fort is the main architectural attraction of Jaipur, although it is actually 11km from the city in the ancient town of Amer. The official name for the fort is actually Amer, which can lead to confusion. There is no confusion as to its greatness, however, this UNESCO World Heritage Site poised majestically on top of Cheel ka Teela hill in Rajasthanís Aravalli range. It is one of six forts in Rajasthan that have been awarded UNESCO World Heritage Status for being fine examples of Rajput military hill architecture.
Itís not all military however, but actually a palace constructed with that classic mix of marble and sandstone, with opulent courtyards, a temple, garden, pavilions and impressive gates. All overlooking the glistening Maota Lake, with an island boasting saffron said to have been planted by a Maharaja in the 15th century. And we wonder how Bollywood film sets got to be so multi coloured and phantasmagorical. Itís all just so epic, and exquisite.
Elephant & camel rides in Jaipur
You can take an elephant ride up to Amber Fort or a camel ride in certain parts of the city, particularly during festivals, when they are decorated to the hilt. We do not support elephant riding at Responsible Travel and have written more about this in our
elephant conservation guide
.
More about India Golden Triangle