Wellness holidays in Greece guide
It was the ancient Greeks who first linked wellness of mind to that of the body – and it's the staff of Asclepius, the first Greek physician and the god of healing, wrapped in a snake, that is still the worldwide symbol for medicine. Since that time, the Mediterranean herbs, flowers and climate here have upheld a great healing tradition, and if you weren't already convinced of the value of Greece's natural bounty, look no further than its olive oil – known locally as 'green gold'.

It's little wonder that Greece is so well suited to wellbeing breaks. Its sunshine, seas and fragrant flora have been nourishing bodies and souls since before the time of Hippocrates.

Well-being holidays in Greece take you away from its busiest islands to peaceful clifftop retreats, into lush mountain pools and to tucked-away villages where local tavernas serve up traditional, home grown – and often vegetarian – food. Places where tourism is supporting, not destroying, local communities, with hosts who will guide you through the legends, wildlife and nature that surrounds you, and where you can't help but to exhale a long, slow and oh-so-relaxing breath of thyme-scented air.
Our Greece wellness Holidays
Is a wellness holiday in Greece for you?
Go on a wellness holiday in Greece if:
... Cultural connections are as important as your personal journey. Retreats take you into Greece's quiet corners, where community life and local food is an inherent part of the wellness package. And even the ingredients in your treatments – essential oils from Greece's abundant herbs – have stories rooted in Greek legend.
... You want warmth and water. Few places do clear seas and warm sunshine as well as Greece. So if your idea of relaxation heaven is practising yoga outside on a sundeck overlooking the Aegean, Greece delivers.
... You're a solo traveller. These holidays are all about you. So while you might encounter two friends or a couple travelling together, most retreats are made up – in the most part – by a friendly mix of solo travellers.
... You're a wellness newbie. Never tried yoga? New to meditation? Retreats in Greece are intimate affairs, with small groups and instructors giving you personalised coaching. So even if you've never done a downward dog in your life you'll be fully supported and will fit right in.
Don't go on a wellness holiday in Greece if...
... You're not prepared to unplug. Switch off your mobile and log out of your email. Letting go of your daily 'to do' list and life's stresses starts with screen time. And to be honest, our retreats in Greece chose their locations for their spectacular sea vistas, abundant herbs and wild forests, not the availability of reliable WIFI.
... You don't enjoy vegetarian cuisine. Greece does vegetarian food extremely well – think tzatziki, fava, feta and delicious salads drenched in olive oil. Our wellness retreats aim to nourish your body as well as your soul, crafting traditional – and healthy – dishes from seasonal local produce.
... You're not prepared to be open. Share your aims for your retreat – even if these are quite personal – to ensure your hosts can support you fully while you're there. Come with a mind open to new people, new challenges and a new way of seeing the world too.
... You want five-star city life. Wellness holidays in Greece celebrate the healing powers of nature. So, expect intimate, rural retreats – not a room in an anonymous spa hotel – and your nearest neighbour to be the sea, an olive grove or at most a sleepy taverna, rather than a bustling town. Archaeological sites abound as well.

We bought local produce direct from the farmer's market. We ate olives and had olive oil that was from their own olive grove and had the marmalade which was made from their own lemons and oranges.

-Responsible Travel customer Karina Heavey
Tamara Warner, from our wellness and aromatherapy specialists, Tamsorellas, in the Peloponnese explains how she encourages guests to be prepared to challenge themselves as part of a therapeutic retreat: "About 4km from the house in the mountains there's this wonderful archaeological site. It's a beautiful, profound place, built on lay lines and with a 360° view. From there you can walk down to the river gorge and wade in up to your chest to explore the stalagmites and crystal-clear water in a cave. We recently had one lady with some mobility issues and she was very nervous about it. But we got into the water together and afterwards she said it was life changing. Another time I took a jog with a 72 year old guest – we jogged across the Olympia race track, it was just 200m, but according to some of the mythological tales describing the heroic feats of young men, you could almost imagine Achilles, Hector and Ajax flexing their muscles to compete there. It was a hugely poignant moment."
Our top Greece wellness Holiday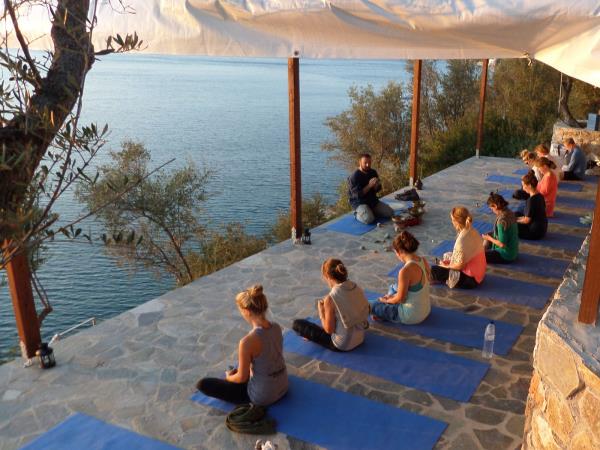 Pilates and Wellnes Retreat in Greece by the sea
From
£850
7 days
ex flights
Small group travel:

If you'd like to chat about Greece wellness or need help finding a holiday to suit you we're very happy to help.

Best time to go on a wellness holiday in Greece
Searing summer heat does not a relaxing break make, so you'll find most wellness retreats in Greece are timed for the milder (and less tourist-laden) spring and autumn months of April and May, and September and October. If you do travel in July and August, choose the coastal retreats along the Pelion Peninsula or the mountainous Peloponnese, where a cooling dip in a waterfall or sheltered bay offers a retreat from the afternoon heat. Don't worry about the notorious Greek holiday crowds either – wellness retreats take you into the country's quietest corners and you'll be doing your bit to ease the pressure on the more popular – and crowded – islands. There are fewer options from November to March but some retreats do also offer winter stays, with log burners to keep you cosy during chilly nights.
Peloponnese Weather Chart
Pippa Dale-Harris from our wellness and yoga specialists Dolphin's Leap shares her advice on when to go on a wellness break in Greece: "You might have apricots and cherries in June, and apples, pears and quinces in September/October. For us seasonal produce is so important. September is also a great time of year for swimming – the water is at its warmest. But there's something special about each month. The end of July to August is hot, but retreats will offer a different programme, starting earlier in the morning with lots of time off in the middle of the day. Our July retreat will be hottest – but there's lots of shade around the property which is surrounded by forest and you can stop and swim whenever you want."
More about Greece wellness
From the Pelion Peninsula and Peloponnese to tiny Ionian Islands best accessed by boat, read on for our tips on where to go on a wellness holiday in Greece.