Where to go on a wellness holiday in Greece
Wellness holidays in Greece tuck you quietly into landscapes which have been nurturing and healing since ancient times. Forget Santorini, or Mykonos, or any of Greece's holiday hotspots, for real relaxation head to the Peloponnese or the Pelion Peninsula, where your stay supports tiny communities and tavernas rather than piling more pressure on already stressed out resorts. Alongside yoga, pilates, massages and more, you'll visit local markets where perfectly imperfect fruit and veg shouts about how organic farming is not a choice but simply how things work in rural Greece. You'll experience the traditional medicinal properties of home-grown herbs and surrender yourself to the power of the natural world.

Tamara Warner, from our wellness and aromatherapy specialists, Tamsorellas, in the Peloponnese: "That's the wonder of it here – we use all the senses. It's a combination of the beauty of the natural environment and the power of the elements – the sea, the weather, the heat of the sun. It really feels like all your senses have been heightened. It's like magical realism in books – everything feels bigger, more exaggerated than in life."
1. Peloponnese
Typified by lush mountains and littered with ancient history, retreats in the Peloponnese are rooted in the earth itself, with its aromatic herbs forming the basis of aromatherapy massages and treatments. Further afield you can explore ancient Olympus or Messene or magical Polylimnio – a gorgeous succession of bright green natural pools backed by waterfalls tumbling out of the mountains.
2. Pelion Peninsula
There's a reason the Pelion Peninsula was chosen by the Gods for their revelries and holidays. This finger of mountain and forest reaching down into the Aegean Sea from the mainland offers a quiet and untouched insight into traditional Greek culture. Choose a retreat on its east coast, surrounded by Pelion forest and small fishing communities and you'll enjoy sheltered seas perfect for in-between yoga swims.
3. Crete
Retreats in Crete take you into the heart of a Natura 2000 protected area, with abundant birdlife soaring overhead daily yoga classes. This is hiking heaven too, with trails taking you through olive groves, to fishing villages in crystal-clear coves and to local tavernas serving up famously mouth-watering Cretan cuisine. And you'll have most of its plethora of Ancient Greek and Byzantine archaeological sites all to yourself.
4. Ionian islands
With the exception of Kefalonia, and perhaps Ithaca, you might not have heard of many of the tiny Ionian islands – Kastos or Atokos, to name just two. Travelling by boat brings these tiny islets to life, as you moor up in traditional fishing ports, explore walking tracks, visit ancient relics, enjoy and swim in crystal-clear coves. All bookended by morning and evening yoga on board, or on the beach.
Tamara Warner, from our wellness and aromatherapy specialists Tamsorellas, shares her love of the Peloponnese: "Water makes the Peloponnese. It's that simple. The mountains are full of water. Horticulture grows magnificently – it's great for agriculture, yes, but also for huge oak trees, cypress trees and smaller plants as well; herbal and medicinal plants grow here in profusion. There's a reason we're in the middle of so many archaeological gems – Olympia, Mycenae, Messene – because these civilisations were based around the water, and the natural bounty that the water helps produce."
Yoga
Yoga retreats in Greece usually focus on morning and evening practice – on a terrace overlooking the sea, on the beach, or even on your sailing yacht – with plenty of free time in between for swimming, exploring or chilling out on the beach. Class sizes are kept small – usually a maximum of 12 people (and often less) so the approach is very personal, very tailored to you. Don't worry if you've never done a downward dog in your life – beginners are very welcome and well supported.
Pilates
Pilates retreats focus on posture and relaxation but don't end there. Daily pilates classes which cater both for beginners and the more advanced are complimented by tai chi, meridian stretching and regular Qi Gong sessions – a martial, medical and spiritual healing practice that focusses on posture, breathing and mental focus and is suitable for all ages and physical abilities. Reflexology and therapeutic massage are also available on these retreats.
Meditation
It can take some time for the stresses of everyday life to leave your system – even enveloped in the quietest corners of Greece. Meditation can help. You'll find its a standard part of most retreats, with daily, guided sessions aimed to clear your thoughts, ground you in the nature that surrounds you and help you to 'be' in the moment, not in your 'to do' list when you get home.
Aromatherapy
Herbs are an integral part of Greek culture, whether as part of food or medicine, and using herbs for therapy is a great Greek tradition which stretches back to the times of the gods. Aromatherapy retreats run by hosts fluent in herbal lore tap into this ancient culture, and as well as learning more about herbal lore you can enjoy hands-on workshops to distil the essential oils from home-grown lavender, thyme, lemon verbena, bay and more before enjoying them as part of an aromatherapy massage.

Tamara Warner, from our wellness and aromatherapy specialists Tamsorellas, tells the story of Daphne and Apollo whenever she uses bay leaves in her guests' treatments: "After being shot by Cupid's arrow, Apollo falls in love with Daphne, who, wanting to remain unmarried and virginal rejects his advances. Mad with desire he chases after and almost catches her. Daphne's father, Peneus, hears her pleas for help and comes to her aid. He turns her into a bay tree so she can be rid of Apollo for eternity. However, despite her terror and her desire to have nothing to do with him, Apollo vows to honour her forever, and uses his powers of eternal youth and immortality to render Daphne evergreen. For this reason, the leaves of the bay tree don't decay."
Hiking
Alongside yoga classes and holistic treatments, you'll find most retreats also give you plenty of time to simply connect with and enjoy your surroundings. Smell the wild thyme as you enjoy a coastal ramble to a local taverna, join your hosts for an herbal walk in their olive groves or challenge yourself on guided hikes through Crete's dramatic gorges to ancient archaeological sites.

For Pippa Dale-Harris, from our Greece yoga and wellness specialists, Dolphin's Leap, in the Pelion Peninsula, walking is an integral part of a wellness retreat: "Your carbon footprint here is very small – everyone just walks everywhere. In addition to our own village just a 10-minute walk away there are two lovely fishing villages within 45 minutes' walk in either direction, with Greek tavernas that are open all day. So, if you want to walk to one to have a drink and enjoy traditional Greek hospitality you can. The walks are all coastal too, so you're always hugging the sea and can stop for a swim on the way."
Swimming
Water plays a key role in wellness holidays in Greece; it's what fuels the Peloponnese's floral bounty, what grounds you in place as you listen to the waves lapping during a meditation session overlooking the ocean, and one of the main reasons for choosing Greece for your wellness break in the first place. So, you'll likely be swimming – whether in the calm waters off the eastern Pelion Peninsula, in the magical Polylimnio waterfalls in the Peloponnese or off your yacht in an isolated cove tucked into a tiny Ionian Island.
If you'd like to chat about Greece wellness or need help finding a holiday to suit you we're very happy to help.

Wellness holidays in Greece travel advice
Pippa Dale-Harris, from our Greece yoga and wellness specialists, Dolphin's Leap, shares her tips:
Advice for wellness newbies
"We have a complete mix of people joining us; we might have an advanced yogi and a complete beginner on the same retreat. On the whole, because the groups are small (max 12 people) we can really give everyone a personal approach – tailoring practise for individuals rather than the whole group. We cater for all levels of ability, so at the start you might be aware that you're a beginner compared to some of the other guests, but by the end you won't even notice."
Preparing for your retreat
"I think one of the most important things to do before a wellness break is be prepared to switch off. We don't have superfast internet here anyway – so you can't stream films etc, stay online all day – just be prepared to let go. Perhaps send one text to family to let them know you've arrived then that's it. Come having thought about what books you want – it's like going back twenty years when you packed for holiday having to think about what to take to read – this is your time. That preparation process I think helps when you arrive; you've sorted everything out beforehand so you can just completely switch off. "
What to expect
"We find that everyone just groups together – even friends and couples come with the mindset of wanting to get to know everyone. There are communal spaces all around the house – you don't chill in your room here. So, it's a very friendly, welcoming experience particularly if you're travelling solo." "You can do as much or as little as you want here, but generally we find the retreats – especially the yoga ones – attract people who are active, who want to get out and move, walk and swim, rather than just sit around all day."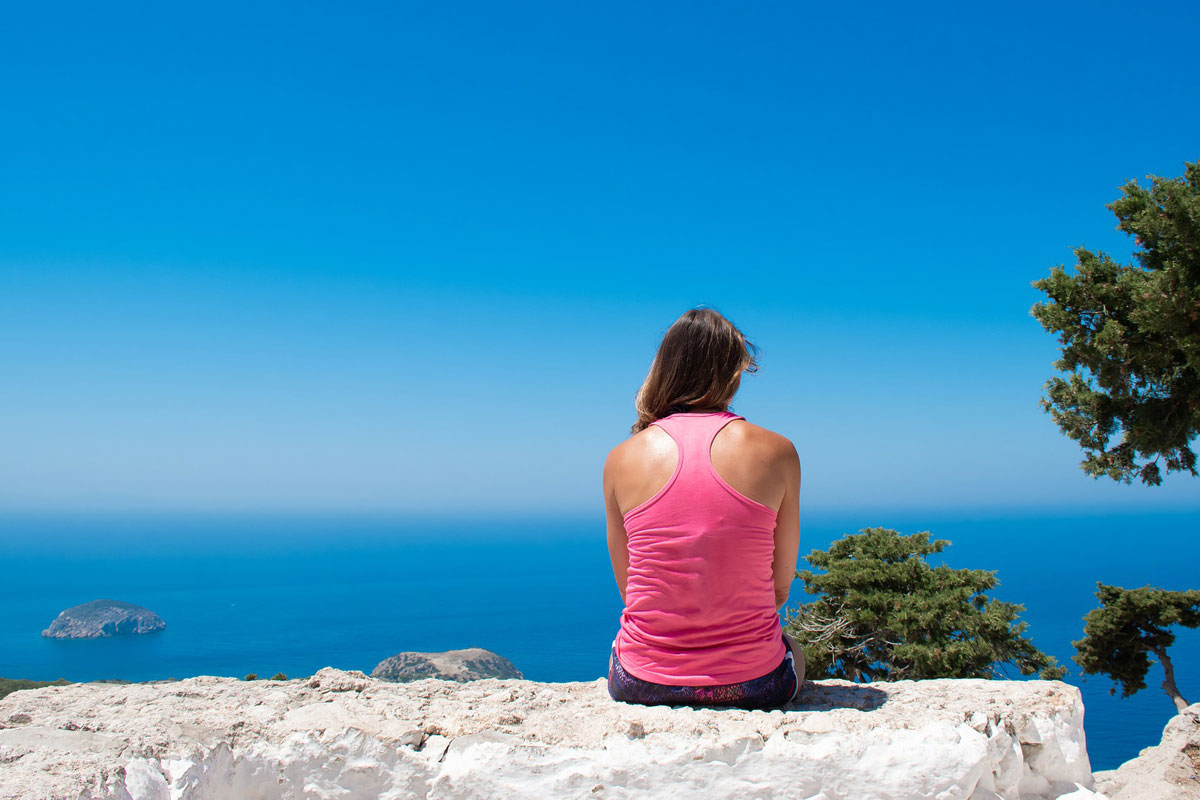 Tamara Warner, from ouraromatherapy specialists Tamsorellas in the Peloponnese, shares her advice:
Tips for making the most of your trip
"We really recommend you're open about any wellness issues before you come – honesty from our guests as to what they are hoping the retreat can do for them can really help us prepare. We find that guests can then really get in touch with their creative or emotional sides while here, or can get active swimming, walking and cycling as they need. Be open so we know what you want this trip to mean to you."

"Also, if you're choosing a wellness holiday think about what you want to do. The choice is yours. Do you want to relax and unwind? We can incorporate breathing exercises and yoga. Also, be prepared to take on a challenge. Something you perhaps don't think you can do."
When to book
"Book early. We've had difficulties recently with people wanting to book last minute but we only have the one cabin – and only a handful of group trips – so things get booked up very early."
Packing advice
"Bring binoculars, there's so much birdlife here and if you're interested in butterflies then a long lens for your camera is essential. We regularly see lizards and sometimes rare insects, or praying mantis as well so if you're into nature photography you'll regret not having the right equipment. Walking boots are a must too."

Pippa Dale-Harris from our Greece yoga and wellness specialists, Dolphin's Leap:
"Because we're off the beaten track, and you'll be walking everywhere, you'll need to bring everything you need with you – sun cream, mozzie repellent, toothbrush etc. Enough cash for visiting the tavernas etc – there's no just nipping to the shops here. There is a shop, but it's about an hour's walk, so you're not going to want to do it just to pick up some essentials. You'll want good shoes too for the walking and bring your own goggles and snorkel for the sea. We do have a few spares if you forget, but lots of people wish they'd brought their own. The sea is crystal clear here – we have a few mountain streams that come into the sea here and it keeps the water beautifully clear and fresh".
At Responsible Travel, we think the best people to advise our travellers are often... other travellers. They always return from our tours with packing tips, weather reports, ideas about what to do – and opinions about what not to.

We have selected some of the most useful Greece wellness holiday tips that our guests have provided over the years to help you make the very most of your retreat – and the space inside your backpack.

If you think you're going to lose weight on this healthy yoga holiday, think again, as you won't be able to help getting second helpings of the amazing food! However, you will leave feeling healthier, more relaxed and happier!

"Take some fins for swimming off the rock platform beneath the villa – on a calm day, you can swim to several bays. Have one or two therapeutic massage sessions with Ioannis – not to be missed. Bring an open attitude along to the early evening Qi Gong sessions – having only ever done yoga or Pilates, I found Qi Gong unexpectedly helpful in bringing focus and calmness to a busy mind." - Janine Hollins

"I came away recharged and happy and I shall continue taking Yoga lessons. I am an absolute beginner at 62 years old – in the UK it is difficult to find beginner classes for the not so young. Molly, the yoga instructor was a true professional in managing this juxtaposition of age and level of experience. I was never made to feel embarrassed by my difficulties or inability to attain certain positions – all credit to Molly and the supportive attitude of the other members in the group." - Anna Stracke

Don't worry about packing much as the lodge provides every comfort – soaps, creams, room sprays all made in Tamara's aromatherapy workshop

"The days were lovely and warm but it was a bit chillier in the evenings than I thought it would be – I would take a few more warmer items. If you think you're going to lose weight on this healthy yoga holiday, think again, as you won't be able to help getting second helpings of the amazing food! However, you will leave feeling healthier, more relaxed and happier! I recommend having a treatment from the local, very intuitive healer." - Ragani Lindquist

"The local beaches are mostly non-commercialised except for the odd beach bar as there are strict laws preventing building as part of the effort for Sea Turtle conservation. Tamara introduced me to some members of the local Sea Turtle conservation group and I am planning to go back in the summer to volunteer with them" - Ruqaya Dennis
More Greece wellness articles