Our mental and physical wellbeing is often put to one side until after we've dealt with daily life. Family, work and social schedules, or lack of them, can put a strain or our bodies and minds. Stress can manifest in the strangest of places. A lack of patience, tense muscles, sleepless nights, anxiety in the most innocuous of situations – your mind and your body will tell you when it's under pressure, and a holiday can provide a welcome antidote.

Being proactive about your health and wellbeing is the best way to combat stress and ensure your mind and body are working in harmony so as to prevent things getting out of hand.

Wellness holidays help you be proactive about your physical and mental health. You'll be able to practise Pilates, yoga and meditation every day, if you wish. Swimming pools, spa treatments and fitness facilities may all feature on these retreats, and you'll be in the company of others who have come together to relax and rejuvenate. Expert instructors, nutritionists and therapists will be on hand to guide you during a week away. Whether you're hoping to try a new exercise or want to deepen your understanding of a current discipline, our wellness holidays guide helps you take action when it comes to your health and happiness.
What does a wellness holiday entail?
Wellness retreats
Our retreats offer guests comfort and care, plus exercise classes, outdoor activities and plenty of space to rest and explore. Wellness holidays usually last about a week, although some are also offered for longer or shorter durations. Group sizes range from six to 20 guests at any one time, dependent on the size of the accommodation. You may be assigned a twin room with another guest of the same sex; single supplements are usually available if you prefer your own space. Some retreats offer private rooms at no additional cost.

"This was a truly amazing experience. All involved with the retreat are positive, welcoming and ready to share their knowledge. The surrounding villages and countryside are wonderful, the property is beautiful and the food is some of the best I've eaten! The benefits of taking part in this retreat will stay with me, possibly for life!" – Liz Bryant in a review of her yoga retreat holiday in Valencia, Spain
A daily schedule
Wellness holidays offer daily exercise classes, wellbeing workshops and optional activities, and guests can join in or duck out of sessions as they wish. Nothing is obligatory. If you'd prefer to spend the day reading your book by the pool, that's your choice. If yoga before breakfast and Pilates prior to an evening meal is your thing – go for it. The rest of your day can be filled with guided walks in the countryside, spa therapies, gym workouts or strolls to the beach. These retreats encourage you to plot your own path in a positive and healthy environment.
A healthy diet
Most wellness holidays are full board, so you can rest assured that what you're putting into your body will boost your energy levels. Some retreats offer only vegetarian and vegan dishes; others will provide fish and meat. Wine or sangria might be served at meal times alongside satisfying smoothies and fresh juices. Ingredients, where available, will be organic and grown as close to retreat kitchens as possible. Specific dietary requests will be happily catered for. Wellness holidays encourage guests to put nutritious and delicious food and drink into their bodies – you certainly won't go hungry. They'll put you on the right path so you can take home healthy habits and be mindful about your diet.

Nicole Stone, from our supplier, Yoga Breaks in Spain, explains why she serves vegetarian food to her guests: "Vegetarian food is less taxing on the digestive system, so it means that people feel lighter and more energised when they are doing their yoga classes. If they have heavy, rich food and eat three courses in the evening washed down with wine then they will feel lethargic, which isn't how we want them to feel. Some people will query it and ask for some chicken or fish and we do cater for that because we recognise that not everybody wants to make a total commitment where their diet is concerned."
Our top trip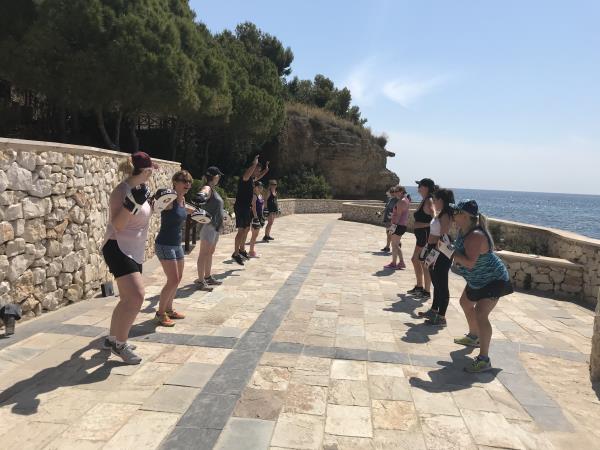 Luxury holistic health fitness & wellness retreat Spain
From
£1395

to

£1595
7 days
ex flights
Small group travel:
2024: 21 Feb, 13 Mar, 3 Apr, 17 Apr, 1 May, 22 May, 11 Sep, 16 Oct, 23 Oct, 6 Nov
If you'd like to chat about Wellness or need help finding a holiday to suit you we're very happy to help.

A variety of activities
90-minute yoga classes – before breakfast and evening meals – give guests a chance to start and end each day with a stretch. Vinyasa flow is the most commonly taught style on these retreats and teachers are experts in encouraging new poses and postures no matter how new you are to practice. Mixed ability yoga classes are the norm, so don't worry even if you've never been to a yoga session before as you will be in safe hands. Think gentle guidance and easy stretching, in your own time. Pilates, too, will often be practised on wellness holidays, and classes will be suitable for all levels. All equipment, including mats, blocks and straps, will be included, but you can bring your own if you prefer.

Meditation sessions may involve silent walks or simple stillness, allowing you to cleanse and clear your mind. Your retreat might offer guided walks in the surrounding countryside – along rugged mountain trails or a scenic stretch of coastline. Sunshine, alpine air or a sea breeze can definitely boost wellbeing and encourage acceptance that the world is indeed a wonderful place to live.
Optional activities, such as working out at the gym, massage therapies and spa treatments also offer ample excuses to exercise or pamper as you prefer. Sometimes simply chatting with other guests or finding space to relax with a good book can be all that we need to feel at peace.

"This holiday is perfect for switching off – the idea of the wellness together with the Pilates is to relax your mind and body in a beautiful location. There is not much to do when you're there for a reason – you can go and explore the local paths and the tiny hamlet and beaches nearby, or you can also just sit by the pool and read. I really enjoyed that the group did all of the classes together and that no one opted out - we had our free time but eating together and being together in the sessions really helped us come together as a group. My tip would therefore be to rest, participate and take the location in." – Helen Wood in a review of her Pilates retreat in Greece
Who goes on a wellness holiday?
Wellness retreats are not 'boot camps' where you'll get shouted at; nor are they an opportunity for body beautiful types to get their buns and guns out. A wellness holiday is for people who want to feel good about themselves the right way. It's for people who want to learn and listen to positive advice and gentle instruction. It's for those who want to eat well and not feel their tummy constantly rumbling. Guests can socialise, or seek solace and tranquillity without feeling like they're missing out. You might be in need of a detox or perhaps you're training for a marathon or a triathlon. You might be convalescing after illness or injury. Retreats are not medical centres but they are a form of therapy for anyone looking to rejuvenate before getting ready to face the real world again.

"This trip blew my expectations of what a yoga holiday was. The yoga was very accessible so it's great for those who are totally new. Also, if you didn't want to do yoga then that was OK too. I tended to skip the evening classes as I was happy by the pool. The nights are early so I would bring some good books and possible a diary to jot down your thoughts – it's hard not to feel reflective while surrounded by such beautiful surroundings. Oh and you have to get some of the massages – the folks there really know how to get all the stresses and aches and pains out of your body." – Joyce Stack on a yoga holiday in Portugal