Where to go on an Iceland short break
It is amazing how much you can achieve in a short period of time in Iceland, but the terrain is not easy. So when working out where to go on a short break, you need to plan well in order to make the most of it. You may want to just see the classic sites of the Golden Circle, or go further afield to see the Northern Lights in the wilds. You may want to hike on a glacier or go horse riding across a lava field and black sandy beaches. The problem with Iceland is that you may be just too spoiled for choice on a short trip. It is definitely a country that leaves you wanting more.
Hello. If you'd like to chat about Iceland short breaks or need help finding a holiday to suit you we're very happy to help. Rosy & team.
01273 823700 (UK)
1. Blue Lagoon
2. Golden Circle
3. Jokulsarlon Glacial Lagoon
4. Northern Lights
5. Reykjavik
6. Seljalandsfoss & Skogafoss

1. Blue Lagoon
A geothermal spa where you bathe in steaming milky water, soothed by both the heat and bluish grey mud, creating selfie frenzies of plastered faces. Because this is one of Iceland's most visited sites, especially on a cold day. Set into the surrounding black volcanic rock, come late in the day to avoid crowds. Or seek out the quieter Secret Lagoon. But as Björk would say, 'Shhhhh'. It's a secret.
2. Golden Circle
The tourist trail is within easy reach of Reykjavik, so you can see a lot of geological gorgeousness in a short break. Arrange a tailor made trip or join a small group tour going to see, as examples, Gullfoss Waterfall tumbling 32m into Hvitargljufur Gorge. Then the great fissures of Thingvellir, superb for hiking but also snorkelling between tectonic plates. And if those don't blow your mind, Geysir certainly will.
Jokulsarlon Glacial Lagoon
3. Jokulsarlon Glacial Lagoon
Watch Iceland float past your eyes from the shores of this lagoon which boasts every shade of icy blue imaginable. It feels as if the place is alive, with icebergs calving from the famous Vatnajokull glacier creating waves that ripple out like mini tsunamis. Take a boat out among the floes, or just walk out to admire this natural nirvana from jet black beaches dotted with seals or shore bound ice mounds.
4. Northern Lights
The
Northern Lights
are one of Iceland's wonders. Iconic mountains like Kirkjufell reach up to touch the shimmering celestial curtain, pitch black lava fields provide dramatic contrast, while dark fjords or glistening glaciers mirror the sky show. Displays can happen Sep-April, although New Years' Eve trips are particularly popular. Time of your life or Times Square? No brainer.
5. Reykjavik
The world's northernmost capital,
Reykjavik
has ancient history and plenty of Icelandic culture. Highlights include the very contemporary Harpa Concert hall, the sculptures that line the shores of Tjornin Lake, the iconic Perlan glass dome lookout point and Hallgrímskirkja church as well as Laugardalur Hot Spring Valley. Followed by wonderful food and drink, just about everywhere.
Seljalandsfoss & Skogafoss
6. Seljalandsfoss & Skogafoss
Two of Iceland's most stunning waterfalls, they are both visited easily on the same day trip along the south coast. At 65m high, you can walk behind Seljalandsfoss, so bring waterproof gear or a change of clothes. The path is closed off in winter, however, due to dangers of slipping on ice. Skogafoss is equally mesmerising, and you can follow the steps up to the top of it for total enchantment value.


Our Iceland short breaks Holidays
Iceland short break holiday advice
Tom Wilkinson from our supplier Exodus speaks up for winter as the best time to visit Iceland for a short break:
"The weather in Iceland is fickle throughout the year. Midsummer for 24 hour daylight is an experience, but the drama of a snow covered volcano or a waterfall encased in ice makes winter pretty special too. There are also far fewer tourists in winter so the main sites are less crowded."
Walking in Iceland
"Exploring Iceland properly does require you to get out of a bus and amongst the rocks, lava fields, volcanic beaches, glaciers and waterfalls. With the right guide and itinerary it is very safe, even in winter, and taps into that feeling of otherworldliness, when you're away from the tourist spots."
Tips on keeping toasty
Tom Wilkinson from our supplier Exodus Travels sings the praises of hot dips in his Iceland walking holiday travel tips:
"Thermal baths are a key part of Icelandic culture – a very social thing to do, where friends meet, chat and unwind. Where else would you be floating about in 30 degree water, face covered in therapeutic mud, in an outdoor pool with little flecks of snow settling on your nose and ice in your hair?!"
Going wild
Emmanuelle Bluman from our supplier Alkemia:
"Most of what you'll experience you won't have anywhere else because Iceland is a volcanic land almost on the Arctic Circle. In winter, you have the Northern Lights, in summer the midnight sun. You have geysers, smoke, solfatares [aka fumaroles – geothermal openings in the Earth's crust that emit gases from inside the planet], places where basically the ground is boiling under your feet! Untouched and wild places like none that exist in the rest of Europe – no houses, just hiking paths... not forgetting bathing in natural hot water pools!"
Our best selling Holiday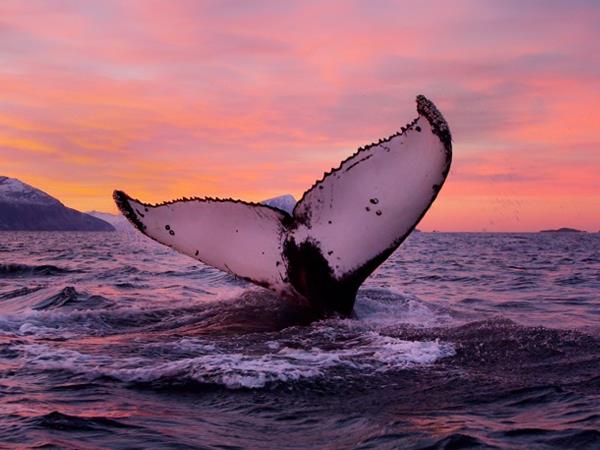 A unique Arctic experience on board a three-masted schooner
From
€1000
4 days
ex flights
Small group travel:
2018: 19 Oct
More about Iceland short breaks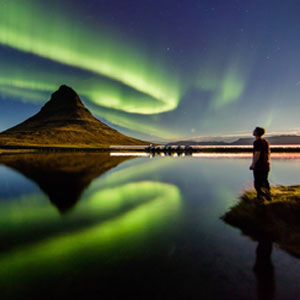 Iceland is really hot right now when it comes to short breaks.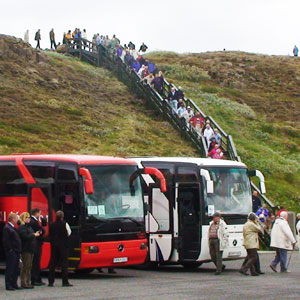 Overtourism in Iceland is a contemporary travel issue that's affecting certain pockets of the island.
At Responsible Travel, we think the best people to advise our travellers are often... other travellers. They always return from our tours with packing tips, weather reports, ideas about what to do - and opinions about what not to.
We have selected some of the most useful Iceland short break holiday advice that our guests have provided over the years to help you make the very most of your trip.

Don't assume you will see the aurora with the naked eye. If you do you are lucky! But cameras pick up the physics and the light shows

"Iceland is perfect for a first time lone traveller, very safe and felt looked after by travel company… the most memorable bit? – Snorkeling between two tectonic plates, visiting waterfalls, seeing a geyser, floating in the secret lagoon, meeting new people- so many" - Andrea Evans

"Travel light as you are moving around so no chance to unpack properly. Take ski clothes if possible. Then need little else. I wore my walking boots all the time & didn't really need another pair of shoes. And no need to take a skirt or dress. Just spare trousers & layers." - Gillian Girling

"Don't assume you will see the aurora with the naked eye. If you do you are lucky! But cameras pick up the physics and the light shows" - Carmel Brown

most memorable bit? – Snorkeling between two tectonic plates