Inner Hebrides travel guide
Hundreds of puffins line the rocky shoreline on Lunga – the largest of the tiny Treshnish Isles to the west of Mull. The colourful clown-beaked birds aren't worried about visitors either, says Julie Dubois Marshall from our Hebrides specialists St Hilda's Sea Adventures: "They just come right up to you, all around your feet – it's really special." Take a cruise to Lunga and you won't just meet puffins, you'll also see dolphins, the odd minke whale and perhaps a golden eagle or two. You won't, however, see many other humans.

Whenever I can't get to sleep in the city… I will think of lying in bed on this holiday, gently rocking with the waves, and the gobsmacking brilliance of the stars.

– a guest on our Inner Hebrides cruise
There's an edge-of-the-world style escapism and sense of wild freedom offered by Inner Hebrides holidays. That you're just three hours on the train from Glasgow can come as a bit of a surprise – especially when you're at anchor in a loch with just you, your shipmates and a blinding night sky. Keep reading our Inner Hebrides travel guide to discover more.
Inner Hebrides are/aren't
Inner Hebrides are…
made for small ship cruises, although it's not the only way to explore. Walking tours take you into the heart of the huge landscapes – and Gaelic history.
Inner Hebrides aren't…
actually that remote, even though they feel it. Hop on a train from Glasgow and you'll be in Oban in just three hours.
Inner Hebrides map & highlights
Wildlife lovers will enjoy Mull, while the tiny communities, cafés and fishing ports dotted around the Small Isles of Muck, Rum, Canna and Eigg are a delightful introduction to the traditions of everyday life on the islands. Iona offers a jolt of spirituality and Islay a dram of whisky. You'll likely start your Inner Hebrides holiday in Oban – a tiny port town easily accessible by rail from Glasgow and the departure point for most small ship cruises. If you'd prefer to base yourself on land, Mull is a great option – an efficient ferry network links the islands' highlights. Read on for our tips on the best places to go in the Inner Hebrides.
1. Jura
Jura is one of the largest of the islands, but also one of the most sparsely populated. This is where George Orwell penned his nightmarish vision of the future 1984 while wracked with TB (his cottage can still be seen), and where British music collective The KLF infamously set fire to £1 million in a disused boathouse in the 1990s. You'll often see people out 'bagging Munros' (climbing as many peaks as possible) on the Paps of Jura.
Lunga & the Treshnish Isles
2. Lunga & the Treshnish Isles
A remote, uninhabited archipelago west of Mull, the Treshnish Isles are home to species of rare birdlife and seal colonies, as well as Atlantic puffins, which are most commonly seen between late spring through summer. These beaky blinders have a curious flying motion when swimming, and swoop low over the sea on the hunt.
3. Mull
Mull is among the most touristy of the Hebrides, with plenty of accommodations and places to eat – especially in Tobermory, its colourful capital. The mountainous centre is great for walking, but the island is mostly used as a base for wildlife watching tours. Over 250 species of bird are here, including white-tailed eagles, golden eagles and hen harriers, as well as otters and cetaceans.
4. Oban
Set in a horseshoe bay, the resort town of Oban is the 'Gateway to the Isles' and where most people begin their holidays in the Inner Hebrides. It has easy rail connections with Glasgow, and regular ferries depart to Mull, Lismore and Islay. Oban is where you will usually board your cruise ship and meet your fellow passengers. There are several castles to visit close by too.
5. Skye
Skye is a popular location for cruising and anchoring up and can get very busy in summer. It's the largest of the Inner Hebrides and offers a dramatic sea approach, when you can take in the famous Cuillin mountain ridges over the rugged line of the coast. The Otter Hide at Kylerhea is also known for its seals and birdlife, and you will regularly see whales and dolphins in the sea off Skye.
6. The Small Isles
Rum, Muck, Canna and Eigg make up the Small Isles, an archipelago within the Inner Hebrides. Rum National Nature Reserve protects populations of white-tailed eagles that nest on the steep sea cliffs, and was formerly owned by George Bullough, who built Kinloch Castle and briefly renamed the island as Rhum, as he didn't enjoy being known as 'Laird of Rum'.
If you'd like to chat about Inner Hebrides or need help finding a holiday to suit you we're very happy to help.

How to get to the Inner Hebrides
You could drive from Glasgow airport, but if you travel to Oban, the gateway to the Inner Hebrides, by train then you'll enjoy one of the most scenic railway journeys in the world – the
West Highland Line
. At just three hours from Glasgow, it's an easy option and as far as responsible tourism goes, it's our choice too.
The West Highland Line will also take you north, over Rannoch Moor, through Fort William and over the Glenfinnan Viaduct – of Harry Potter fame – to the port at Mallaig (an exquisite journey under steam) where ferries run to the Small Isles of Rum, Muck, Canna and Eigg.
Julie Dubois Marshall from our partner St Hilda Sea Adventures explains that they are trying to encourage guests to turn to the train: "We offer a £50 green voucher to our customers who choose to arrive by train. And it's actually a lovely way to travel; the train journey is a holiday in itself. It's very easy and very beautiful, taking you across the Highlands."
Cruising in the Inner Hebrides
Small ship cruising isn't the only way to visit the Inner Hebrides, but these eclectic smattering of islands are almost purpose-built for adventures by boat. Most cruises depart from Oban and follow a variety of itineraries – in part dictated by the somewhat unpredictable weather and tide – which celebrate the history, communities, wildlife and whisky of the region.
"My favourite cruise is our complete circumnavigation of Mull," says Julie. "It's just beautiful. And the wildlife is fantastic: you'll see basking sharks, dolphins, porpoises, eagles, seals and even minke whales if you're lucky."
The small locally staffed boats mean that experts in all things Hebrides – from wildlife and walks to where to get the best cup of coffee – are there to offer a guiding hand. For Julie, sharing this innate local knowledge goes one step further.
"I was very keen for all our crew to do
WiSe Scheme
training, so they can speak to visitors about the marine environment and wildlife and discuss issues with them. Education through talking to our guests is one of the most useful things we can do to protect the natural heritage of the Hebrides."
More Inner Hebrides articles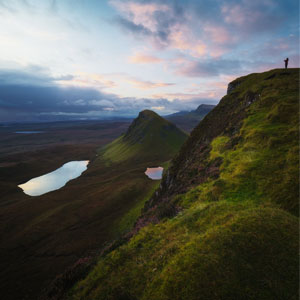 The best time to go to the Inner Hebrides is usually during the warmer months.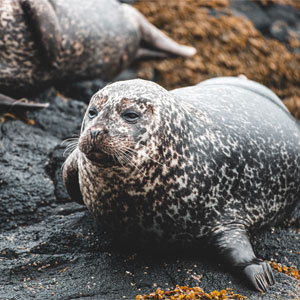 The Isle of Skye's sweeping landscapes offer some of Scotland's greatest walking country.