Julian Alps map & highlights
The Julian Alps forms a natural border between Italy and Slovenia, with Mount Triglav (2,864m) on the Slovenian side providing the most prominent limestone peak. Not only is Triglav Slovenia's only national park, but it's also home to its largest permanent lake, Bohinj, and the country's highest waterfall, the Boka Falls (106m). In the winter the Julian Alps sing to the swish of skiable slopes alongside frozen falls, mist-shrouded lakes and snow-bowed pines. Summer finds alpine towns like Bovec and Kranjska Gora offering ample opportunities for outdoor adventures as Lake Bled heaves with hikers and mountain bikers, and the Soca River Valley echoes to the cries of white water rafters.
1. Bovec
The alpine town of Bovec has become one of the Julian Alps' outdoor adventure capitals. Set in the heart of Triglav National Park, sandwiched between the Soca River Valley and the Kanin Mountains (peaking at 2,587m), Bovec's an ideal base for hiking, mountain biking, white water rafting or skiing. This town's got more activity options than pizza toppings, and, in these parts, that's saying something.
2. Kranjska Gora
Set on the banks of the Sava Dolinka River, near the Krnica Valley, the alpine village of Krandjska Gora is a great option for visitors to the Julian Alps, especially e-bike and mountain bike riders looking to visit the neighbouring villages and explore across the Trenta and Radnova valleys. When the snow falls, you'll find access to around 20km of skiable Slovenian slopes as well as many more options over in Italy.
3. Lake Bohinj
Although Bled has long been Slovenia's best-loved base, Bohinj boasts just as many outdoor options and beautiful views, but with a fraction of the visitors. Hike to the summit of Veliki Bogatin (2,008m), take a cable car up to Mount Vogel (1,500m) or walk through the forest to Slap Savica waterfall (78m). Boat or canoe rides and strolls to surrounding farming villages make Bohinj like Bled, back in its quieter days.
4. Pokljuka Plateau
This well-placed alpine karst plateau sits between Bled and Bohinj in Triglav National Park. It offers not only great views, but also lesser-known walking and cycling trails past slate-roofed cottages, stilted hay barns (kozolec) and traditional shepherds' huts. Disappear under a spiky canopy of spruce where down below, ferns and moss glow a vibrant green either side of dusty forest floors.
5. Soca River Valley
Starting from the Trenta Valley, via the Vrsic Pass, the Soca River runs through the Julian Alps like emerald green mercury creating grade II-III-plus rapids for white water rafting, as well as Slovenia's tallest waterfall, the Boka Falls (106m). Make the most of peaceful places along the Soca by basing yourself in Bovec, Nova Gorica and Kobarid with a well-thumbed copy of Hemingway's A Farewell to Arms.
6. Triglav National Park
This is one of Europe's oldest national parks and encompasses the naturally wild and untamed nature of the Julian Alps within pine forested woodlands and fast-moving green rivers. Spreading out from Mount Triglav (2,864m), this is where you come for white water rafting on the Soca and Sava rivers as well as hiking and cycling around the lakes of Bled and Bohinj and into the Trenta and Soca valleys.
Our Julian Alps Holidays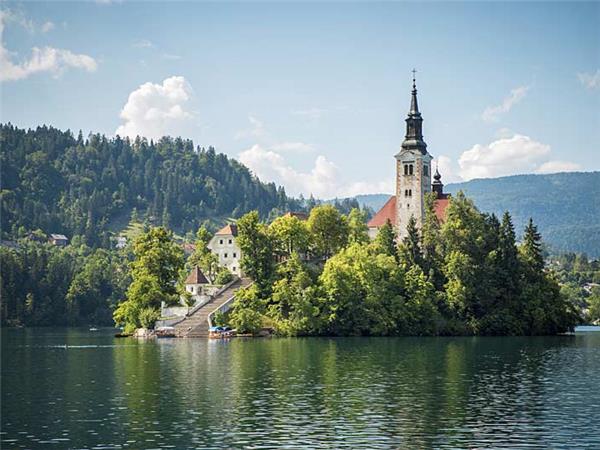 Beautiful walks, lakes and mountains
From
£1849

to

£2049
8 days
inc UK flights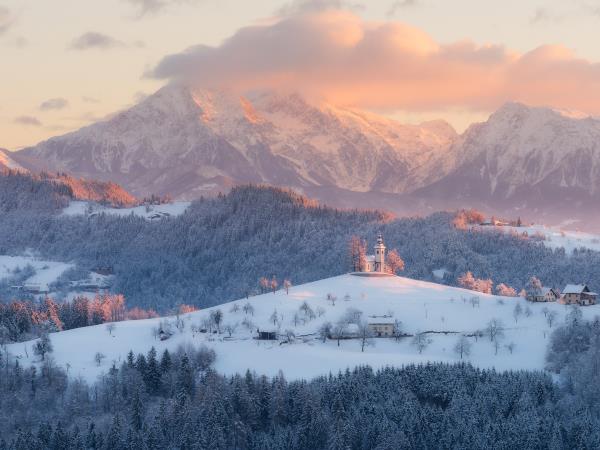 Photograph the most beautiful time in Julian Alps - Winter
From
€1390
6 days
ex flights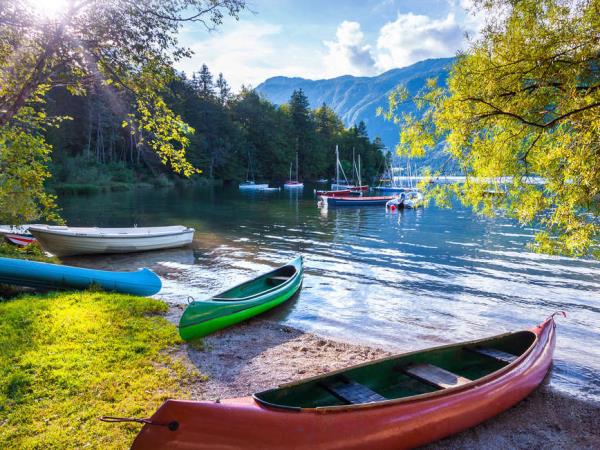 Explore the valleys and lakes of stunning Slovenia
From
£1766

to

£1860
8 days
inc UK flights
If you'd like to chat about Julian Alps or need help finding a holiday to suit you we're very happy to help.