Winter activities in the Julian Alps
Life in Slovenia's Julian Alps doesn't stop because of the snow – far from it. Winter turns alpine villages such as Krvavec, Cerkno and Vogel into ski resorts, surrounded by slopes and tracks for cross country skiing and snowshoeing.

Not only have these snow-covered mountain slopes been attracting a new set of savvy skiers looking for more affordable options than in neighbouring Italy and Austria, but they're also supplying local people with employment options too.

Vida lives in Ljubljana and works for our Julian Alps holiday specialists, Label. She shares her thoughts on skiing in Slovenia: "All of the ski resorts in Slovenia can be reached within 90 minutes, at the most. This allows skiers to go where the snow is and also allows ski instructors and guides to find work throughout the winter season. We work with Slovenian guides who know all of the slopes and cross country routes extremely well. Skiing is very popular in Slovenia and very important as a tradition. Our guides will have been skiing their whole lives and it's through winter tourism that they've been able to work within their own country, as well as having opportunities to travel across the borders into Austria and Italy."
Our Julian Alps Holidays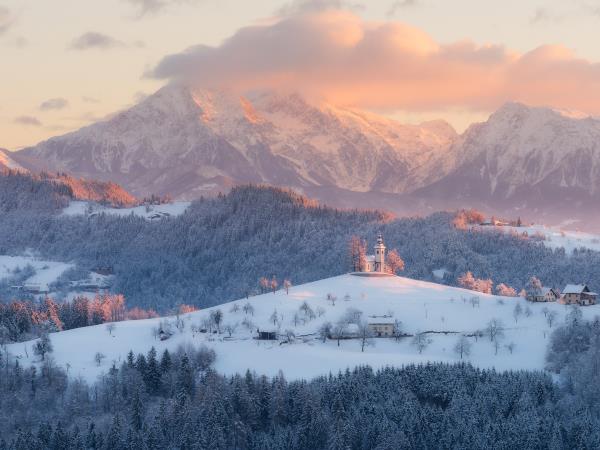 Photograph the most beautiful time in Julian Alps - Winter
From
€1390
6 days
ex flights
Accommodation owners also benefit from the boost that winter tourism brings to the Alps. They can invite guests into their family-run hotels or farmhouses throughout the year rather than only in the summer.

"In recent years, especially, the alpine region of the Julian Alps has received a really big boost through tourism," says Vida. "Traditionally, the communities living in the mountains were farmers and made their living through dairy products and agriculture. It was quite a hard life in many respects but in absolutely beautiful surroundings. Year-round tourism has now given these people other options. Old farms have been renovated and turned into guest houses. They're still owned by the farmer and his family but now they have an extra way to make money but without impacting too much on their lives."

Villages like Kranjska Gora offer easy access to a winter sports area situated at an elevation between 800-1,215m. Although the altitude isn't all that high, relatively speaking, it's enough to keep the village running as a ski resort all the way through from December to March. Once the winter sports lovers have packed up and swooshed off home, Kranjska Gora guest house owners open their doors to spring hikers and bikers. The Julian Alps have become a year-round experience, which is why the Slovenian tourist board loves it so much.
Winter photography
It's not just the ski slopes and cross country tracks that attracts people to the Julian Alps during the winter. Photographers, too, are discovering some of Slovenia's snow-covered secrets. Anyone who's been to Lake Bled in the summer will know that it's going to be busy. But visit in the winter and you just wait to see what pops up in your viewfinder – it won't be a bloated Bulgarian wearing Speedos, that's for sure.
Andrej Kralj has worked with Luka Esenko, the owner of our Julian Alps photography experts Esenko Workshops, for almost a decade. He's been a photography guide for almost three years. "Our
small groups of photographers
stay in a traditional farmhouse that's about a 15-minute walk from Lake Bled. The farmhouse owner, Brigita, is super friendly; we've worked with her for six or seven years – or maybe even 10 years. As soon as you arrive you feel like you're at home. You don't need a room with a lakeside view; that's what the expensive large hotels offer around the lake. Vrigita offers something much more authentic – a much more special experience."
Even if there's no snow in the lower valleys of the Julian Alps – a fact of life that is happening more and more during the winter months – photographers will still find plenty to get excited about.
"If we don't get snow on our winter photography trips to the Julian Alps, 99 percent of our guests understand the reasons why," says Andrej. "To be honest, though, as long as it's cold then it's okay. Fog and mist over the lake or in the forest and valleys, for instance, is very atmospheric – just right for photographers."
Our top Julian Alps Holiday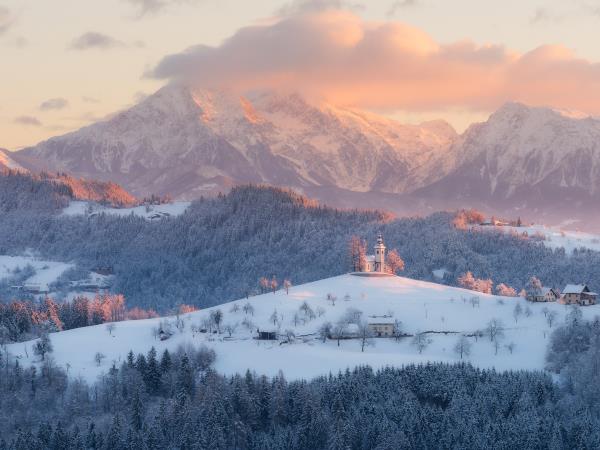 Photograph the most beautiful time in Julian Alps - Winter
From
€1390
6 days
ex flights
Small group travel:
2024: 16 Jan
If you'd like to chat about Julian Alps or need help finding a holiday to suit you we're very happy to help.

Climate change in Slovenia
Just like the rest of the world, Slovenia is experiencing the effects of global heating. Locations like the capital, Ljubljana, would consistently see snow in November and December, but these days, even in January, the locals have been left wondering if they'll see any at all. The Julian Alps is a different setting. It's at a higher altitude and people still expect snow there, especially around alpine villages like Vogel.
"There's no snow this year in Ljubljana because it is just too warm," says Andrej. "It's windy, which is a bit strange. Warm winds are now blowing through Slovenia. It's just the way it is now: global warming. We used to get constant snow in the capital from January to April, but not anymore."
Vida, from our Julian Alps specialists Label, adds: "January to March is the traditional ski season, but sometimes we get a really warm period and all the snow goes away, particularly in the lower resorts. Unfortunately, the lack of snow in the lower resorts means that
artificial snow cannons
are a common sight. It's climate change, really, and trying to make the most out of winter tourism. Higher resorts, like Kanin ski resort, however, always get snow and will start operating as early as November."
The best time to visit for cross country and downhill skiing and snowboarding is between January and April, especially in the elevated alpine areas above 1,200m. If you're visiting the Julian Alps in the winter to experience locations like Lake Bled and Bohinj without the crowds, then make sure you manage your expectations when it comes to snow. There's still so much to be enjoyed even if there's no snow, and visiting in winter will show a much more peaceful and authentic side to Slovenia than the coachloads in the summer will never ever glimpse.