Walking in the Julian Alps
There's a new walking trail in the Julian Alps, which is not only good news for travellers but also benefits local folk, too. Vida, from our small group walking holiday specialists, Label, is really looking forward to seeing the positive impact that it's going to have on the region: "The Juliana Trail has just opened in 2019 and is going to create even more small scale tourist options for farmers and other local people living in the mountains. It's a long distance circular trail, almost 300km, but is split into 16 sections so you can stop off in a different town or village for food or a place to stay. Railway stations and bus stops are also accessible on the trail, so it's really well done and safe for self guided hiking or – even better – to walk with a local guide."

Small locally owned guest houses and family-run chalets offer accommodation all year round. Organised walking tours have presented an opportunity to diversify from traditional employment, such as dairy farming, and supplement incomes without detriment to alpine lifestyles. Young people, too, have the chance to train as alpine walking guides as well as ski instructors. They don't have to leave the local area to look for work, although the temptations of Italy are just over the Predil Pass.

Vida, from our Slovenian holiday experts, Label, had this to say: "In recent years, especially, the Julian Alps have received a really big boost through tourism. Traditionally, the communities living in the mountains were farmers and made their living through dairy products and agriculture. It was quite a hard life in many respects but in absolutely beautiful surroundings. Year-round tourism has now given these people other options. Old farms have been renovated and turned into guest houses. They're still owned by the farmer and his family, but now they have an extra way to make money without impacting too much on their lives."
Our Julian Alps Holidays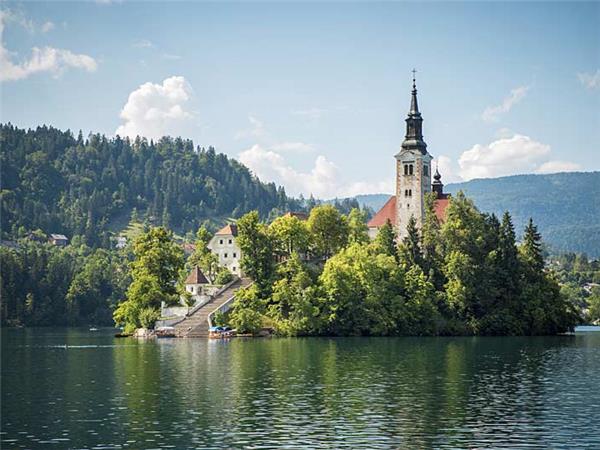 Beautiful walks, lakes and mountains
From
£1799

to

£1999
8 days
inc UK flights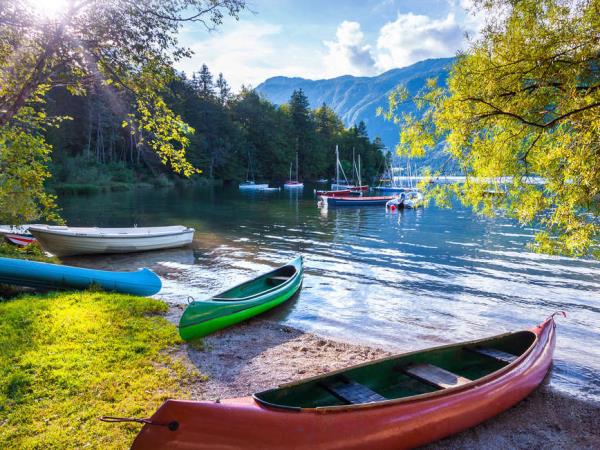 Explore the valleys and lakes of stunning Slovenia
From
£1513

to

£1523
8 days
inc UK flights
Where to walk in the Julian Alps
No sooner than the snow's cleared in Slovenia – usually at the end of April – thoughts turn to warmer weather and days staying lighter longer. Ski resorts like Kranjska Gora, in the heart of the Julian Alps, once again become alpine villages. And winter activities, such as cross country skiing, snowboarding and snowshoeing, are exchanged for hiking, mountain biking and white water rafting.

Hiking holidays in the Julian Alps are an important part of Slovenia's year round popularity. However, don't be worried. Outside of summer, and away from Lake Bled, this is still a lesser-known area for non-native walkers. Alpine trails are well-marked but uncrowded, especially in April-May and September-October. Short transfers by road can take you up to trail heads at Vrsic Pass (1,611m), for instance, or to the spruce-shaded trails stretching out across the Pokljuka Plateau (1,400m).
Andrej Kralj has worked with Luka Esenko, the owner of our Julian Alps photography experts Esenko Workshops, for almost a decade. He's been a photography guide for almost three years. "It's very easy to get around in the Julian Alps with a car. I mean, you can't go right up to every mountain top – it's not like the Dolomites – however, you can get over a lot of mountain passes that are around an elevation of 1,600m. The views on both sides are really great and there are loads of walking trails and paths leading to the summit and all around."

Other trails start from villages like Gozd Martuljek and lead through the Martuljek Gorge, where waterfalls and shepherd huts offer views over the classic Toblerone-shaped Mount Spik (2,472m) – always best enjoyed with a wild berry juice or warming bowl of homemade soup. Some walks are flat, such as the 12km circular around Lake Bohinj that starts from the St John the Baptist Church in Ribcev Laz. Even though you're at fairly low altitude down in the valley, you're still surrounded by mountains, including the highest peak in Slovenia, Mount Triglav (2,863m).
How to walk in the Julian Alps
Walking for a week with a local guide, as part of a small group (maximum 15 people), lets you become part of an alpine village community rather than descending on a place by coach for just one night. You'll get to know local people and share stories, as well as learning a little bit of Slovenian along the way.

Due to the size of the country, and its proximity to the rest of Europe, some tourist groups tend to use Slovenia as just a stopover in a European tour. It's usually a large hotel in Ljubljana or around Lake Bled that will get the booking, whilst the tourists get a buffet breakfast and Slovenian selfie before departing for Venice 240km west or Vienna 380km north.

In Vida's experience, small scale tourism creates a far better experience for visitors: "Staying in the area for longer not only allows you to see more of the natural environment but you also get to know the local people: the guest house owners and the guides and instructors. They're the ones who can tell you more about life in the mountains, and the more you get to know them the more secret places they'll be happy to tell you about. It's small scale tourism, but it's really important and something we want to keep and protect."
Our top Julian Alps Holiday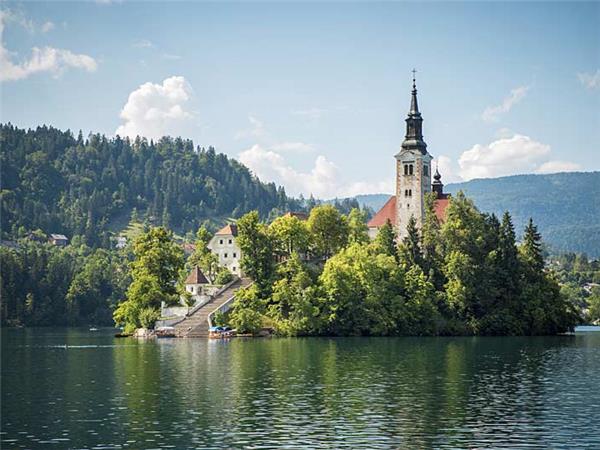 Beautiful walks, lakes and mountains
From
£1799

to

£1999
8 days
inc UK flights
Small group travel:
2023: 3 Jun, 10 Jun, 24 Jun, 1 Jul, 22 Jul, 26 Aug, 2 Sep
2024: 1 Jun, 8 Jun, 22 Jun, 29 Jun, 20 Jul, 24 Aug, 31 Aug
If you'd like to chat about Julian Alps or need help finding a holiday to suit you we're very happy to help.

The best time to go hiking in the Julian Alps
Springtime (end of April to end of May) along the alpine trails of the Julian Alps promises pastures dotted in wild edelweiss, orchids and crocus. Rivers will be running free and waterfalls will be at their zenith. It will be chilly when the sun goes down and at higher altitude, so make sure you bring plenty of breathable layers and sturdy waterproofs to cope with all weathers. Autumn (September and October) is the best time to go hiking in the Julian Alps. Towering golden larch trees are dropping their needles to create a colourful carpet on the ground, whilst misty mornings over mountains and lakes make warming bowls of wild mushroom soup for lunch at an alpine farm all the more enticing.
Treating the mountains with respect
Andrej Kralj, from our Julian Alps photography experts Esenko Workshops, explains why walkers need to respect the mountains: "In recent years we have seen the Julian Alps getting more popular. This sometimes brings problems, especially when people don't treat the mountains with respect. Some people are just not prepared; they think they can just stroll up in flip-flops or something. The Alps may not be that tall as mountains – I mean, they're not Everest, you know – but the weather can get very unpredictable at the top. Temperature really varies and if you're not ready for this then you can get into difficulties."

Going with a local walking guide who has grown up in the area and can point out the best places to fill your water bottle at a mountain spring or teach you the difference between a chamois and an alpine Ibex, is the best way to stay safe. Phone coverage is very good in the Julian Alps, so get connected and keep the numbers of your hosts and the local rescue services to hand just in case of an emergency.
"You can't get lost, really, as walking paths are well-marked, but the weather can take some people by surprise. We're lucky to have great telephone signal in the Julian Alps and a great volunteer mountain rescue team. But if you have to call them and you're wearing flip-flops, then you'd better be prepared as they will not be happy."

If you're hiking on your own, always tell someone where you're going and when you intend to be back or reach the next destination. Although the walking trails are often very well signposted in the Alps, sometimes – especially at altitude – the weather can change in an instant. Fog and mist and rain can turn what was an easy-going stroll into a disorientating drama. Please be as prepared as possible with the right clothing, footwear and supplies in your day sack. Walking with a guide is the best way to stay safe, but if you want to walk alone just make sure you're fully prepared before you set off.