Photography tours in the Julian Alps
For the local photography guides that we work with, being able to read the weather in the Julian Alps is a large part of a successful tour. Andrej Kralj, has worked with Luka Esenko, the owner of our Julian Alps photography experts Esenko Workshops, for almost a decade. He's been a photography guide for almost three years, and says: "If we don't get snow on our winter photography trips to the Julian Alps, 99 percent of our guests understand the reasons why. To be honest, though, as long as it's cold then it's okay. Fog and mist over the lake or in the forest and valleys, for instance, is very atmospheric – just right for photographers."

Any visit to the Julian Alps is an invite to get snapping. All of those freshwater streams, cascading waterfalls and lakeside reflections – pure photographic bliss. The winter, especially, conjures up so many captivating scenes to point your camera at that you'll be spoiled for choice. Frozen spruce forests, snowflake crystal close-ups through a macro lens, sunrise over mist-shrouded lakes – and without the crowds associated with summer, what's not to like?

Tourism such as photography holidays provides employment options for local people all year round. Guest house hosts, activity guides and local restaurant owners all benefit from guests who base themselves in traditional villages, and visitors find it easy to become immersed in every day alpine life. "We often visit an award-winning local beekeeper, Kralov, in the spring so we can take photographs and learn more about the beehives that have been part of his family for 100yrs," says Andrej. "It's very interesting and inviting small groups to look around the old apiaries on his farm is a great way for him to add to the money he makes from honey production." Kralov's kids still get picked up for school by the alpine minivan every morning and he gets to supplement his income by inviting photographers to visit him and take some snaps of his beehives.
Our Julian Alps Holidays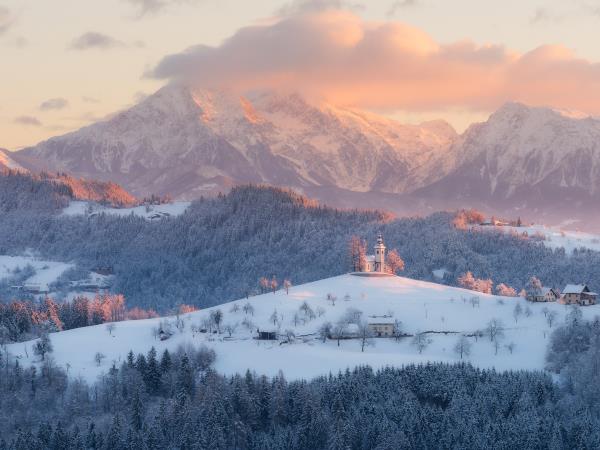 Photograph the most beautiful time in Julian Alps - Winter
From
€1390
6 days
ex flights
Where to stay in the Julian Alps
Being part of a small group of photographers also allows you to stay overnight at smaller lodgings. You don't have to be slap bang on the banks of Lake Bled to find photogenic images in the Julian Alps. Visiting outside of summer also eases the strain on an already burgeoning lakeside tourism business. High-rise hotels with private beaches and indoor pools are eating up the shoreline and creating an all-inclusive enclave to keep travellers from straying too far from their luxurious gilt-edged confines.

"We all recognise tourism is picking up in Bled," says Andrej. "That's why we don't run our photography tours in July and August. Small groups are not a problem, but larger groups and buses are much harder to regulate. Often old hotels are torn down and replaced by new ones or new larger hotels are also now being built around the lake."

Going on a photography tour as part of a small group gives you a chance to escape the crowds: you can take a sneaky peek at Lake Bled early in the morning when no one else is awake. Then you can head back for breakfast to examine your photos as you wait for your freshly poured coffee to cool and your freshly cooked eggs to be bought to the farmhouse kitchen table by your host, Vrigita.

"Oh my gosh, I've known Brigita for a long time now," says Andrej. "I can't even remember how we first connected with her and the farmhouse. She's like one of the family now. We know her so well. This is where me and Luka take our families when we want some time away from Ljubljana. Although the farmhouse is a 15- or 20-minute walk from the lake, that's what makes it such an authentic experience. There's so much going on around the property: beehives, freshwater streams, hilltop churches, that sort of thing. We might visit Lake Bled for one or two hours in the morning, perhaps, but after that there are so many other locations to explore that we can easily leave the tourist commotion far behind."
Our top Julian Alps Holiday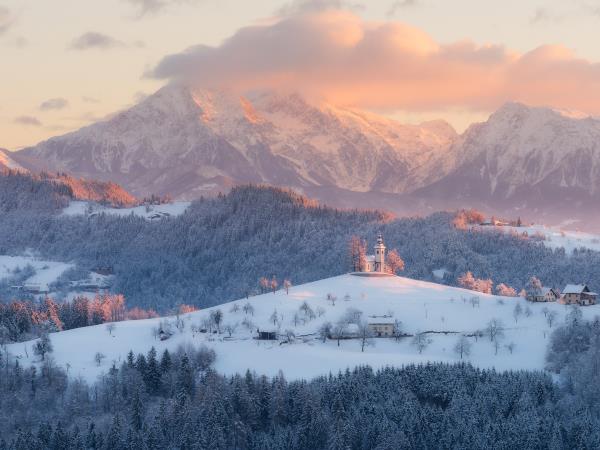 Photograph the most beautiful time in Julian Alps - Winter
From
€1390
6 days
ex flights
Small group travel:
2024: 16 Jan
If you'd like to chat about Julian Alps or need help finding a holiday to suit you we're very happy to help.

Overtourism in the Julian Alps
These days, even the most discreet of photographers can leave an electronic trail behind them. Try as we might, we're all documenting where we've been and what we've seen. Put a photo online and other people can like it and share it; they want to know where a picture was taken, and want to find out how they can capture the same image for themselves.

Google, also, will instantly try to work out your location and tag the name of the church or village or waterfall that you've just photographed. This, in turn, attracts other visitors looking to get their photograph in the same place. Sometimes there's just not enough space. Let's face it, no one wants to photograph a place with 10 or 15 other photographers.

Slovenia is a very small country and the Julian Alps are even more compact. There are only so many places for people to photograph that haven't been photographed before. However, exploring with a local photography guide allows you to experience new approaches to familiar subjects, and enjoy a variety of unique, and sometimes secret, viewpoints away from the crowds.

"As photographers we often feel partly responsible for the extra tourism in the Julian Alps," says Andrej. "We sometimes see places we visit, like a remote hilltop church, appearing on Instagram. Then two years later you've got tourist buses going up there. This isn't necessarily the case around Lake Bled – there's still quite a lot of space to go round. It's more to do with photographing a small place."
Overtourism is something that we, as travellers and photographers, can try to minimise by visiting a popular place outside of the peak season. We can also stay in a location that's less well known and get the best from a unique experience rather than seeking out something or somewhere that's already well documented. Staying in one location also gives photographers an opportunity to really explore and get to know a place in more depth as opposed to just snapping the 'highlights' and moving on.

"That's why the photography tours that we promote don't run in July and August. They don't place you in a high-rise hotel overlooking Lake Bled. And they only use expert local photographers who know when and where to get the best pictures. We want everyone – not just those armed with tripod, macro lens, polarising filter and extra camera batteries – to visit the Julian Alps in a way that benefits the local people and environment."

As photographers, we have the freedom to seek out settings that other travellers would never consider. It doesn't really matter where you are or how close you are to a world famous landmark. As long as you've got the ability to see something from a creative or interesting perspective then you'll always have enough subject matter to keep you happily taking photographs for hours on end.

As Andrej explains: "The thing about photography is that everyone will see the same object or subject matter through different eyes. Often, they show me what they've taken and I say, "Wow, where did you see that?" It will often be somewhere that I've seen many times before but never in the same way. It's super interesting and that's why we're happy to stay where we are in the Julian Alps; we don't need to switch locations or accommodation. There's always lots going on and lots to photograph."