Best time to visit Kangaroo Island

Given that the main reason to visit Kangaroo Island is the wildlife, it helps to know what wildlife you're going to be seeing, when.

Kangaroos and wallabies, sea lions and fur seals, and bottlenose dolphins, can generally be seen all year round. However baby marsupials emerge from the pouch to begin exploring their surroundings from August onwards, and because adults are quite used to seeing humans wandering around photographing, they don't tend to be too skittish with their young. June through to September is a good time for whale-watching, with southern right whales off the coast. In the summer, between December and February, you'll often witness ferocious battles during fur seal breeding at Admirals Arch. April is the start of breeding season for little penguins, while in winter you may be lucky enough to witness the curious spectacle of an echidna mating train.
A month by month guide to Kangaroo Island
Given the tragic events of late 2019 to early 2020, the most pressing question many travellers will have is: when is bushfire season on Kangaroo Island? Australia typically experiences bushfires every year, most of them caused by lightning strikes. By and large, however, they tend to affect the northern savannah regions rather than further south. However, the South Australian Country Fire Service publishes its fire danger season dates annually and generally the most likely period is between November and late April, so late spring into early autumn.
Fur seal breeding season is underway in December, reaching full-swing in January, and exciting scenes can be witnessed from the board walk at Admirals Arch in Flinders Chase National Park.
February is the hottest month of the year on Kangaroo Island, averaging 20-25°C and this is when drivers need to be most wary. The reason is that February is the main courtship and egg-laying period for Rosenberg's goannas, Kangaroo Island's largest terrestrial predators. These threatened reptiles can often be seen scampering and foraging along roadsides.
Autumn begins in March, with the endangered glossy black cockatoo and the little penguins beginning to select their nesting sites ahead of breeding season which starts around April. Cockatoos are often found in Lathami Conservation Park, penguins in Pennshaw (night-time torch-lit tours are popular) and Flinders Chase National Park.
May is the onset of rainy season on Kangaroo Island, which continues through the winter, which is also the calmest period of the year in terms of ocean breezes. Winter can be a great time to tour Kangaroo Island. Southern right whales are feeding in these waters from June onwards, while you might be lucky enough to see an echidna train, with a queue of lusty males trailing along behind a female in hope of mating. Echidnas are like a cross between hedgehogs and anteaters: spiny, egg-laying and shy.
The coldest month of the year tends to be July, with temperatures of around 14-16°C, so perfectly manageable with a fleece or light jacket.
By August the rains are starting to recede, the vegetation taking on lush shades of green, and infant marsupials – kangaroos, wallabies, koalas – starting to leave their mothers' pouches. While your best views of them are likely to be through a zoom lens, their parents are quite accustomed to seeing humans around so are not especially nervous.
September is the onset of spring, always a season of wonder in the animal kingdom. This is a particularly good time for bird-watching, with many migratory species such as short-tailed shearwaters making an appearance. The coastline, especially Cape Gantheaume Conservation Park and the wetlands of Murray Lagoon, are a twitcher's paradise.
The spring landscapes are speckled with tiny orchids, while in October and November you will often find sea lions flopping out on the beaches and rocks along the coast, basking in the sunshine between fishing expeditions. Any Kangaroo Island holiday typically involves spending the majority of your time outdoors wildlife-watching. Come rain, wind or shine you will want to be slapping on some high SPF sunscreen (non-polluting ideally) and a hat, but that's especially the case in summer.
Our Kangaroo Island Holidays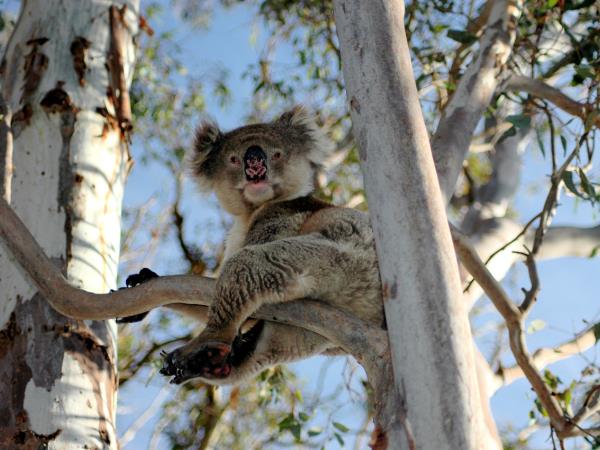 Meet the locals on wonderfully wild Kangaroo Island
From
AU $1346

to

AU $4792
3 days
ex flights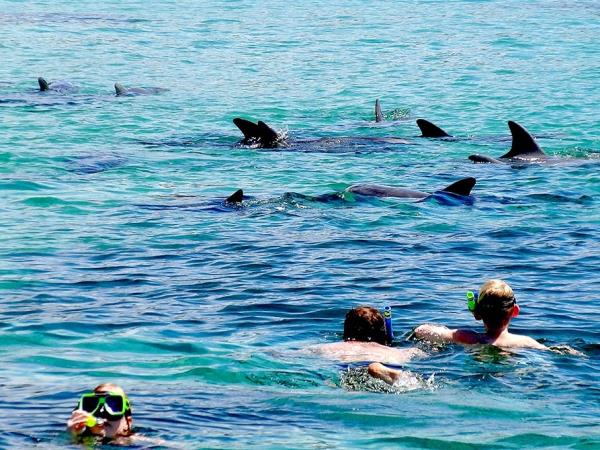 Swim with dolphins and wildlife adventure tour
From
AU $5850
7 days
ex flights
Our top Kangaroo Island Holiday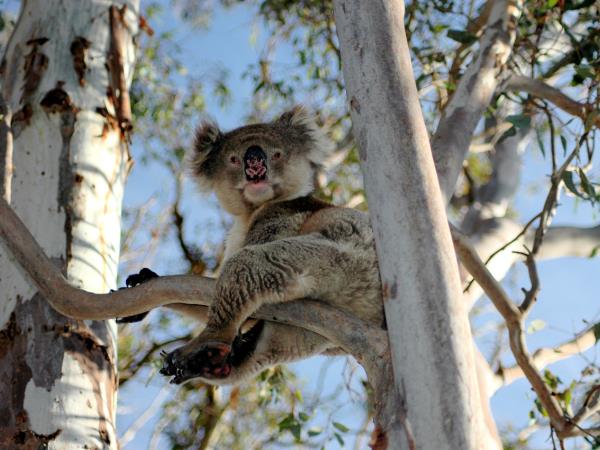 Meet the locals on wonderfully wild Kangaroo Island
From
AU $1346

to

AU $4792
3 days
ex flights
Tailor made:
This trip can be tailor made throughout the year to suit your requirements
If you'd like to chat about Kangaroo Island or need help finding a holiday to suit you we're very happy to help.

More about Kangaroo Island