Kangaroo Island travel guide
Though seriously affected by the 2019-2020 bushfires, KI (as it's known) remains one of South Australia's most revered wildlife tourism destinations, home to many endangered species that rely on the diverse habitat provided by its protected areas.

Kangaroo Island is sometimes spoken of as 'Australia's Galapagos', and it's a fair comparison.

Another way of describing Kangaroo Island would be as a 'zoo without fences'. Around a quarter of the island is made up by national parks and nature preserves, making it a vital life raft for animals such as koalas, duck-billed platypuses and glossy black cockatoos. Many parts of the island remain unaffected by bushfires and you can still see plenty of wildlife here. In fact, your holiday has never been more important.
Read our Kangaroo Island travel guide for more details.
Kangaroo Island is…
open to visitors. The 2019-2020 bushfires have been devastating, but you can still see lots of wildlife on 'Australia's Galapagos' and tourism will be key to the recovery.
Kangaroo Island isn't…
some utopian natural idyll to be taken for granted, as the bushfires showed. Habitats that many endangered species depend on are at great risk from climate change.
Our Kangaroo Island Holidays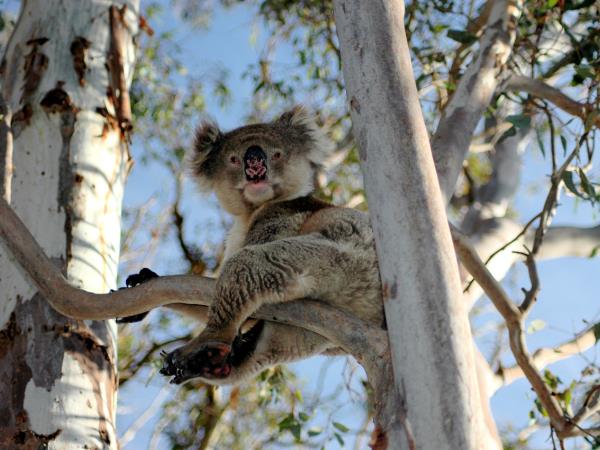 Meet the locals on wonderfully wild Kangaroo Island
From
AU $1346

to

AU $4792
3 days
ex flights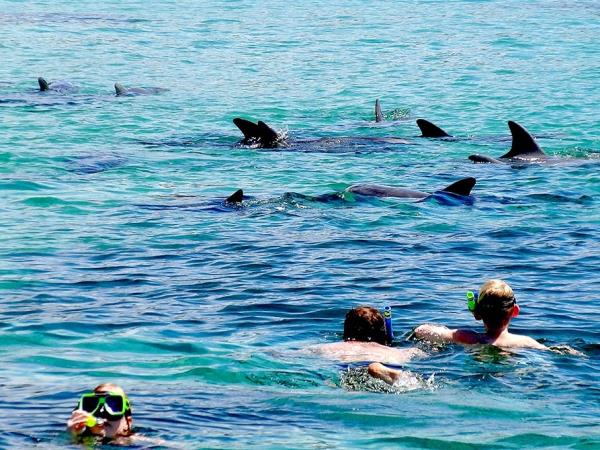 Swim with dolphins and wildlife adventure tour
From
AU $5850
7 days
ex flights
2020 bushfires
Bushfires in Australia are not a new phenomenon. But the size and intensity of the 2019-2020 bushfires has focused national and international on a country that is likely to be severely affected by a warming climate. It's been estimated that around one billion animals may have died in the 2019-2020 bushfires. On Kangaroo Island
alone
, a devastating
25,000 koalas
are thought to have perished, and many of the vulnerable and endangered species that KI supports have been pushed closer to extinction.
Flames and smoke have killed huge numbers of animals, but the loss of vital habitat may yet kill many more. One positive is that the eastern half of the island largely escaped. But several communities, and popular destinations such as Flinders Chase National Park, have been hit hard. Recovery will take years, and responsible tourism that supports local businesses and conservation initiatives is more important than ever.
Our top Kangaroo Island Holiday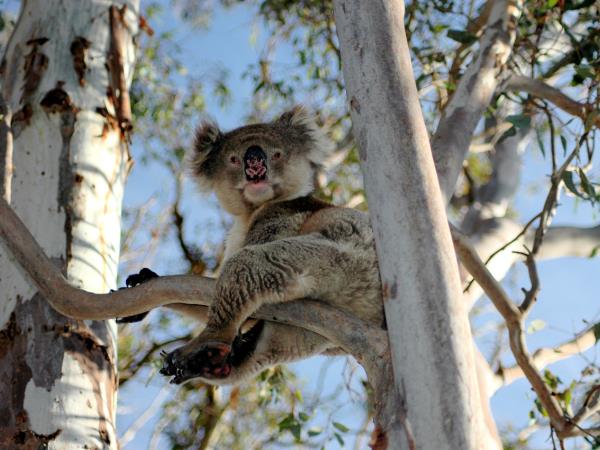 Meet the locals on wonderfully wild Kangaroo Island
From
AU $1346

to

AU $4792
3 days
ex flights
Tailor made:
This trip can be tailor made throughout the year to suit your requirements
If you'd like to chat about Kangaroo Island or need help finding a holiday to suit you we're very happy to help.

Things to do on Kangaroo Island
Support local businesses. Many local businesses, as well as national parks and conservation organisations rely on tourist income and that goes double for the 2020 bushfire season; it'll require a lot of recuperation. So when you visit, please spend generously and spend well.
Know the fire safety rules and follow them to the letter. Rules in place for preventing fires, and evacuation orders when necessary, are issued for good reason. For your own safety, as well as that of the human and animal inhabitants of Kangaroo Island, make sure you follow them. The South Australian Country Fire Service is the most accurate and reliable resource for everything from road and park closures to practical advice during fire season.
Make a beeline for local produce. Most people come to Kangaroo Island for the wildlife, but as well as your camera, you want to pack an appetite here. Highlights include a thriving wine industry (there are five regions, producing mainly Shiraz and Cabernet Sauvignon), and honey. Ligurian bees were imported from Italy in the 19th century and today KI is known for exporting the only pure-bred Ligurian honey in the world.
Things not to do on Kangaroo Island
Come by cruise ship. The negatives of cruise tourism – environmental damage in fragile habitats; small communities becoming swamped on shore days; a lack of accountability – far outweigh the limited economic benefits. Cruise passengers typically spend little on a brief shore visit, and only in select shops and restaurants. Instead when visiting Kangaroo Island, stay for a while, and use a responsible holiday company so that your money actually benefits local communities instead of being funnelled away.
Cuddle a critter at Kangaroo Island Wildlife Park. This place is little more than a zoo, and we can see no evidence of any conservation or reintroduction work going on. The owners were apparently inspired by the dubious career of Steve Irwin, and one of the park's big money-spinners is the option to have your photo taken holding a koala or wombat. Please don't; they're wild animals, not domesticated cats. Instead, just visit the island's many protected areas where you can see amazing creatures totally wild and in their natural habitats. Read more about our stance on captive animals.
Drive between dusk and dawn. During these hours many animals such as kangaroos, wallabies, goannas and echidnas are active and likely crossing the roads. Kangaroo Island's wildlife looks so much better when it's plump and healthy rather than flat on the verge. If your holiday itinerary does feature night-time driving on KI, ask if it can be changed.
More about Kangaroo Island