Responsible tourism on Kangaroo Island
You can't talk about responsible tourism on Kangaroo Island without discussing the elephant 'roo in the room: climate change. The 2019-2020 bushfire season proved disastrous for an island so important to conservation that it's known as 'Australia's Galapagos'. Now more than ever Kangaroo Island needs sensible climate policies, and tourism that brings real benefits to communities and animals.

Global heating, coupled with lower rainfall, is making Australia's regular bushfire season more severe, and that continuing to back the country's fossil fuels industry while making token gestures towards reducing emissions is madder than a getting into a boxing ring with a radgy 'roo. Tourism will be central to the recovery of Kangaroo Island's precious biodiversity, but some forms of tourism are more helpful than others.
Feeling the heat
In late 2019 and early 2020 Australia was hit by one of the worst bushfire seasons on record, with huge swathes of the country scorched. Dozens of people died, many thousands left homeless, and for the country's wildlife population it has been particularly devastating: countless animals have been killed by smoke and fire, while widespread destruction of habitat will inevitably cause the deaths of many, many more. Some of the most traumatic imagery of that period has been of the burnt corpses of kangaroos and koala, two of Australia's most beloved national icons.

Bushfires are hardly a new phenomenon in Australia, but a warming climate will likely mean that the season becomes longer, starts earlier and grows deadlier going forwards.

Kangaroo Island, often referred to as 'Australia's Galapagos' or 'the Australian Noah's Ark' for its stunning biodiversity and the sanctuary it offers to many endangered species, was badly seared by the 2019-2020 bushfires. The island's human population has of course been affected too, and many businesses will struggle to recover. That includes those in the tourism industry, which along with agriculture (also heavily damaged) is the mainstay of the Kangaroo Island economy.
But it is the effect of the fires on Kangaroo Island's treasured wildlife that has captured most of the headlines. It has been little short of an ecological catastrophe – around 1,550km
²
burned (a third of the island) and sadly concentrated on the areas with greatest biodiversity such as Flinders Chase National Park. It's estimated that up to
25,000 koalas
– about half the island's population – have died, while the dunnart and glossy black cockatoo, both endangered, have seen a great deal of critical breeding and feeding habitat destroyed.
Tourism to the rescue?
Tourism is incredibly important for Kangaroo Island, and income generated from holidaymakers over the next few years is going to be vital to recovery efforts.
The worst-affected parts of the island were to the west. However, this is an island the size of Manhattan – it is still very much possible to holiday here and barely notice there have been any fires at all. Many of the most popular tourism attractions are closed indefinitely, though, including Flinders Chase National Park, home to Admirals Arch and Remarkable Rocks, and Lathami Conservation Park. Know before you go which
places are closed
, so that you can adjust your expectations, and your itinerary.
Craig Wickham from our specialist operator Tasmanian Odyssey's guiding company, Exceptional Kangaroo Island:
"The fire covered about 50% of the Island - but this means 50% (or 2500 square kilometres) is not impacted. This area unaffected still includes about 18 conservation parks and reserves, 30 vineyards, all of our cellar door and farm gate experiences, Seal Bay was unaffected, the lower reaches of the Cygnet River valley and the entire Dudley Peninsula unaffected. None of our towns were destroyed - a few buildings on the edge of Vivonne Bay but the town is largely intact.
Flinders Chase took the brunt of the damage in terms of park infrastructure - that and Kelly Hill Caves. Remarkable Rocks toilets and boardwalks are gone but the Cape du Couedic lighthouse, keepers' cottages, boardwalks and the fur seal colony was completely unaffected."
But are all forms of tourism as useful as others? Could some even be counterproductive?
Long before these latest bushfires took a heavy toll there were concerns about aspects of the Kangaroo Island tourism industry. Some relate to a perhaps unexpected target and one that most people would probably regard as positive: the
growth of ecotourism
. 'Luxury ecotourism' is seen by many national park authorities around the world as a potentially lucrative opportunity to increase funds for conservation. But given that it also often means developing infrastructure in public spaces, often for experiences that are off-limits to all but the wealthiest, there is an obvious conflict between public and private interests.
Park authorities in many places are faced with slashed funding for conservation, and Australia is certainly
no exception
. When the lines between conservation, leisure and economic development in protected spaces become blurred, too often it is conservation that loses out. One of the greatest threats to humanity right now is our inability to appreciate the value of healthy biodiversity.
Our Kangaroo Island Holidays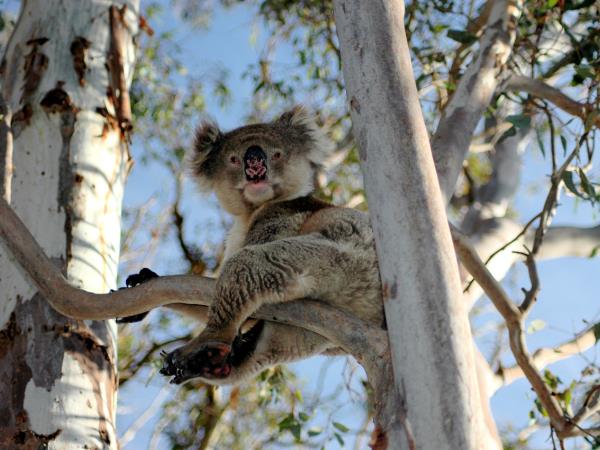 Meet the locals on wonderfully wild Kangaroo Island
From
AU $1346

to

AU $4792
3 days
ex flights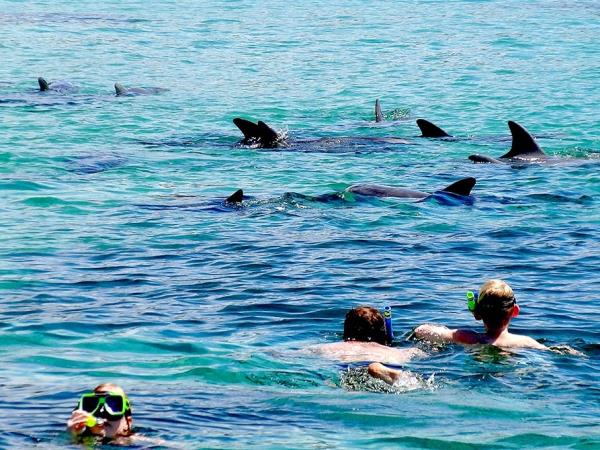 Swim with dolphins and wildlife adventure tour
From
AU $5850
7 days
ex flights
Cruise control
In 2018 Kangaroo Island received 26 cruise ship visits – a new record. Yet there are concerns, just as there are in many other parts of the world that entertain cruise ship passengers on a regular basis, that the economic benefits are neither as great as they seem, nor that they outweigh the negative impacts.
Cruise tourism can lead to small places with limited infrastructure, such as Kangaroo island's popular Seal Bay, becoming swamped with visitors. That can have a detrimental effect on people living in the local area, and on the environment, especially the wildlife. Additionally, actual spend by cruise tourists tends to be limited to a handful of select places and tour operators. With only a few hours on land, and tours pre-booked on the ship, there is little chance for visitors to expand their horizons beyond the must-sees, and so only businesses geared towards tourists in honeypot sites tend to benefit from cruise ships. In places such as Kangaroo Island we strongly recommend spending at least a few nights on land for a more satisfying experience, and one with the potential to provide greater benefit to local people.
When is a park not a park?
One of the most high-profile tourist attractions on the island is the
Kangaroo Island Wildlife Park
. After a lucky escape from the 2019-2020 bushfires, this family-run business – which is home to some 800 animals – has, with the help of hard-working volunteers, been rescuing and treating scores of animals such as badly burned koalas.
As a tourist attraction, however, Kangaroo Island Wildlife Park is unfortunately little more than a zoo. Animals are kept in cages, and for a fee, visitors can hold some of them for a photo. These are wild animals, that belong
in
the wild, and such contact with humans means that they become habituated to them, making it near-impossible to release them later on. The Steve Irwin approach to conservation, while obviously not motivated by cruelty, nevertheless puts entertainment and the visitor experience ahead of the animals' welfare. Wild animals do not enjoy being picked up and passed from person to person for cuddles. We don't advertise any tours that visit zoos for precisely this reason, and in fact unless a park can show clear involvement in conservation programs such as efforts to reintroduce animals to their native habitats while minimising contact with humans, we steer well clear. Read more about
our stance on captive animals
.
So while Kangaroo Island Wildlife Park has made an admirable contribution to the recovery effort, if you want to help their efforts you could
donate to their fundraiser
rather than visiting them in person.
And anyway, if you want animal encounters on Kangaroo Island, you'll never have much difficulty. Take a night-time tour to see penguins in Penneshaw, take a whale-watching boat tour off the coast, and admire the koalas and kangaroos of Kelly Hill Conservation Park from a respectful distance.
What can you do?
Throw your money around, but discriminately. If you've already booked a holiday to Kangaroo island, don't cancel it, and if you've always wanted to visit, there has never been a more important time for you to go than right now. Every meal you buy at a local restaurant, every night you stay at locally owned accommodation, every entrance fee to national parks or other protected sites, every donation you make to conservation organisations fighting an unprecedented catastrophe, is money well-spent. But if all you're doing is coming for a few hours on a cruise ship, perhaps buying a soft drink and a souvenir fridge magnet, getting your photos then leaving, then you're not helping at all.
The big attraction on KI is the wildlife of course, but there is also a thriving food and wine culture here. Your operators will often suggest vineyards or producers to visit, and splurging on a bottle of Shiraz here, or a few pots of delicious Ligurian honey there, helps much-needed money flow into the local economy.
Craig Wickham from our specialist operator Tasmanian Odyssey's guiding company, Exceptional Kangaroo Island: "50% of our income is from primary industries - fishing, sheep, cattle, wheat, barley, oats, grapes, forestry. That has taken a big hit and they have lots of work to do to get back in business. The other half of our economy is tourism - and we have beds, tour vehicles, cellar doors, restaurants, 150+ miles of untouched coast outside of the fire-affected region just waiting to be explored. Tourism is making a difference to our community today. My company closed down for 10 days - that's it. From a wellbeing perspective, having guests in our community is a sign that things are getting back to normal - and having questions about our history, our food and wine, our beautiful coastline - is a nice change to having a single topic of the bloody fires!

We just need people to be informed and flexible. There are some areas still not open - largely in the western part of the island but the fires are out and there are signs of recovery everywhere - and you can spend a reasonable amount of time exploring those areas that are completely unaffected."
Lastly, and perhaps most importantly of all, there are important
rules and advice
out there to help prevent accidental fires and harm to wildlife. From avoiding driving between dusk and dawn, when animals are frequently wandering on the roads, to never chucking your cigarette butts out of the car window, these rules are there not only to protect kangaroos and koalas, but you as well. So please take them seriously.
More about Kangaroo Island