Kangaroo Island is often described as 'Australia's Galapagos', ' the Australian Noah's Ark', and a life raft for wildlife – sobriquets well-earned. Around a quarter of this huge island is protected, either by national parks, conservation zones or wilderness areas. Almost half the island has never been cleared of vegetation, resulting in many pristine habitats, while pests such as foxes and rabbits are notable for their absence and feral cats are being gradually eradicated. The largest terrestrial predator is the goanna, which typically sticks to birds, small mammals and other reptiles as well as the odd roadkill feast.

The 2019-2020 bushfires that drew international focus to Australia have proved devastating for Kangaroo Island, sweeping across large swathes of land and forcing some key locations including Flinders Chase National Park to be closed indefinitely. But this is a very large island, the size of Manhattan. It is perfectly possible to have a great holiday here still, and see all the wildlife you hoped to. "All key species have been detected across the Island including many within the fire ground, " says Craig Wickham from our specialist operator Tasmanian Odyssey's guiding company, Exceptional Kangaroo Island. "High resolution satellite imagery shows a large number of small oases remain within the fire perimeter and the wildlife will recover from within these."
There are certain guidelines for wildlife watching on Kangaroo Island that are worth keeping in mind.
Organised tours
here will usually be accompanied by a local guide, and as well as interpreting behaviours for you, they will ensure you maintain a safe distance from any animals you encounter. These being wild animals, their welfare should always come ahead of a visitor's enjoyment and need for a great photo. Another commonly stated guideline is to try and avoid driving after dusk. Many animals, particularly kangaroos and wallabies, are nocturnal and free-ranging, so they are vulnerable to car accidents at night. If you're on a tour, check with your holiday company that your itinerary doesn't involve driving at night and if it does, consider asking if it can be changed.
Several animals, such as the Kangaroo Island kangaroo (catchy!), long-nosed fur seal and Rosenberg's goanna, are native to the island. Others such as koalas and duck-billed platypus were introduced through fears for their conservation status on the mainland, and have gone on to flourish. Below you'll find some of the most popular animals on Kangaroo Island, and where you're most likely to encounter them.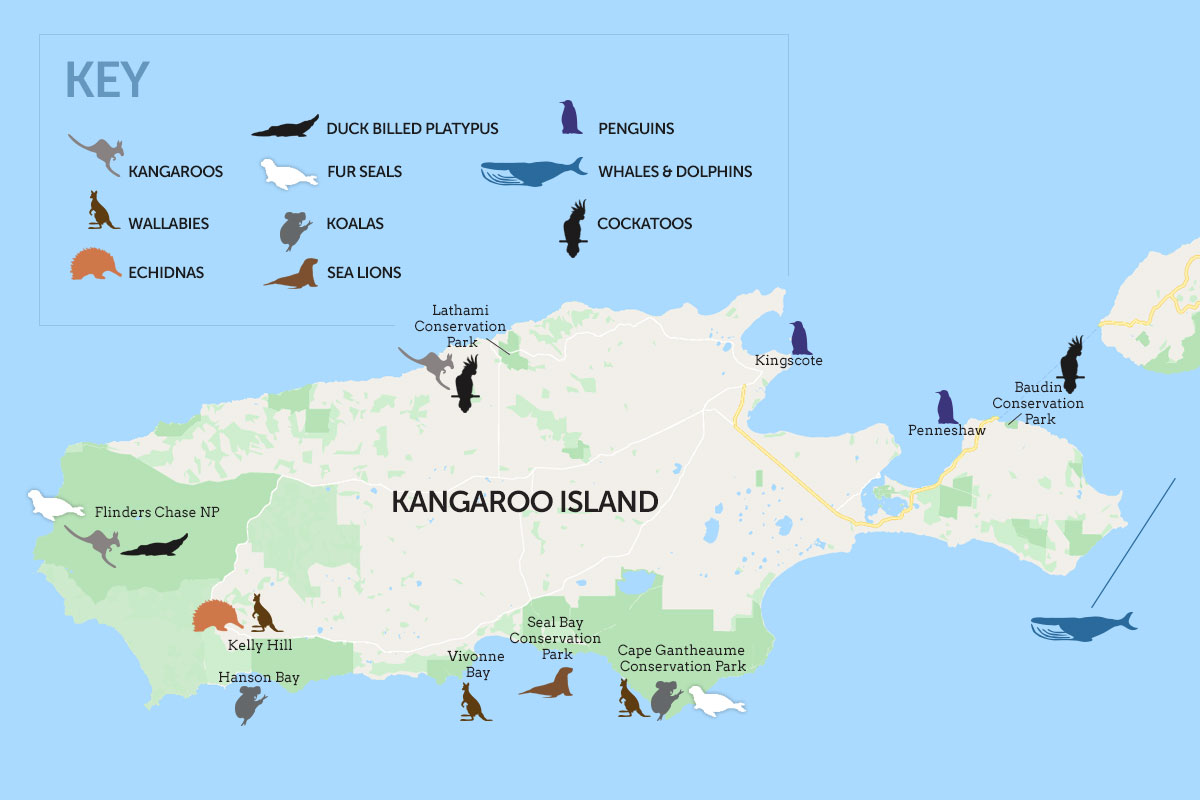 Kangaroos
The subspecies found here, Kangaroo Island kangaroos, is quite short and stocky, and usually has chocolatey brown fur. They are nocturnal animals, and during the daytimes will usually be catching some Zs under vegetation. In the early mornings and late afternoons they will sometimes be out and about grazing, but you're advised not get too close because the adults, especially males, can be aggressive.
Where to see them: Flinders Chase National Park, Kelly Hill Conservation Park, Lathami Conservation Park.
Wallabies
Tammar wallabies are far smaller than kangaroos, their marsupial cousins. They are also quite timid, and nocturnal.
Where to see them: Kelly Hill Conservation Park, Cape Gantheaume Conservation Park, Vivonne Bay.
Fur seals
Commercial sealing nearly wiped out New Zealand fur seals, but on Kangaroo Island at least they are now doing pretty well. They have a healthy appetite for fish, hence why many fishermen have a strong dislike for them, and are also partial to the odd penguin. Despite their bloodthirstiness, however, a baby seal is close to being the cutest animal in the world.
Where to see them: Admirals Arch in Flinders Chase National Park, Cape Gantheaume Conservation Park.
Sea lions
Adult sea lions will often spend up to three days non-stop fishing before returning for a well-earned rest on the beach at Seal Bay Conservation Park, and after all that effort, if they had a Netflix subscription you can bet they'd barely move. Watchers are asked to be discreet so as not to disturb their rest. The reef-enclosed bay is ideal for pups learning to swim; November to January is the best time to see them.
Where to see them: Seal Bay Conservation Park.
Duck-billed platypus
The platypus is an unusual, uniquely Australian creature, a semi-aquatic mammal with the webbed feet and bill of a duck, a beaver's tail, and the fur of an otter. Legend has it that when one was first shown to European scientists they thought it was a prank, and someone had stitched several different animals together. They were introduced to Kangaroo Island by conservationists in the 1920s after concerns they were growing endangered on the Australian mainland. They are best observed at dawn or dusk.
Where to see them: Platypus Waterholes, in the Rocky River region of Flinders Chase National Park.
Koalas
Usually found nestled cutely in tree branches during the daytime, koalas were introduced here due to declining populations on the mainland. Since then they have reproduced in such numbers that they have actually become quite controversial in recent years due to the speed with which they strip vegetation. Which is in itself quite surprising, since they spend most of their day resting or sleeping. They eat eucalyptus leaves from trees along riverbanks, and only a very small amount of habitat is suitable for them – much of it destroyed in the 2019-2020 bushfires which tragically are estimated to have killed around half the island's koala population.
Where to see them: Kelly Hill Conservation Park, Hanson Bay Sanctuary.
Little penguins
Kangaroo Island's little penguins live down to their name, as the world's smallest – they weigh about the same as a bottle of wine. There are two colonies on the island, at Kingscote and Penneshaw, both of them in decline. Night-time tours at Penneshaw are popular, with 15 breeding pairs on-site. Guides use special torches with red filters to minimise disturbance. Stick to the footpaths so as not to contribute to habitat erosion.
Where to see them: Penneshaw Penguin Centre, Kingscote.
Whales & dolphins
Southern right whales are often seen off the KI coast between June and October, and both bottlenose and common dolphins are found in the waters between KI and Victor Harbour on the mainland. If you've got the nerve for something a few levels of adrenaline above the average whale-watching tour, you can also go cage diving with great white sharks off the Eyre Peninsula. The sharks are drawn by rock music, rather than chum. The works of Bon Jovi, it is said, drive them into an absolute frenzy.
Where to see them: Between Kangaroo Island and Victor Harbor, Eyre Peninsula.
Our top trip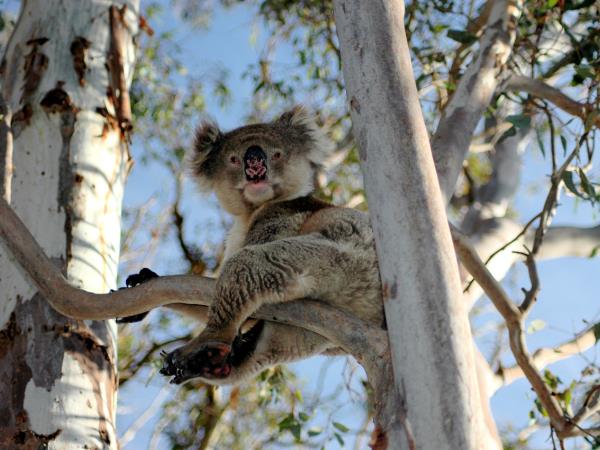 Meet the locals on wonderfully wild Kangaroo Island
From
AU $1346

to

AU $4792
3 days
ex flights
Tailor made:
This trip can be tailor made throughout the year to suit your requirements
If you'd like to chat about Kangaroo Island or need help finding a holiday to suit you we're very happy to help.

Glossy black cockatoos
There are over 250 species of bird found on Kangaroo Island, and the glossy black cockatoo is one of the rarest. The population has grown from just 200 in the 1990s to over 360, but the 2019-2020 bushfires destroyed so much of their habitat that those numbers may now be drastically reduced. You are supposed to keep a good distance from them between January and September so as not to disturb their breeding.
Where to see them: Baudin Conservation Park, Lathami Conservation Park.
Echidnas
A cross between a porcupine and an anteater, but not related to either, the echidna is found all over Kangaroo island in various habitats, though Kelly Hill is a good place to start looking. Echidna mating trains may be seen during winter, when a solitary female can be determinedly pursued by up to 10 hopeful males.
Where to see them: Anywhere
Rosenberg's goannas
Goannas are in decline, and Kangaroo Island is one of their last remaining refuges. Feral cats and pigs, habitat destruction and car-squidgings are the main culprits. They are cold-blooded and so can often be observed sunning themselves in the day, or stalking roadsides looking for a fresh(ish) snack.
Where to see them: Anywhere
Craig Wickham from our specialist operator Tasmanian Odyssey's guiding company, Exceptional Kangaroo Island: "Come and see Kangaroo Island as you have always known it (outside of the fire ground) and whilst you are there learn about the extraordinary adaptations of nature - latent buds which burst into life within seven days of the fire passing, plants which will not open their seed pods unless there is a fire, plants which will not flower unless there is a fire, plants with seeds which will not germinate unless they have been "smoked" and animals such as echidnas which burrow into the ground and drop their body temperature to go into a torpor to survive the fire."
More Kangaroo Island articles