Kangaroo Island map & highlights
The size of Manhattan and, if you squint, shaped a bit like a Great White Shark, Kangaroo Island is Australia's third-largest island, with over 500km of magnificent coastline. But it's sparsely populated, with only 5,000 or so human inhabitants, leaving plenty of space for wildlife to roam freely over diverse landscapes: old-growth forest, sand dunes, wetlands, dramatic sea cliffs and native bush, and all of it largely untouched. Around a quarter of the island is protected, providing vital habitat for many endangered and vulnerable species. There are no rabbits or foxes here, and cats are on their way out as well. Half-an-hour's flight from the mainland, or a much more eco-friendly two hours by ferry, KI was once used as a settlement by whalers and sealers. Today its reputation as a precious sanctuary for wildlife has made it one of the most sought-after destinations in South Australia. And it's still very easy to see a lot of wildlife here, despite the ravages of the 2019-2020 bushfires.
1. Admirals Arch
Among the best-known of Kangaroo Island's many natural landmarks, Admirals Arch is a rock bridge formed by centuries of erosion in Flinders Chase National Park. A boardwalk leads to a viewing platform where you might see whales migrating past between May and October, or dolphins. But the big attraction is a colony of fur seals lounging on the rocks. Come in early autumn to see the pups.
Cape Gantheaume Conservation Park
2. Cape Gantheaume Conservation Park
Located on the south of the island, this pristine coastal landscape is a thriving biodiversity hotspot for bird and marine species. Murray Lagoon is a haven for over 100 bird species, including blue-billed ducks, black swans and marsh harriers, and there are several walks and viewpoints through the wetlands. The sandy D'Estrees Bay, overlooking the Great Australian Bight, was once a whaling base.
3. Eyre Peninsula
Just northwest of Kangaroo Island, and touted as South Australia's 'seafood frontier', the Eyre Peninsula and its main city, Port Lincoln, are famed for wildlife of the more aquatic variety. Here responsible holiday companies can organise itineraries that feature swimming with sea lions, or cage diving with great white sharks (attracted by heavy metal music rather than chum!).
Flinders Chase National Park
4. Flinders Chase National Park
On the west of the island, Flinders Chase National Park is the undisputed wildlife-spotting destination on Kangaroo Island, though badly hit by the 2019-2020 bushfires and closed to visitors as of early 2020. It is home to 'roos, koalas, platypus, echidnas, goannas and many bird species including little penguins, as well as Cape du Couedic and the Henry Moore-esque Remarkable Rocks.
Lathami Conservation Park
5. Lathami Conservation Park
On the north coast, Lathami Conservation Park is home to kangaroos and wallabies. But the most famous resident is the one after which it is named, the endangered glossy black cockatoo – its numbers were recovering after years of protection but, following the habitat destruction wreaked by the 2019-2020 bushfires, it's feared that its survival in the wild may no longer be viable.
Seal Bay Conservation Park
6. Seal Bay Conservation Park
Australian sea lions are endangered, and in decline. The colony at Seal Bay Conservation Park, on the south coast of KI, is home to around 800 of them – five percent of the world's population. Watch the big beasts sunning themselves on the rocks, fighting for space and diving into the sea, and don't miss the visitor centre: it's a solar-powered, rainwater-harvesting, toilet-composting little ripper.
Our Kangaroo Island Holidays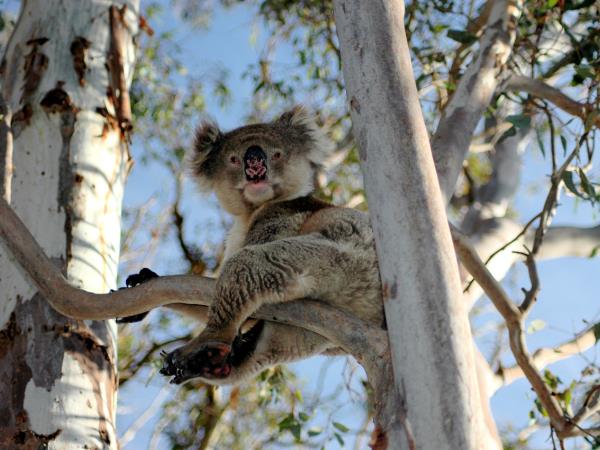 Meet the locals on wonderfully wild Kangaroo Island
From
AU $1346

to

AU $4792
3 days
ex flights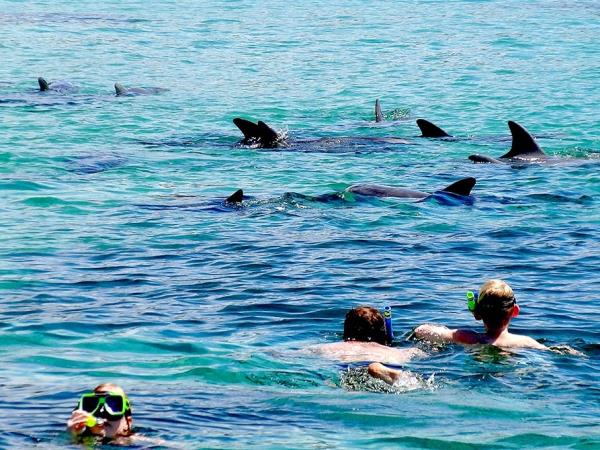 Swim with dolphins and wildlife adventure tour
From
AU $5850
7 days
ex flights
If you'd like to chat about Kangaroo Island or need help finding a holiday to suit you we're very happy to help.

More about Kangaroo Island