Best time to visit Kanha National Park

Soaring temperatures in April and May bring wildlife to dwindling waterholes, but winter's great for tiger spotting in the meadows

Like most national parks in India, Kanha is closed during the Jul-mid Oct monsoon. Most visitors come Nov-Mar, when the days are warm (mid 20°Cs). The meadows during the winter are usually teeming with barasinghas, with plenty of tiger activity around the fringes and vegetation starting to die back which improves visibility, but be prepared for cold mornings in Dec-Jan. For tiger tracking, the best time to go to Kanha National Park is Apr-May, when vegetation is dry and sparse and wildlife congregates at the few waterholes. Remember that temperatures soar into the 40°Cs though, which can feel unbearably hot.
Kanha National Park Weather Chart
Things to do in Kanha National Park
Things to do in Kanha National Park…
For a range of contrasting wildlife experiences, you can combine Kanha with other national parks. Kanha sits between Bandhavgarh (six hours' drive away), which boasts the highest density of tigers of all India's reserves and Pench (four hours' drive away), which is home to a thriving population of leopards and wonderful birdlife.
Bring the children. Many African safaris impose age restrictions, but organised tours in Kanha rarely have a minimum age. In fact, children often get a discount. All but the tiniest kids can enjoy a safari here. Accommodation is generally right by the park gates, so no long drives to reach the wildlife, and safaris last around three hours, so shouldn't tax a child's patience. While you can't promise a tiger on a family holiday in Kanha, a host of Jungle Book characters awaits to charm your children, and lodges with pools and pleasant gardens give kids the chance to let off steam, too.
Organised holidays to Kanha often pack in morning and evening game drives on each day's stay, but remember to relax, too. Bouncing around in a jeep for seven hours a day can be exhausting, with early wake ups for dawn excursions, too, so perhaps skip the odd drive in favour of chilling at your lodge, taking a guided walk in the buffer forest outside the reserve or joining an optional village visit.
Things not to do in Kanha National Park …
Come just for the tigers. Around 100 Bengal tigers live in Kanha, but you need a good guide, good luck and a good number of game drives to spot one. Rather than being focused on tigers, look out for the 200 species of birds and 22 species of large mammals, including wild dogs, leopards, bison and the rare barasingha deer, with an unusual subspecies found only here. Take time to soak up Kanha's unique atmosphere, too. Thanks to its size and limited vehicle numbers, it's often possible to drive for a long time without seeing another jeep.
You'll want to capture the magic of Kanha, but don't forget to put your camera down sometimes. For a truly immersive wildlife experience, forget about photography and concentrate on soaking up the sights, sounds and atmosphere. Remember, too, that you may only see one tiger on your trip and getting a great photo is always tricky; gaze in awe rather than grapple with your camera.
Leave booking to the last minute. You can't just rock up at Kanha and join a safari. The number of jeeps allowed into the park each day is strictly limited and demand for game drives is high, so book well in advance with a tour operator, who can secure your accommodation as well as your park permits and safari slots.
Kanha National Park travel advice
Photography advice
Paul Goldstein, top tiger safari guide and expert at one of our leading suppliers, Exodus: "Much like mountain gorillas, you have to be aware that this is a desperately endangered species, so please try and look beyond your camera. I have led countless tiger safaris in India, but probably only have half a dozen really good photos. So, particularly when you see your first one, put the camera away because, firstly, you might not see another one and also, it is a deeply emotive moment. The photo will probably be rubbish anyway as you will be sobbing or shaking, as you should be."
Wildlife
Saurabh Agrawal of our specialist India operator Chinkara Journeys:
"Tiger sightings are not that difficult in Kanha, in fact the park is counted amongst the best reserves for tigers. However, due to moist deciduous forest, sometimes spotting them in the bush can be challenging. The habitat here comprises grasslands, pure Sal, bamboo and mixed forest zones with small rivulets and wetlands and it supports diverse birdlife. Crested serpent eagle, honey buzzard, shikra and the black-winged kite are the main birds of prey. Over 250 species of birds have been recorded in Kanha. The park is also endemic to the highly endangered barasingha (swamp) deer. Other commonly spotted animals include sambar, the largest of the Indian deer, spotted deer, barking deer, wild boar and jackal. One can also see sloth bear, leopard, wild dogs, as well as the thickly muscled gaur or Indian bison."
Looking beyond the tiger
Sophie Hartman, owner of our supplier Chinkara Journeys, which specialises in central India: "I think that name 'tiger watching' should be banned. Don't go with tigers as your sole focus, there is so much to see in India's national parks and spending the whole of your safari charging around the park on a hunt for a tiger is such a wasted opportunity. Ask your guide and driver to stop for 10 minutes by a lake or stream, listen to the sounds of the jungle, watch the birds, and enjoy the beauty of the light coming through the forest. So much more fun than just thumping along in a jeep."
Tips from our travellers in Kanha National Park
At Responsible Travel, we think the best people to advise our travellers are often... other travellers. They always return from our tours with packing tips, weather reports, ideas about what to do – and opinions about what not to.

We have selected some of the most useful Kanha National Park travel tips that our guests have provided over the years to help you make the very most of your holiday – and the space inside your suitcase.

On the first day at Kanha, we also saw a pair of jackals with their kill, a spotted deer fawn, which they were taking back to their den and cubs.

"The biggest tip for scheduling a trip to Kanha National Park is that according to my guide, the best time for tiger spotting is late January and early February since at that time the foliage is less thick, the water holes are drying up and prey animals are congregating in greater numbers around the remaining water making it easier to locate the tigers." – Christine Smith

"Be patient! It took nine safaris (with excellent guides) before we saw our first tigers. It is largely a matter of being in the right place at the right time – some people get them first time! But there are lots of birds and other mammals to see so never boring." – Dave Torr

One Tiger lay in the road in front of us for 10 minutes, 30 feet away. Wow!

"I opted for game drives every day and had a wonderful wildlife experience. But it might have been good to have some downtime too. At Kanha we also had a fantastic encounter with a male tiger. He wandered up the road ahead of us, glancing back as if to make sure we were all following. Then he sauntered across a meadow with spotted deer alarming and watching his every move. On the first day at Kanha, we also saw a pair of jackals with their kill, a spotted deer fawn, which they were taking back to their den and cubs." – Susan Hunter

"We saw tigers on five of the 10 safaris. The safaris can involve a lot of driving and searching but well worth it. One Tiger lay in the road in front of us for 10 minutes, 30 feet away. Wow!" – Martin Blow
More about Kanha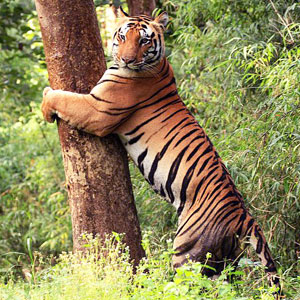 Famous for its huge meadows and tall sal forests, Kanha is India's largest national park, a much loved and well managed conservation jewel in the heart of the country.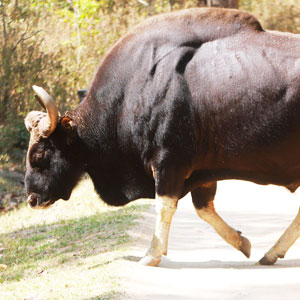 The tiger is India's national symbol, and you'll find around 100 of them in Kanha National Park, the largest park in Madhya Pradesh.