Vast, Kipling-esque and supporting an incredible diversity of wildlife across grasslands, wetlands, open meadows and highland forest, Kanha is the largest park in Central India and perhaps the country's greatest wildlife reserve. The park's bounds cover around 550km
2
over two sanctuaries, Hallon and Banjar. Combined with a buffer zone measuring around 1,000km
2
, and the nearby Phen Sanctuary, it forms the Kanha Tiger Reserve, home to some 100 Royal Bengal tigers. Protecting the tiger here was controversial, as it required the enforced relocation of the semi-nomadic Baiga people to what turned out to be barren land, leading to high rates of alcoholism and destitution.
But this is where India's successful drive to protect its tigers had its beginning, and Kanha continues to be one of the most popular places in the country for
tiger safari holidays
. Sadly, recent years have seen the tiger population depleted by poaching, but the park is still an immensely popular destination for wildlife holidays, and income from tourism convinces local people to help protect the remaining tigers.
Kanha is situated in the Maikal hills of the Satpura Range, its undulating terrain comprising grasslands, meadows, plateaus and rocky cliffs, and dotted with abandoned villages. The park's habitats support over 22 mammal species including elephants, gaur (bison), sloth bears, Indian leopard, barasingha deer and the ferocious honey badger, as well as more than 200 species of bird such as buzzards, crested serpent eagles and black-winged kites.
And the landscapes are extravagant, too. There are around 1,000 species of flowering plant in Kanha, across open meadows, dense lowland and highland forest where langurs swing in the trees. Tigers, of course, are the big-ticket attraction here, but given the size of the park sightings are quite rare. The way to take a wildlife safari here is to focus on all the other amazing creatures you'll see, and keep those fingers crossed.
What do wildlife holidays in Kanha National Park entail?
Wildlife safaris in India's national parks are tightly regulated but not flawless. We always recommend that groups book with a responsible operator, preferably one that is a member of
TOFT
(Travel Operators for Tigers) so that you can be confident the interests of the animals are put first by the guides.
Morning and afternoon safaris take place in open-topped jeeps, so that you can stand up to get a better view. Expert guides may lead you to pools and streams where mammals congregate, or to views of tall grass around the edges of meadows where tigers are known to stalk prey such as antelope and swamp deer. Most tiger sightings tend to be in the mornings, as they cross roads in search of shaded spots to avoid the heat of the day. Herds of wild elephants are often encountered too – always a memorable moment.
Kanha wildlife holidays can be either small group trips, on set dates, or tailor made tours where you have more flexibility on dates, accommodation and itinerary. It usually forms part of an itinerary that incorporates other parks such as Bandhavgarh and Pench, or a cruise on the Kerala backwaters. These trips are suitable for families, but younger kids may find that the need for patience and stillness when wildlife viewing is a challenge.
The best time for wildlife tours in Kanha is between February and June. From December to January there are fewer crowds but it can be chilly, especially on early morning game drives. May is a lot warmer and promises plenty of sightings, while the park is closed between July and mid-October for the annual monsoon season.
Our top Kanha Holiday
Wildlife tour through India
From
£4099

to

£4449
17 days
inc UK flights
Small group travel:
2023: 7 Oct, 4 Nov, 11 Nov
2024: 27 Jan, 10 Feb, 17 Feb, 9 Mar, 23 Mar, 30 Mar, 13 Apr, 20 Apr, 5 Oct, 17 Oct, 2 Nov, 9 Nov, 16 Nov
If you'd like to chat about Kanha or need help finding a holiday to suit you we're very happy to help.

Holiday advice for Kanha National Park wildlife holidays
Responsible tourism in India
Saurabh Agrawal of our specialist India operator Chinkara Journeys:
"India is behind the curve in terms of sustainable tourism, but that is changing with a collective realisation that our spectacular habitats, abundant flora and fauna and unique culture are our most precious resources. To cater to the increasing demand for ecotourism, land around parks and sanctuaries is being cleared through deforestation to accommodate hotels and lodges. Resources such as water and electricity are often in short supply and tourism puts pressure on these services and supplies which can in turn reduce what is available to local people. Waste management is another challenge particularly with plastic such as water bottles."

"Tourism can bring many benefits to the people we visit, helping to provide a living for communities and promoting cross-cultural awareness. We try to identify and reduce negative impacts to ensure that adventure travel is a positive and sustainable experience for our clients and local people. Our mission is to provide our clients with the adventure of a lifetime by offering them a means to experience diverse cultures and explore unfamiliar landscapes in a safe, exciting and responsible way."
Wildlife viewing tips
Saurabh Agrawal:
"Give yourself sufficient time at each park. The more time you spend in a place the more you learn about it and increase your chances for good wildlife viewing. It is very important you do your research about the particular wildlife you want to see. Alternatively, make sure that you find an experienced planner for wildlife safaris and give them as much details as possible of your preference and interest, and leave them to work their magic.

Guides and drivers track the animals by prints and following sound. When a predator is spotted by other animals such as deer and monkeys, they alarm other animals by giving a series of various calls. This alerts other animals of a possible danger in the area. Knowledge of individual animals by their territory and movement also helps guides in tracking the animals."
Best of the bunch
"To my mind, the best reserve, with the most sightings, was Kanha. The open, grassy spaces were ideal viewing habitat and we saw tigers on two occasions in that area. The elephant view was magnificent, as we were only yards away from a male tiger and its Sambur kill, another sighting was very brief. There was also more other wildlife." - John Emerton on a tiger tour in India
More about Kanha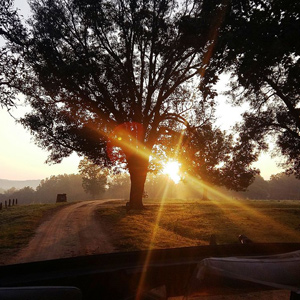 For tiger spotting, the best time to go to Kanha National Park is April and May, but soaring temperatures make this time of year too hot to handle for many.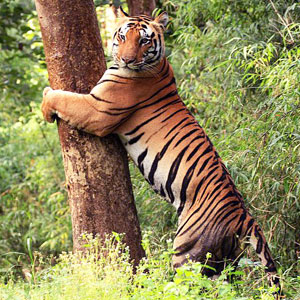 Famous for its huge meadows and tall sal forests, Kanha is India's largest national park, a much loved and well managed conservation jewel in the heart of the country.