The Maasai are one of the most culturally distinctive tribes in Africa, easily recognisable for their brilliant red blankets and colourful bead jewellery. These semi-nomadic people are warrior pastoralists, famous for herding – and sometimes rustling – cattle, and for their fighting skills. Traditionally, all young men left their families at the age of 14 to begin their warriorship training, which meant surviving in the bush for more than seven years, with nothing but a blanket and spear. This extraordinary initiation into adulthood frequently involved having to kill lions and leopards – or be killed – and was designed to develop survival skills, and foster a knowledge of and communion with nature almost unheard of in the developed world.

Today, the Maasai live mostly in the north, centre and south of Kenya, and in northern Tanzania, but they originally hail from South Sudan and began migrating into modern day Kenya around the 15th century. By the mid 19th century Maasai territory was at its largest, spreading right over to the east coast of Kenya and Tanzania. Many smaller ethnic groups were displaced by the powerful Maasai, whose impressive fighting skills included using a throwing club called an orinka, which they could lob with devastating accuracy from 100m away.
This dominance didn't last, though. At the end of the 19th century, from 1883 to 1902, disease, drought and starvation lead to an estimated two thirds of the Maasai dying. Then, in the early 20th century, Maasai territory was almost halved by the British, who evicted them from their lands and converted the space to cattle ranches. Later in the 20th century, the Maasai were displaced again, this time to create many of the country's famous national parks and reserves, including Amboseli, the Masai Mara, Samburu and Lake Nakuru.
The Maasai have been under pressure from the Kenyan government to give up their traditional, semi-nomadic lifestyle, and their grazing lands have been eaten into by park boundaries and land privatisation, but they have survived through a combination of grit and diversification. They have demanded grazing rights to many of the national parks and have been involved in the ownership and management of private conservancies that border these state-run parks.
Many Maasai tribal leaders have embraced the commercial possibilities of tourism, inviting travellers into their villages to learn about traditional Maasai life – an arrangement that allows them to continue to preserve their traditions, while also creating revenue for the entire community and equipping their children for modern life. As a result, many Maasai still keep herds of cattle, sheep and goats, perform age-old rites of passage, and live off grid in traditional manyattas – a compound of huts built of sticks and mud.
Meeting the Maasai people, the custodians of Kenya's wild, beautiful landscapes, is a not-to-be missed highlight of visiting Kenya, and the Maasai's involvement in tourism produces enormous benefits. You can visit a Maasai village to experience their culture, traditions and lifestyle. For deeper immersion, you can stay in lodges or camps run by the Maasai themselves, situated on lands known as conservancies which are owned by the Maasai and leased to safari companies. This conservancy model provides a guaranteed income to the Maasai landowners as well as employment for young people.
You will often have the chance to join a Maasai warrior on a bush walk. This is one of the best ways to understand and appreciate the Maasai's relationship with the land, learning more about the holy and medicinal plants that are traditionally used for ceremonies and healing, and looking out for gazelle, impala and elephant. You can hear traditional songs and watch some iconic Maasai dancing, too, which involves men leaping high into the air. You can also practice spear throwing or join in some 'warrior training' that looks quite a lot like dodgeball, only with shields.
Many Maasai speak excellent English, which makes interaction not only possible, but really meaningful, too. Those that speak the best English will have most interaction with visitors, working as guides, for instance, but they will also act as translators so that you can meet and learn from many other Maasai people in the community, too, for a really inclusive experience.
Tom Gibson is PR Executive at Responsible Travel and spent a memorable two weeks in Kenya: "We stayed in a camp on Maasai land, run entirely by the Maasai. This made it feel more authentic. When I went on safari in the past, we stayed in lodges that had a Western manager and all the staff were local – not a very comfortable dynamic. This time there were singing and dancing ceremonies but they felt more organic, because you've been with the Maasai people all day, and in the evening sit chatting around the fire with them, too, so it doesn't feel like a show put on for tourists."
Spending time with the Maasai is not only fun and educational, it directly benefits the local community. Your money does more than go into an individual's pocket, it contributes to programmes that benefit the entire community – education, health and conservation projects – as well as supporting sustainable employment. It enables the Maasai to continue to keep cattle and practice traditions on their ancestral lands. It protects the environment, keeping the land in its natural state with eco-friendly facilities. It helps the Maasai resist the siren call of the city; helps them push back against government plans to house them in reserves away from their traditional lands and lifestyles; and it perfectly illustrates the win-win of responsible tourism.
Tom Gibson: "I really noticed that the younger Maasai were naturally modernising. They were not practising polygamy as much, and were either not married or only wanted one wife. They were staying in education longer, too, but they wanted to stay on their land. They were pleased that they not only had the option to work in tourism but also had the option to farm their land how they traditionally would have. On a walking safari we had a guide who spoke amazing English, who was with us throughout the trip, then we had another guide who spoke almost no English at all, and lived a full nomadic lifestyle, so in terms of employment for the Maasai, there is the chance to integrate with tourism more or less as much as they want to."
Our top Kenya Holiday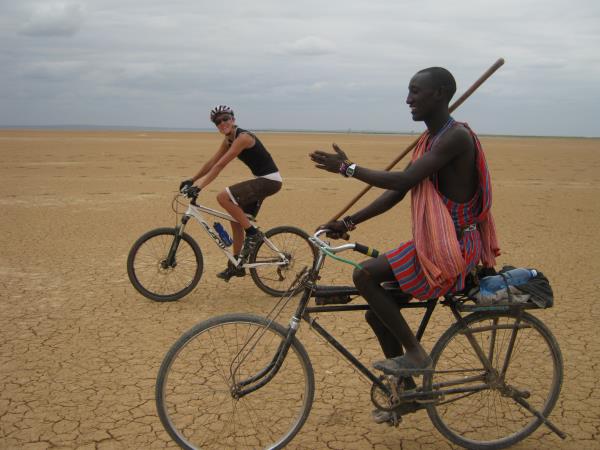 16 day biking and wildlife adventure in Kenya and Tanzania.
From
NZ $6500
16 days
ex flights
Small group travel:
2023: 12 Jun, 27 Aug
2024: 29 May, 17 Jun, 25 Jul, 13 Aug
If you'd like to chat about Kenya or need help finding a holiday to suit you we're very happy to help.

The Maasai have always been conservationists, it's in their blood. For centuries, they have lived alongside most wild animals and have an aversion to eating game and birds. They are perfectly qualified to continue the conservation of Kenya's abundant wildlife and may even play their role in a sustainable future for the planet. An
Oxfam
report has suggested that ancient Maasai wisdom and skills, including the ability to produce food in desert landscapes and scrubland, could be vital to help humans adapt to a warming climate.
This ancient wisdom is being tapped and celebrated today, and the Maasai are once again taking a prominent place in Kenya's complex conservation jigsaw puzzle. The Mara Conservancy which runs the Mara Triangle, an area that covers about a third of the entire Masai Mara Reserve, is a not-for-profit management company that is run cooperatively between conservationists and the local Maasai community, working to improve the conservation and management of this section of the Reserve. Maasai rangers patrol the land and the conservancy has had great success in eradicating poaching here, as well as creating sustainable, local employment.