Kenya & Tanzania travel guide
Neighbours Kenya and Tanzania share a border, but feel quite distinct. Many tours begin in the vast urban sprawl of Nairobi, but much of rural Kenya remains quite undeveloped, with northern Tanzania even more so. Only very basic English is spoken in Tanzania, particularly outside urban centres. In terms of a holiday experience, Kenya is an old hand when it comes to tourism, while Tanzania is significantly less economically advanced.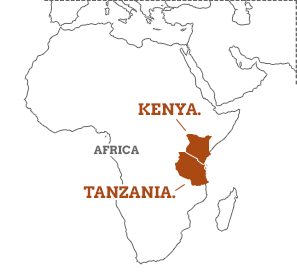 Try some border hopping in East Africa Ė travelling between Kenya and Tanzania delivers more wildlife, diverse landscapes and a fascinating taste of two very different countries.

This interesting contrast is one reason for travelling in both countries, another is the chance to experience a variety of unforgettable locations, including the Serengeti, Ngorongoro Crater, Masai Mara and Lake Victoria in one trip. Happily, they form a loop encircling the border, with distances between each manageable by road. It means you can tick off the Big Five, spot the Great Migration somewhere at any time of year, and meet the Maasai, all without taking a flight Ė so long as you can handle some long drives on bumpy roads.

Find out more in our Kenya and Tanzania travel guide.
Kenya and Tanzania are...
distinctly different countries which share unforgettable wildlife hotspots, all conveniently close to each other and the border.
Kenya and Tanzania arenít...
just about jeep safaris. You can cycle, meet the Maasai, canoe on Lake Victoria or cool off at the coast.
Our Kenya and Tanzania Holidays
Kenya & Tanzania map & highlights
Many of Tanzania and Kenyaís celebrated attractions sit conveniently close to the border. The road network in northern Tanzania is less extensive than in Kenya, but main roads are as good as Kenyan roads, better in some cases. Weeklong tours provide an overview, but itís worth spending longer here to create space between the bigger drives, experience some Maasai culture and perhaps push south to Lake Manyara, home to tree-climbing lions, or north, to the Great Rift Valley. If you hope to include parks further afield, such as Selous and Ruaha in Tanzania or Laikipia and Samburu in Kenya, or want to relax on the coast, factor in days of driving or a costly internal flight.
1. Lake Victoria
Accessible from both Kenya and Tanzania, this is not only Africaís largest lake; itís the largest tropical lake in the world. Many trips include a stop here, often at Speke Bay or Musoma, to unwind after long game drives, cycle its shores and stock up on supplies. Driving here from the Masai Mara takes you up through the Western Highlands, through superb scenery and lush tea plantations.
2. Masai Mara
This national reserve, one of the most famous ecosystems in the world, is synonymous with both wildlife and the Maasai tribes. A stage for the Great Migration, the Mara sees some two million wildebeest and zebras spilling into it from Jun-Oct Ė if they survive the precarious Mara River crossing. The surrounding Maasai conservancies offer the chance to spend time with this fascinating people.
3. Ngorongoro Crater
This is a giant, 25km-wide volcano crater. From the rim, at 2,400m, the cliff plunges down some 600m to the crater floor, where lush plains and lakes are home to 30,000 animals, including massive bull elephants, leopard and black rhino. This UNESCO World Heritage Site is a self-contained ecosystem, so itís the easiest place to see the Big Five year-round Ė hence the high number of vehicles.
4. Serengeti National Park
Flat and rolling, these plains get their name from the Maasai word Siringet, meaning 'the place where the land moves on forever'.
The Great Migration
begins here as early as December, and the Big Five are ever-present, with the
Serengeti
home to one of the largest populations of lion in Africa. This is Tanzania's oldest park, and at 15,000km2, has space for accommodation to suit all tastes.
5. The Great Migration
From June-Oct, nearly two million
wildebeest
head north through the Serengeti in Tanzania, accompanied by gazelle and zebra, in search of greener pastures in Kenya's Masai Mara. For predators such as crocodiles, lions, cheetahs and hyena, this is a running buffet – literally! They lie in wait at vulnerable points, the most dramatic of which is the Mara River crossing, at its busiest late July-Oct.
6. The Great Rift Valley
The 9,600km-long Rift Valley has shattered Africa, leaving behind a trail of lakes, islands and lush oases. Among its eight lakes is Naivasha, home to over 400 species of birds flitting about amongst the hippos; Elementaita, a deep blue soda lake attracting white pelicans; and Lake Nakuru, which boasts the Big Five and also attracts some two million flamingos, which feed in its algae-rich waters.
Our top Kenya and Tanzania Holiday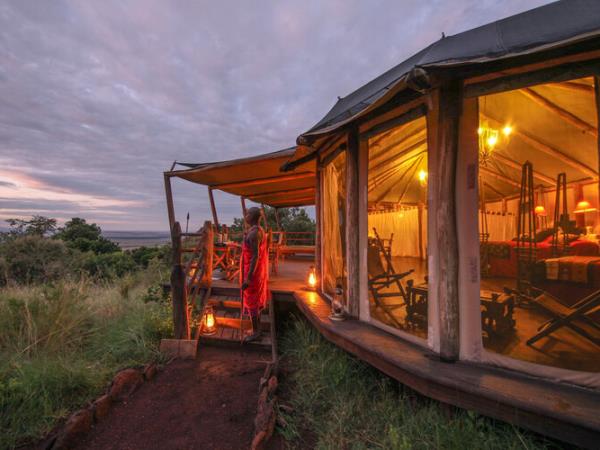 Some of the best wildlife spots in Tanzania and Kenya
From
£5030

to

£6030
14 days
ex flights
Small group travel:
2023: 2 Apr, 14 May, 4 Jun, 2 Jul, 9 Jul, 16 Jul, 6 Aug, 20 Aug, 27 Aug, 3 Sep, 10 Sep, 17 Sep, 1 Oct, 15 Oct, 5 Nov, 19 Nov, 3 Dec, 10 Dec
If you'd like to chat about Kenya and Tanzania or need help finding a holiday to suit you we're very happy to help.

More about Kenya and Tanzania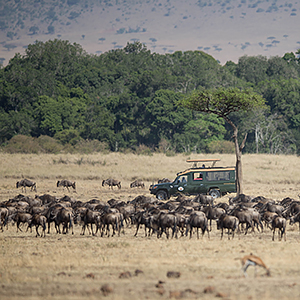 Holidays run here year-round, but if you donít want to get wet or navigate slippery paths, the best time to visit Kenya and Tanzania is either side of the heavy rains, which fall from March to early May.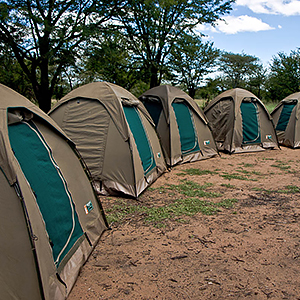 Not only will you be able to experience some of the continentís most celebrated parks and reserves without spending a fortune, youíll get plenty of opportunity to compare and contrast the landscapes and heritage of two distinctly different countries.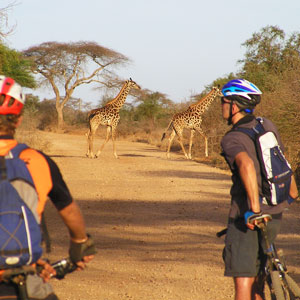 Cycling through Kenya and Tanzania feels like a voyage of discovery. On the quiet back roads, plains game (gazelle, zebra, other nervous herbivores) spills out of the national parks in front of your peloton. Youíll never know what will cross your tracks next.