Combining Kenya & Tanzania
on a budget
Kenya and Tanzania do wilderness to the max, sharing iconic wildlife hotspots that are conveniently close to each other by road, so it would be a shame to visit one country without at least popping over the border. Combine the two countries on a budget safari tour and youíll be able to see a clutch of unforgettable locations, including the Serengeti, the Ngorongoro Crater, the Masai Mara and Lake Victoria in just one trip, without too much strain on your wallet.

Though Kenya and Tanzania may be neighbours thereís plenty to distinguish between them. Kenya is more developed, and is the experienced older sibling when it comes to tourism, with a plethora of national parks and safari lodges as well as glittering urban centres in Nairobi and Mombasa; while outside of the major parks and the capital city, Dar es Salaam, Tanzania is quieter, more rural and more laid-back.
Our Kenya and Tanzania Holidays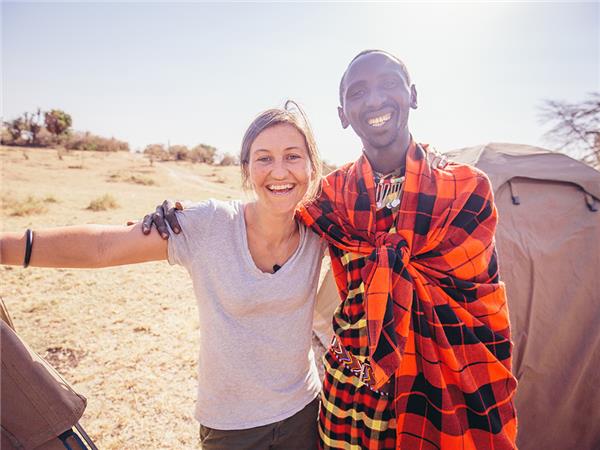 An amazing and great value 2 week truck safari
From
£2212

to

£3215
15 days
ex flights
What do budget tours entail?
Who needs G&Ts, roll top baths and the tinkling of piano music when you're privy to some of the best landscapes the planet has to offer? A
budget safari
in Kenya and Tanzania means you'll get all the atmosphere of the bush without the eye-watering bill at the end of it all. You could achieve this in two ways. First off you could opt for a tailor made tour, which allows you to tweak your holiday to the needs of you and any travelling companions and choose accommodation, transport and game drives towards the lower end of the budget, without compromising on the safari experience. Your operator will work their magic to ensure you stay in a mixture of great value safari lodges and camps, which will be comfortable without being luxurious, and come without the high price tag.
Alternatively, you could opt for a frills-free small group trip. You could, for example, travel with around 18 to 24 people as make your way across the bush and savannah by
overland truck
, often camping along the way and eating most of your meals out in the open air. You'll have to put up your own tent and help out with the food prep and the washing up, but joining in is all part of the fun, and a great group bonding exercise. What's more, a lower price tag doesn't equal fewer thrills when it comes to wildlife viewing. You'll still have excellent safari guides on hand and overland trucks are blessed with sizeable windows, allowing glorious views from every perspective.
Most budget safaris in Kenya and Tanzania last between ten days and two weeks, allowing you time to get a true flavour of the region's wildlife and landscapes. The majority of the tours will kick off in Nairobi, heading first for a lesser-known Kenyan park or reserve, such as
Lake Nakuru
, a Rift Valley soda lake famed for its rhinos and birdlife. Next stop is usually the mighty
Masai Mara
. One of the most famous ecosystems in the world, the Mara is known not only for its incredible diversity of wildlife, which includes the
Great Migration
from June to October, but also for the Maasai tribes that make the area their home. From here you'll be driven over the Kenya/Tanzania border, where you could visit
Lake Victoria
, the largest tropical lake in the world, before moving on to the
Serengeti National Park
. Tanzania's oldest national park, the Serengeti is home to the Big Five as well as one of the biggest lion populations on the continent. A short drive southeast,
Ngorongoro Conservation Area
is spectacular too: a, giant, 25km-wide volcano crater, its lush plains and lakes are home to 30,000 animals. In all of these parks you'll find a wide variety of accommodation, with plenty of decent budget options for tailor made travellers. Just ask your operator.
Our top Kenya and Tanzania Holiday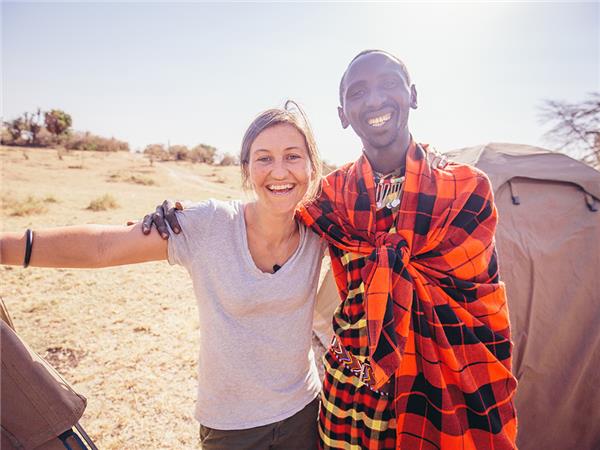 An amazing and great value 2 week truck safari
From
£2212

to

£3215
15 days
ex flights
Small group travel:
2023: 24 Jun, 1 Jul, 15 Jul, 19 Jul, 22 Jul, 29 Jul, 2 Aug, 5 Aug, 9 Aug, 12 Aug, 16 Aug, 26 Aug, 2 Sep, 9 Sep, 23 Sep, 7 Oct, 14 Oct, 4 Nov, 16 Dec
2024: 6 Jan, 20 Jan, 27 Jan, 6 Apr, 11 May, 8 Jun, 22 Jun, 29 Jun, 3 Jul, 6 Jul, 13 Jul, 17 Jul, 20 Jul, 27 Jul, 31 Jul, 3 Aug, 7 Aug, 10 Aug, 14 Aug, 17 Aug, 24 Aug, 31 Aug, 7 Sep, 21 Sep, 28 Sep, 5 Oct, 12 Oct, 19 Oct, 26 Oct, 2 Nov, 16 Nov, 30 Nov, 7 Dec, 14 Dec, 21 Dec
If you'd like to chat about Kenya and Tanzania or need help finding a holiday to suit you we're very happy to help.

On both tailor made and small group tours, all game drives and wildlife viewing excursions will be included and arranged in advance, with expert guides to help you get the most out of your experience. Visas, border crossings and medical requirements can all be discussed with your operator and sorted out before you leave, too.

You can take a budget holiday to Kenya and Tanzania at any time of year, though for the best deals on accommodation and tours you should visit during the less popular rainy seasons. There are two: from March-early May, or the short rains from November to December. At these times thereís still plenty of wildlife around, particularly in the Ngorongoro Crater, where the crater walls keep all the animals in one place. The best time to see the Great Migration in Kenya and Tanzania is between June and September when itís at its most dramatic, as the animals brave crocodiles to cross the Mara River. Temperature wise, February is the hottest, with daytime temperatures of 25įC, while July is the coolest, at around 20įC.
More about Kenya and Tanzania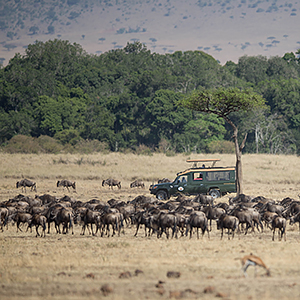 Holidays run here year-round, but if you donít want to get wet or navigate slippery paths, the best time to visit Kenya and Tanzania is either side of the heavy rains, which fall from March to early May.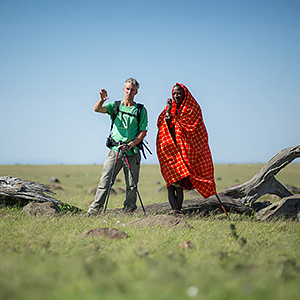 Find out more about combining two East African countries in a single trip, in our Kenya and Tanzania travel guide, discovering double the wildlife and twice as many sights.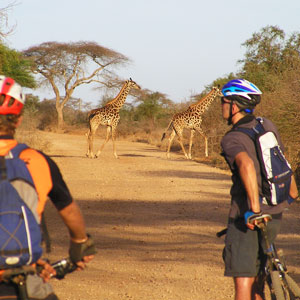 Cycling through Kenya and Tanzania feels like a voyage of discovery. On the quiet back roads, plains game (gazelle, zebra, other nervous herbivores) spills out of the national parks in front of your peloton. Youíll never know what will cross your tracks next.