Cycling in Kenya & Tanzania
You never know who you'll bump into when you're travelling. "We were just riding around in the middle of nowhere looking for somewhere to stay," John, from our cycle tour specialists Escape Adventures, says. He was cycling in Kenya on his way across to Tanzania, trying to design the company's first cycling route. He found himself on land owned by a Maasai family. "We just came across them. We asked if we could camp there," he said. After all, it would just be for one night on their land. So, they agreed a price.
That was 20 years ago. These cycling trips still return to camp with the same Maasai family now – albeit these days with a small group of adventurous cyclists in tow.
Cycling across Kenya and Tanzania
seems like an unusual choice – again, it happened by chance: "We weren't trying to make a tour in a particular place, we were just trying to create a really good bike tour." John's family is Kenyan, and his brother has since bought a farm in Tanzania, where you can stay for one night of the holiday. Through a bit of luck, and good local knowledge, the trip was born.
Chance meetings like this have cut out the middle man. "We don't go to a commercial farm stay or home stay. You won't find any other group of any sort," John says. This is peer-to-peer cultural exchange – no umbrella organisations involved, and certainly no Airbnb. Mandy and John are the owners and operators of Escape Adventures. "We feel that people can get a really genuine experience," Mandy says. "And the host families get a real buzz out of it too," adds John.
Up in the Tanzanian hills, there's an opportunity to plant trees with children from a small primary school. "They've suffered a lot of deforestation in the area," John explains. In fact, hundreds of thousands of hectares of trees are lost in Tanzania every year. Cycle tours can get their hands dirty when they make a stop at a nursery run by Friends of Usambara. This grass roots initiative have planted over 16 million trees – and counting in the Usambara Mountains in northeast Tanzania. "They want to educate the young people in the area on the value of trees," John explains, so they enlist the help of children from local schools.
Chance encounters are still a huge part of these trips. You might cycle with a Maasai who balances his spear against his shoulder whilst he pedals, or stop to let cantering giraffe see-saw across the road ahead. "The national parks don't have fences," John explains, "So the closer you get to the parks the more wildlife you see." This will be plains game rather than a hungry lion: "The predators tend to know where they're safe so they rarely venture outside the parks." You're far more likely to run into school buses, or herds of zebra. As John says, "Anything can happen if you don't plan it."
What does cycling in Kenya & Tanzania entail?
A good way to do a trip across the two countries is to start inland in Kenya's capital, and finish 16 days later, in Tanzania's. That's a long way to cycle – so some of the trip will involve transfers in your support vehicle. This truck comes with you, so you can take a seat in it if you get tired on the hills. It also holds all the camping and cooking equipment you'll need.

There are lots of nights camping, where you can listen out for the yip of hyenas in the distance as you sit by the campfire after eating a meal prepared using the truck's cooking stations. Your small camping fee goes to the local community.

You'll need to be reasonably fit to cycle. Distances can vary each day, from 20km to 105km, on dirt and paved roads, and can be hilly. And of course you have the African sun to contend with, too.
The cycling is peppered with game drives. In Amboseli National Park in Kenya you can sit with your camera trained on Mount Kilimanjaro, waiting for animals to walk into the frame in front of the mountain. In the Ngorongoro Crater in Tanzania there are some 30,000 animals to spot in a 25-km basin. Once you reach the Tanzanian coast, Saadani National Park's border on the Indian Ocean means that you might even spot animals on the beach.
Whilst you visit national parks for game drives, the cycling takes place outside the parks, on roads where there are people, as well as animals. Usually, there are lots of children – 44 percent of Tanzania's population are under the age of 15. Meeting kids is very rewarding. John says: "In Kenya and Tanzania the kids are just there in your face, chasing you and wanting to engage."
Our top trip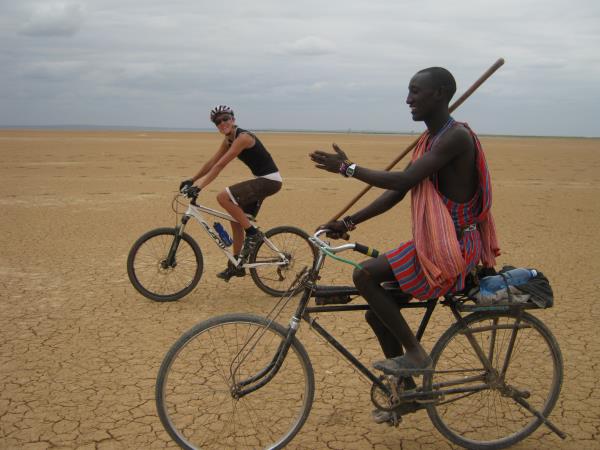 16 day biking and wildlife adventure in Kenya and Tanzania.
From
NZ $6500
16 days
ex flights
Small group travel:
2024: 17 Jun, 6 Jul, 25 Jul
If you'd like to chat about Kenya and Tanzania or need help finding a holiday to suit you we're very happy to help.

Small groups
Small groups work really well when you're cycling to small villages. Pick a tour with 12 or fewer people in the group; think a couple of families, rather than a coach load of 25. That way, when you come to a place to eat you'll, as Mandy says: "Feel welcomed, rather than that you've just taken over the whole place."
Families
These trips are great for family groups. "Our tours work best when the kids are aged 10 and above," Mandy says, but they are flexible if you've got keen younger cyclists too. A
small group family cycling trip
is a really great way to meet others and explore together. Kids will love wildlife, messing about on bikes, and cycling with one hand so they can hand out high-fives. Family trips tend to cover shorter distances – between 10-40km a day – but can be extended if you've got a particularly ambitious brood.
More Kenya and Tanzania articles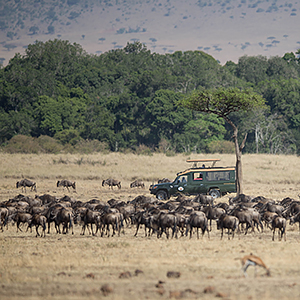 Visit either side of the heavy rains, which fall from March to early May, for the best experiences.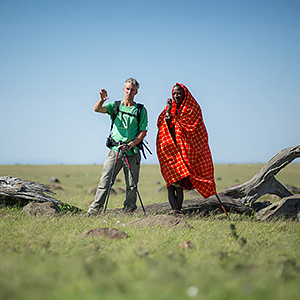 Find out more about combining two East African countries in a single trip.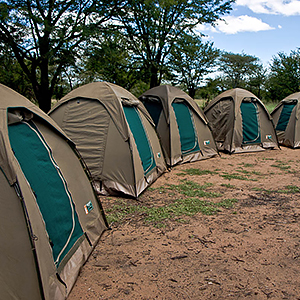 The continent's most celebrated parks and reserves - on the cheap side.