WHERE TO GO ON A LAND BASED ACTIVITY HOLIDAY
Whichever part of the world you're interested in there's a land based activity holiday to suit your interests and energy levels, be it rainforest trekking and zip lining in Costa Rica; exploring the canyons, caves and national parks of Madagascar on foot and by bike; or canyoning, hiking and horse riding in Spain. Wherever you end up, try to make time for sampling the local food, getting to know the local people and taking in the scenery around you – it's bound to make for a more rewarding experience.
1. Canadian Rockies
Activity holidays in the Canadian Rockies
take you to a stunning outdoor wonderland, home to spectacular wilderness, national parks, and opportunities for mountain biking, hiking and zip lining. Not only will you get to explore some of the best walking and biking trails the world has to offer, you might also get to glimpse the wildlife that inhabits Canada's national parks, including moose, wolves and bears.
2. Costa Rica
As well as being one of the world's top wildlife watching destinations, Costa Rica is a bit of a mecca for
activity holidays
, with everything from trekking and zip lining to horse riding on offer. It all comes with a pretty special tropical backdrop too, from the bird thronged cloud forests of the San Gerardo de Dota Valley to the beaches and swamps of Corcovado National Park.
3. Croatia
Much of Croatia's adrenalin busting activity may take place on the water, but there's plenty for hiking and biking enthusiasts too – and on a
land based activity holiday
you could find yourself walking round the stunning freshwater lakes of Plitvice Lakes National Park; biking through pine forests or getting a workout in Croatia's largest mountain range, Velebit.
4. Montenegro
The mountains and hillsides of Montenegro are the perfect venue for
land based activity holidays
. Highlights include walking the ancient hillside paths leading to the Walnut Valley; hiking and cycling at inland wonders such as Lake Skadar; walks to beautiful fortified medieval villages such as Upper Godinje; and, of course, exploring the miles of stunning coastline.
5. Slovenia
Often called 'Europe in miniature,' Slovenia is a bite sized beauty where you can mix adrenaline activities in majestic landscapes with time exploring beguiling historic towns.
Activity holiday
highlights include Triglav National Park, which is fantastic for mountain biking, Škocjan Caves, where there are incredible underground canyons, and Vintgar Gorge, where you can enjoy spectacular hiking across rapids, waterfalls and pools.
6. Spain
Spain wields a mighty punch when it comes to
activity holidays
, with the likes of El Altiplano de Granada, the Pyrenees, and the foothills of the Sierra de Castril mountains providing the perfect antidote to a beach holiday. There are opportunities for canyoning, horse riding and biking aplenty, all tempered by excellent food and wine and a laidback atmosphere.
LAND BASED ACTIVITY HOLIDAYS ADVICE
Preparing for your trip
Ilaria Grieco and Derek Suffling from our supplier El Geco Verde:
"It´s important to ask advice about which activities are best suited to the season. Make sure you know which activities should be booked before you travel. Specialist guides for activities such as stargazing may have to be booked with advance notice. With other activities (canyoning, for example) you may need advice about the right clothing or footwear to pack."
Ben Heywood from our supplier Undiscovered Montenegro:
"Make sure to read about the different holidays thoroughly! There are loads of adventures out there for all kinds of fitness levels - just make sure you know what you're signing up for and don't be afraid to ask for further details and advice if you're unsure".
Is previous experience needed?
Ilaria Grieco and Derek Suffling, El Geco Verde:
"Not really. A holiday is the perfect time to try an activity for the first time, after all. Our activity partners specialise in entry level activities, so at the stables, for example, a family hack will be nice and relaxed.. If one of the participants has experience and wants a more challenging ride at another time, we can organise that too."
Ben Heywood, Undiscovered Montenegro:
"No previous experience is necessary for any of our holidays. We provide qualified guides who make sure you're comfortable no matter what you're doing. Our youngest ever full participant was aged 6, our oldest was 80!"
Are land based activity holidays suitable for families?
Ilaria Grieco and Derek Suffling, El Geco Verde
"Yes, they are. Activity holidays are the perfect way to achieve quality time and create lasting memories. You'll find that there are activities suitable for all age groups. Out of the school holidays the same activities work very well for couples, friends and adult groups."
Ben Heywood from, Undiscovered Montenegro:
"All our multi-activity holidays are suitable and adaptable for families, with a lower age limit of 6. Our specialist walking trips are more for older kids of 14 and up, but we're happy to make exceptions for exceptional kids!"
What's the best time of year to come?
Ilaria Grieco and Derek Suffling, El Geco Verde:
"July and August are always popular with families and it's a great time for making lots of friends, adults and kids alike. The heat in May, June and October in southern Spain is much more bearable, so activities with greater physical exertion such as mountain biking and hiking really come into their own."
Our Land based multi activity Holidays
If you'd like to chat about Land based multi activity or need help finding a holiday to suit you we're very happy to help.

At Responsible Travel, we think the best people to advise our travellers are often... other travellers. They always return from our tours with packing tips, weather reports, ideas about what to do – and opinions about what not to.
We have selected some of the most useful land based activity holiday tips that our guests have provided over the years to help you make the very most of your holiday – and the space inside your suitcase.

Be prepared to 'rough it' and bring a sense of adventure with you... think home stays, bamboo huts when trekking, house boats, and sleeper trains

- Hannah Gaudsen in Thailand
"Take clothes for all seasons! We went in the early-spring season, and it ranged from being very chilly (especially in the evenings) to very hot in Tsarasoa and the drier regions. Also, take some gifts for the local people and children. We took pens and football items, and they went down very well. Go with a relaxed and embracing attitude - the pace of life is very different in Madagascar." – Cara Roberts, on a Madagascar north coast adventure holiday

"Make sure you have good shoes for walking and lots of sun protection. You will need a decent level of fitness (to be able to hike all day in the sun) and a sense of adventure!!" – Esther Ankcorn in Montenegro

"There are so many memorable moments from our stay - stunning views, beautiful sunrises & sunsets, crystal clear night sky, amazing accommodation, great activities (rock climbing, horse riding, milking a goat(!), making cheese and bread) and of course Ilaria and Des our hosts. Not forgetting Lola the dog who escorted my daughter and I on long rambles around the countryside." – Nick Levitsky in the Altiplano de Granada

take some gifts for the local people and children. We took pens and football items, and they went down very well.

– Cara Roberts, on a Madagascar north coast adventure holiday
"The best bit? The walk to and climb up Gromavaca (1,675m). I think it is the highest peak I have climbed and the view from the top fantastic. To the west was the Adriatic, with its parched rugged coastline, to the north, south and east back into Croatia with the white limestone mountains and dark green forests." – Michael Hasnip in Croatia

"Plan your activities before you go so that you get to do extras like star gazing and canyoning. Take your Spanish dictionary or brush up your Spanish before you go. It's off the beaten track, so useful to be able to communicate if you can." - Moya Fillmore in the Altiplano de Granada

"Be flexible -nature (i.e. the weather) determines your rhythm and activities and not your itinerary. Our guides daily words: always carry sunscreen, drinking water, your camera and a rain jacket." - Pamela Krueger in the Galapagos
More about Land based multi activity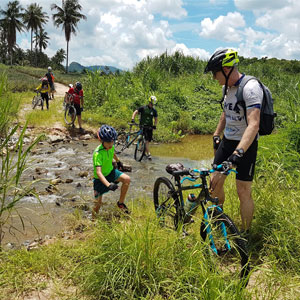 Land based activity holidays are a little bit out of the ordinary.